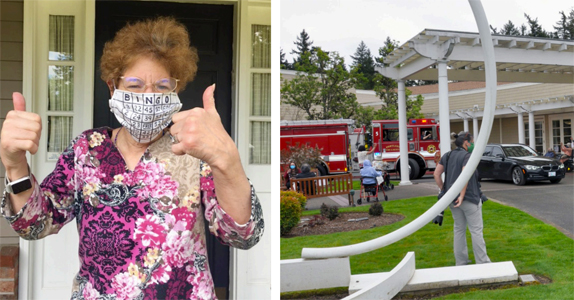 Photo: Cedar Sinai Park held a Joy Ride parade where all had a grand time.
With the toll that the coronavirus has had on senior living facilities across the country, Cedar Sinai Park has been extremely fortunate not to have the virus impact its residents.
They have had two COVID-19 positive staff members on campus. One staff member early in the month of March and one staff member that tested positive in the beginning of May.
"We've tested folks, both in assisted living and in skilled nursing, and the staff and residents and everybody, God bless, have come back negative, " says Kimberly Fuson. She became the permanent CEO of Cedar Sinai Park on March 1.
It's also a challenging time when so many people are living in the same environment and can't go anywhere or have visitors. Still, the residents of Rose Schnitzer Manor, the assisted living residences at CSP, are coming up with some creative ways to entertain themselves.
"They're doing hall parties where everybody is staying in their doorways, and they've done some sing-alongs on their own, and they're inventing new and fun ways to hang out – from a 6-foot distance," says Kim. "It's fun to see."
Kim says that they are also doing word games, puzzles, art projects, broadcasting special programming on their in-house channel, and staff is having one-on-one time and also helping them connect with their families via FaceTime and What's App.
On April 26, CSP held a Joy Ride where community members, first responders and family members of residents did a drive-by parade as residents stood outside and waved.
"I tell you it was a hoot, and I think everybody needed it," says Kim. "Our residents needed it, our staff needed it. I think the community definitely needed something to come out for."
Kim jokes that the next time they do a parade, she is going to blast Israeli dance music from some outdoor speakers.
She was glad that the weather was beautiful and everybody had the chance to go outside for a change. And that everyone wore their masks and kept their distance from one another.
They've had such generous donations of cloth masks that they can supply masks to the 250 residents at the CSP campus along with the 500 residents of their affordable housing units in downtown Portland.
"That means that every single one of my residents will get at least two cloth masks, one to wash and one to wear," says Kim.
She describes the masks as "works of art," and enjoys the many different fabrics the sewers have used when creating them.
"I have a mahjong mask, its a mahjong print and its absolutely darling," Kim jokes. "I have another one that's got Hershey's kisses, Hershey's minis and Reese's peanut butter cups on it."
Kim was also able to procure KN95 masks with the help of the Association of Jewish Aging Services and Jewish Federations of North America for all of her staff to wear. They were more cost effective than the paper masks in the long run and are more durable.
Kim is so grateful for the support of her staff at this difficult time. "We have to put our shoulders together and stay positive and keep building each other up," she says. That's the silver lining in all of this – learning how to be a team very quickly."
We're also very fortunate to have some good clinical people on our side to help us maintain
that high level of clinical care and a great medical director as well."
She is also thankful to the community for its outpouring of support and donations. CSP applied for and received, a grant for $100,00 from the Federation partners, to offset COVID costs.
And since it's CSP's 100th anniversary on May 15 (the party will have to wait), they received a lead gift of $100,000 from Marcy Tonkin to help through this time also.
"I'm so humbled by the love," says Kim.
Kim says there are a couple of takeaways from the current situation. "I think technology is
really important and investing in that technology, both for Telehealth as well as life enrichment, is important," she says.
"The other takeaways are the resilience of the human spirit and the ability to find love and joy and figure out ways to be together from a distance – love is the answer. Love and compassion."