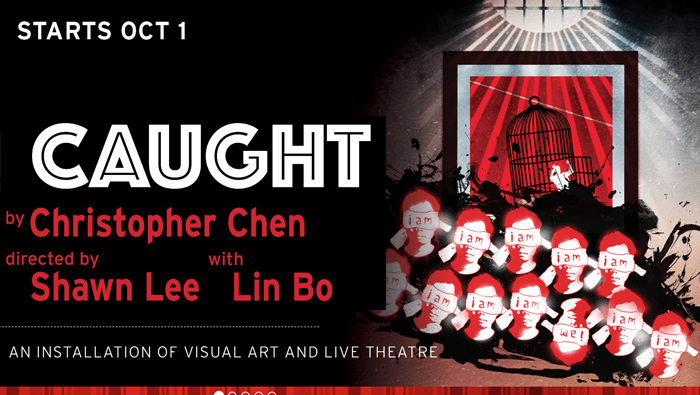 Artists Repertory Theatre presents "Caught," a show centered around Chinese dissident artist Lin Bo that combines visual art installations and live theater. "Caught" is presented in partnership with The Chújú Gallery/SF and The Geezer Gallery, and features dozens of collaborators including playwright Christopher Chen. The production runs Oct. 1 through Oct. 29 on Artists Rep's newly configured Morrison Stage.
Ripped from today's headlines and breaking the theatrical mold, artist Lin Bo's work, Qín (Caught), presents a sly philosophical puzzle that investigates the murky intersections of fact and fiction in the crafting of art and news. The show features Lin, a dissident visual, performance and conceptual artist whose piece, Shìwēi (Rally) led to his arrest and two-year detention by the Chinese government in 2012. After his release, Lin moved to San Francisco and launched a traveling exhibition of his work to Vancouver, BC; Tacoma; Portland; Las Vegas; and Minneapolis. In each city, Lin is partnering with theater companies rather than traditional gallery spaces; in Portland, Artists Rep is hosting the exhibit.
The Artists Rep exhibition includes his current work, as well as a new theatrical piece, "Qín" ("Caught"), a lively exploration of the American obsession with story and narrative as markers for authenticity. Lin will be introducing the work at each performance, and discussing his harrowing experiences in detention under the Chinese authorities. Recently profiled by The New Yorker Magazine, he is writing a book about his journey as a dissident artist in an authoritarian culture, which will be published following this tour. In Portland, Lin is collaborating with artists: playwright Christopher Chen, Dmae Roberts, Chris Harder, Sara Hennessy, Greg Watanabe, Horatio Law, Megan Wilkerson, Sarah Gahagan, Jennifer Lin, Rodolfo Ortega, Luan Schooler, Mary McDonald-Lewis, Samson Syharath and Shawn Lee to recreate this piece for Portland viewers.
" 'Caught' unfolds with a unique theatrical style like nothing I have ever seen," said Shawn Lee, 'Caught' director at the play's first rehearsal. "Our interactive rollercoaster of a production is part theater, part art installation, and is sure to keep audiences questioning everything they are seeing.  Whatever preconceived ideas we have about what theater is and should be, Christopher Chen's piece is sure to shake them up. Prepare to be surprised."
The static elements of Lin Bo's work may be viewed throughout October in the Morrison Lobby at Artists Rep, Tuesday through Sunday, noon to 6 pm. The visual art exhibit will open one hour prior to the show – early arrival is suggested. An audio tour of the exhibit, narrated by ART Resident Artist Susannah Mars, will be available for download.
WHAT: "Caught," by Christopher Chen; directed by Shawn Lee
WHEN: Oct. 1-29
WHERE: Artists Repertory Theatre, Morrison Stage, 1515 SW Morrison St., Portland
TICKETS: $50 regular price; $25 preview/student/under 25; 503-241-1278 or artistsrep.org
EXHIBIT: Lobby installation open Tuesday-Sunday, noon-6 pm through Oct. 29.