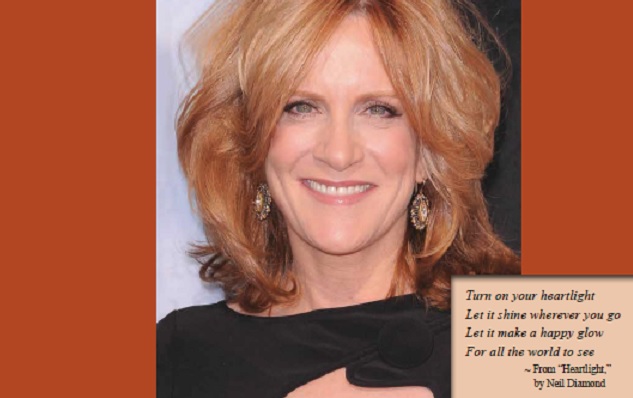 EDITOR'S NOTE: This version is updated from the February print edition to reflect Carol Leifer's presence at the Academy Awards March 4. NPR's Susan Stamberg will be the  featured guest at the MJCC's annual Friends of the Center Brunch.

 Carol Leifer promises Portlanders "a laugh and a heartlight moment" on March 4. Carol had planned to provide that laugh in person at the Mittleman Jewish Community Center's Friends of the Center Brunch (see below); instead Portlanders will have to join the rest of the country later in the day to tune in to Carol's humor at the Academy Awards, for which she will be writing an amazing eighth time.
The stand-up comedian, writer, producer, actress and author had been slated to be in Portland that morning to speak on "Judaism is in my DNA," which reflects her pride in being both "a link in a big chain" and a very funny lady.
"My message is twofold," says Carol. "I feel really proud of our heritage and legacy. … I'm also a comedian and I talk about what I've noticed traveling from Austin to Anchorage. I poke fun at the ways we (Jews) are similar."
"I'm happy when people tell me they laugh a lot," says Carol of responses to her shows. She adds that she tries to convey the same message to audiences that she conveys to her son – "a tradition of being Jewish and a tradition of comedy."
 A Link in the Jewish chain
Carol considers herself more culturally Jewish than religious. She grew up attending Congregation Beth Shalom in Long Island, but didn't become a bat mitzvah until she was in her late 40s. Then she and her wife, Lori Wolf, decided to have a joint bat mitzvah celebration, which Carol says made it particularly meaningful.
"We are very attached to our rabbi in Los Angeles," says Carol. Rabbi Ron Stern, associate rabbi of Stephen Wise Temple, did the conversion for their son, Bruno, who they adopted from Guatemala when he was 10 months old. Since he was a year old at the time of his bris, they found a mohel who was also a surgeon to perform the procedure with Rabbi Stern officiating.
He also officiated at the couple's 2015 wedding.
Carol's sense of Jewish roots have grown this year as co-executive producer of "Better Late Than Never," NBC's comedy/reality show starring Henry Winkler, William Shatner, Terry Bradshaw,  George Foreman and comedian Jeff Dye traveling around Europe.
"On my day off in Munich, I visited Dachau with some of the crew," says Carol. "When you visit a concentration camp, you really understand the Holocaust and persecution in a different and deeper way. It gave me perspective on being a link in this incredible chain."
The two Jewish cast members, Shatner and Winkler, also had an opportunity to explore their Jewish roots.
The Jan. 1 episode "Lithuania – I'm King of the Castle" features Shatner visiting the town where his parents grew up.
"At the end, the people dance the hora in the town square for Bill," says Carol.
She calls the episode in Berlin, which aired Jan. 8, a very satisfying episode. "Henry's family was from Berlin and his parents got out before the Nazis came," she says. "We retraced his family roots when we were there." A clip of the segment on nbc.com (Henry Winkler's Berlin Connection) shows a tearful Winkler reading a touchstone set into the street in memory of his father's brother, who died in Auschwitz.
A Tradition of Comedy
Carol's long tradition of comedy comes from both the pantheon of Jewish comedians and her family.
"We've been persecuted and through a lot of hardship – a survivor's coping mechanism is always humor," says Carol, discussing the prevalence of Jews in comedy.
"I also credit my parents for giving me a love of humor," she adds.
She says her late father, Seymour, was an optometrist because he needed to make a living and support his family, but "He was a comedian at heart. Dad was a great joke teller."
Her parents also played a lot of comedy albums of their time including Mel Brooks' and Carl Reiner's 2,000 Year Old Man series.
"I feel privileged I grew up when I did," says Carol, now 61. "Now everybody has earbuds and listens to whatever they want. But I was captive to my parents' taste – My parents had fantastic taste in comedy."
Carol has carried comedy forward as a writer on TV shows including "Seinfeld," "Saturday Night Live" and "Modern Family," and recently co-wrote the "Carol Burnett 50th Anniversary Special."
"I'm celebrating my 40th anniversary doing comedy, but I'm still as star struck as ever," she says. "To work with Carol Burnett and see she is all you hoped and dreamed she would be … (was) a goosebumps kind of job – really satisfying."
Bruno, now 11, was the inspiration for an episode of "Modern Family" that Carol wrote, "Two Monkeys and a Panda." The episode is based on a book Carol and Lori wrote for their son.
"When you have a child who is adopted, it is delicate giving your child their adoption story," says Carol. "When Bruno was 2 or 3, a family therapist suggested we create a book for him."
When Carol took the idea to the "Modern Family" team, she says they were very receptive. Since Modern Family's Cam and Mitchell have an adopted daughter from Vietnam, the parallels were clear.
Carol says she likes to "use real life experience and find humor in it."
She won a 2012 Writers Guild Award for the episode.
Marriage
Carol and Lori married Dec. 5, 2015, at the Brentwood Country Club with their rabbi officiating and their son serving as ring bearer. Lori's only condition was that the family have one last name – Wolf. Though Carol still uses Leifer professionally, she is now Carol Wolf in private life and their son is Bruno Wolf, with Leifer as his middle name.
When asked about her marriage, Carol suggested looking at the wedding coverage in the New York Times. Following is an excerpt from that Dec. 11, 2015, New York Times story by Jamie Diamond:
Ms. Leifer, who was 39 at the time, thought Ms. Wolf was the most beautiful woman she had ever seen. "I had to ask myself," she said, "Why am I thinking this if I'm supposed to be straight?"
Ms. Leifer, now 59 and a four-time Emmy nominee for her writing on "Seinfeld," "The Larry Sanders Show" and the Academy Awards ceremonies, had always identified as heterosexual. In her 20s, she dated Paul Reiser and Jerry Seinfeld.
"I didn't grow up feeling like I was gay and hiding it," she said. "I was boy crazy."
…
 After one year together, Ms. Leifer flew back home to East Williston, NY, to tell her parents she was a lesbian. Her father, Seymour Leifer (now deceased), was an optometrist; her mother, Anna Leifer (also now deceased), a psychologist.
"I thought I was going to be the rock, and they would be basket cases," Ms. Leifer said. But she started to cry. And contrary to her expectations, her parents weren't disappointed. For six years (1981 to 1987), she had been married to a non-Jewish comic, Ritch Shydner. "'I'll tell you when I was disappointed," she recalled her father saying. "When you married a gentile."
"Lori being Jewish trumped everything," Ms. Leifer said.
Author
Carol is also the author of two books, both memoirs.
When You Lie About Your Age, the Terrorists Win became a bestseller when it was released in 2009. In this memoir she shares some of her most personal stories including a breast cancer scare.
In 2014, she released her second book, How to Succeed in Business Without Really Crying. The book is a collection of humorous essays and common sense advice from nearly four decades in show business, including her own comedy specials on HBO, Showtime and Comedy Central. The New Yorker called it "An unusual and endearing mix of showbiz memoir and self-help book."
~~
Carol says she is looking forward to returning to Portland someday. She once opened for Jerry Seinfeld at the Arlene Schnitzer Concert Hall. She recalls being impressed by the vast farmers market on the Park Blocks behind the hall.
"I like speaking to Jewish groups," says Carol. "Judaism informed the person I became and am today."
FRIENDS OF THE CENTER BRUNCH
WHAT: Featuring guest speaker NPR's Susan Stamberg*

Also honoring inductees to the Oregon Jewish Sports Hall of Fame and presenting the Harry Glickman Scholar Athlete Awards
WHEN: 10 am, Sunday, March 4
WHERE: Mittleman Jewish Community Center
TICKETS: $54; $36 under 36. 
oregonjcc.org/brunch
*Nationally renowned broadcast journalist Susan Stamberg is a special correspondent for NPR.
Stamberg is the first woman to anchor a national nightly news program, and has won every major award in broadcasting. She has been inducted into the Broadcasting Hall of Fame and the Radio Hall of Fame. An NPR "founding mother," Stamberg has been on staff since the network began in 1971.
Beginning in 1972, Stamberg served as co-host of NPR's award-winning newsmagazine All Things Considered for 14 years. She then hosted Weekend Edition Sunday, and now reports on cultural issues for Morning Edition and Weekend Edition Saturday.