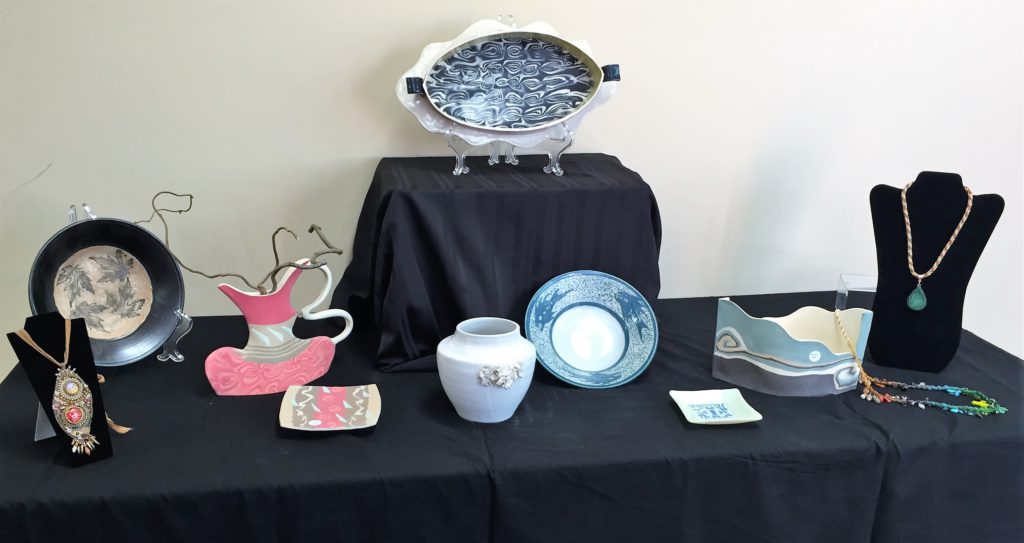 PHOTO: Displays created by juried artists at an ORA workshop designed to help artists learn display techniques and booth design.
Artists interested in participating in the 13th Annual Celebration of Art at the Mittleman Jewish Community Center this fall are invited to a June 2 jurying event.
The Celebration of Art is presented by ORA: NW Jewish Artists, a group of artists in the Portland area who have come together to support, share, inspire, enjoy and showcase their art. Members' media include collage, paint, silk, fused glass, fiber, precious metals, ceramics, beadwork, photography and more.
Jurying for Pacific Northwest Jewish artists in original art and fine crafts in all media will be held at Congregation Neveh Shalom, 2900 SW Peaceful Lane, Portland, from 11 am-1 pm, June 2. Both ORA members and guest artists juried in may participate in the 13th Annual Celebration of Art (Nov. 2-3, 2019).
For detailed jury information and application, go to northwestjewishartists.org and click on "About ORA" to find the jury application.  The $25 jurying fee may be applied to ORA membership.
ORA members (a $50 fee) may also participate in sales and exhibits throughout the year.
Most members reside in the Greater Portland area, but members from all over the Pacific Northwest are welcome. Artwork does NOT need to be Jewish in content, however members must be Jewish.
For questions, contact Diane Fredgant at 503-913-5864 or oraoartists@gmail.com