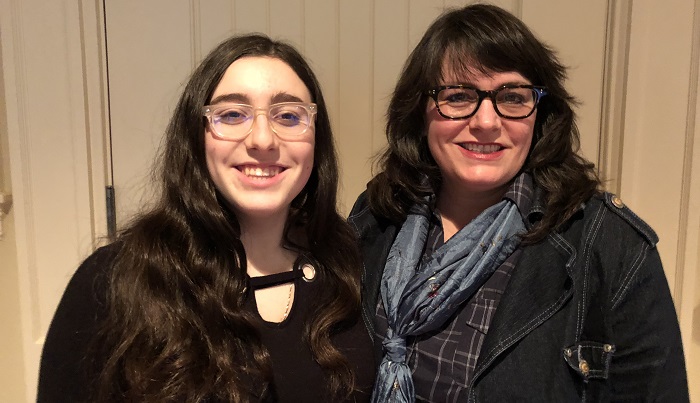 Portland historian Tracy Prince, Ph.D., was raised deep in the South and deep in the culture of what she calls "hell fire and damnation Christian." When she and her husband, Portland attorney Scott Schaffer, had their first child 14 years ago and were brainstorming names, Tracy lobbied hard for one of her favorites, a nostalgic Southern classic: Zadie. Now, converted to Judaism and active in the Congregation Beth Israel community, Tracy can appreciate the irony and the humor. "Someday my daughter may be Bubbie Zadie: Grandma Grandpa!"
Tracy is a research professor/scholar-in-residence at Portland State University. Once an administrator on a tenure track, she was diagnosed with stage three breast cancer when their kids, Zadie and Price, were small, and she took some time to heal. Working from home, she appreciated that she could nap when the children napped, regain her strength and, ultimately, "get over chemo brain and reclaim who I am as an intellectual."
That reclamation resulted in a professional identity in which, while she no longer teaches, she works with grad students, speaks extensively and writes books. Today, Zadie is 14, Price is 11 and Tracy still gets to work at home a lot. Her specialty is Portland history and, thanks to the digitalization of Oregon newspapers from 1846-2017 by the University of Oregon (oregonnews.uoregon.edu), Tracy can do key word searches from the comfort of her couch. Her first book, Portland's Goose Hollow, published in 2011, was a deep dive into her own neighborhood. Several other books followed.
Zadie was 8 when Goose Hollow was published.
"It was empowering to see her working," Zadie recalls. "I don't remember exactly what I felt when I saw the book, but I knew it was important to her. She took off from there, more and more books, and it was really fun. I got used to the idea of women being writers. We gave (the books) to our teachers as gifts. I was super proud."
When Zadie began to study her Torah portion to prepare for her bat mitzvah, Tracy asked her to read the portion to her in English and share her impressions.
"It doesn't say anything about the women," Zadie remembers saying. "The men went off to war. The children stayed home. They don't mention any women. I thought: my mom's an author. Maybe we can do something with this."
"At the beginning," Tracy says, "I was going to feed her a list of a few women's names and she would research them. She is brilliant, but it became overwhelming. She was 11 when she started, and we saw she was biting off way more than she could chew."
When Tracy realized her publisher might be interested, though, it got her thinking.
"I said, 'I don't want to get in on your act, but maybe we could do this together,' " Tracy says. "I could give her assignments, and she could be like my graduate research assistant. She jumped up and hugged me."
Zadie was systematic, even at first. "I found some of the pictures and did some of the initial research," says Zadie. "I'm a pretty organized person. I put it all in one file: woman's name, picture, information. Next page. Chronological order. It made it easier to find things."
The hardest part was when they were laying out the book.
"We wanted to tell a full history, from native American early Portland (and on), chronologically," says the senior historian in the family. But there are so many women. "A friend of mine who is an avid collector gave me amazing pictures of women in World War I and World War II, average Portland women who were extraordinary, and we wanted to include them."
It was tough on the junior historian, as well. "We had to cut (so many) women. I advocated for a lot of them, intrigued by their stories. It was hard: it's their whole life's work we are omitting."
So you may wonder how was it, working with one's teenage daughter?
"There were certainly times when it wasn't sunshine and roses," says Tracy. "There were weekends when I would say, 'This book won't write itself, young lady!' But we always knew we were working on an important project, and it has been an unbelievable joy to do this together."
And the other side of the story?
"We occasionally argued, and it was intense for a seventh- and then eighth-grader, but (Mom) gave me lots of names and she really helped me," says Zadie. "I feel closer to her; we shared something big, and we have something special to bond over."
A few months before the book was released, even before the launch party at the Mission Theater, the authors began to get offers to promote the book: TV, radio, print, online … so they hit the circuit.
"I didn't know how much she would absorb – it's over 150 women – but Zadie really focuses," says Tracy. "In our first TV interview, she was rattling off the facts. It was a great moment."
Zadie still holds her own in the public spotlight. At a recent Rotary speaking engagement, for example, the authors had 30 minutes, and Tracy gave Zadie 20 of them. Audiences often ask which woman is Zadie's favorite, and she is off and running.
"They are more interested in hearing a 14-year-old's perspective than mine," says Tracy. "I like it that I can let Zadie be the expert who rattles off the information: she's done the hard work, she knows the women's stories and she's confident. She had the Rotary people laughing at her jokes."
And Zadie loves it: "I'm not scared to talk in front of people anymore. It's fun to sell the books. And then signing the books makes me feel important."
All proceeds go to Transition Projects (tprojects.org), a homeless shelter where Tracy served on the board.
Tracy believes that one reason the book has resonated with so many is today's social climate.
"We are currently having to fight for women's issues we thought had been resolved in the '70s," she says. "We think about the erosion of women's rights and the rise of women's marches. It reminds us of the strength of women."
Zadie wishes they taught more about Oregon's women in the public schools. "The only woman I knew of was Abigail Scott Duniway. I knew she was important and that was all. I didn't even know she was a leader in the suffrage movement. This (project) helped me learn a lot about women in Portland I never knew existed."
In February, Zadie gave the keynote address to Portland Public Schools teachers at a social studies conference. Mom was out of town, so Zadie went solo.
It turns out that studying the history of our women may just be able to empower women today.
Just ask this powerful young woman. Or ask her mother.
Coincidentally, Zadie's study of her Torah portion and her newfound comfort with public speaking make her uniquely qualified to help with the fight.
Tracy shared a story about a boy's bar mitzvah speech at Congregation Beth Israel. Duncan Sennett's speech, which went viral, inspired Zadie to see that grappling with her Torah portion is welcome at her synagogue. In the speech he says, "I have friends with wonderful gay parents, and when I go to school and kids say 'it's not biblical,' I refer them to my Torah portion where a man married his cousin while still married to his first wife."  Zadie's questioning of why women were left out of her Torah portion created the inspiration to write Notable Women of Portland.
Do not mess with this articulate woman. Or her mother.
Liz Rabiner Lippoff is a marketing consultant, freelance writer and community volunteer. LizInk.biz