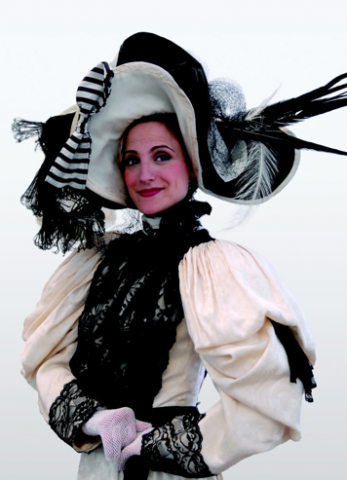 Fans of musicals can choose between new and old classics this summer, as the Broadway Rose Theatre Company presents Andrew Lloyd Webber's blockbuster "Cats" in July, and Lerner & Loewe's equally beloved hit "My Fair Lady" in August. Alan Anderson, BRT's marketing director, says these two
productions fit well into BRT's theme for 2012-13, "Season of Memories." "We're really trying to recreate memories for the audience with these two shows," he says. "We expect our audiences to have memories of these productions, either from having seen them before or growing up with the music.
These were the perfect shows to create that conversation about past memories and new memories for audience members who may be less familiar with these shows." The cast of "Cats" features a number of local performers, including Amy Jo Halliday as Grizabella. Halliday is a BRT veteran, having appeared as Anna in "The King and I." Anderson is a big fan: "She played Christine in the national tour of 'Phantom of the Opera,' and she'll bring some experience to the role of Grizabella, the glamour cat who sings the show's most memorable tune, 'Memory.' For me personally, Amy Jo is special; she's one of the hardest working actresses I know, but she's also easygoing and totally committed to her work," he says.
"Cats" will be directed and choreographed by Lyn Cramer, who teaches musical theater at the University of Oklahoma. Last season Cramer directed BRT's "The Drowsy Chaperone." "She knows her stuff," says Anderson. "She moves at the speed of light – we usually have a pretty short rehearsal period, just under a month – and expects a lot from her cast." In August BRT presents "My Fair Lady," the timeless adaptation of George Bernard Shaw's "Pygmalion," about a man who creates his perfect woman and then becomes infatuated with her – or more likely with his own achievement.
"'My Fair Lady' is one of the most beloved musicals of all time; the New York Times described it as 'the perfect musical,'" says Anderson. "Each season we revive an old classic; in previous years we've presented 'The Sound of Music' and 'The King and I.' These shows still resonate; they're part of our musical American history. Parents and grandparents who love these shows bring their kids and share their memories." Jazmin Gorsline, a native of Vancouver, WA, will play the irrepressible Eliza Doolittle, bringing her experience in leading roles with regional theatres around the country to the production.
"We're so pleased she's coming home to do this show," says Anderson. "She was Cosette in our 'Les Miserables.' She has the full package: a wonderful vulnerability in her acting, and when she sings 'I Could Dance All Night,' it's soaring and glorious." Actor Kevin Connell costars as Professor Henry Higgins. "He's a terrific actor and a great brooding presence," says Anderson. "He can also sing, so he'll bring some musicality to the role." Professor Higgins' sidekick, Col. Pickering, will be performed by local actor Tim True, who has appeared with Portland Center Stage, Third Rail and Artists Repertory Theatre. "He'll bring some humor to the show," Anderson promises.
BRT's artistic director and co-founder, Sharon Marone, directs "My Fair Lady." According to Anderson, Marone has a gift for directing old classics with great sensibility and originality. "Because she's also an actress, she understands the actors' process. She encourages actors to bring their ideas to the role and collaborates with them to create their characters. That's what creates the freshness in her productions and makes these old classics feel new."
BROADWAY ROSE THEATRE
12850 SW Grant Ave., Tigard | broadwayrose.org
Summer Productions:
"Cats" June 27-July 21
"My Fair Lady" Aug. 1-18