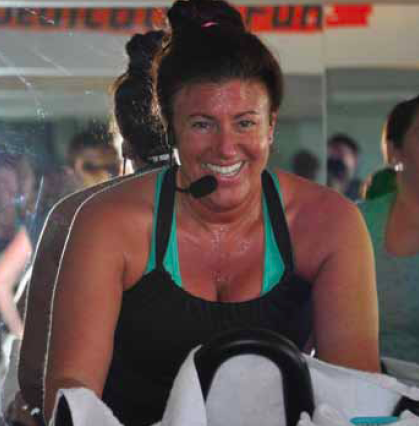 A new generation prompted lifelong athlete, Paula Garfinkle Reed, to begin teaching fitness classes, and previous generations inspired her to open her own gym – Born To Ride Cycle & Fitness.
When Paula's children were toddlers, she realized she could get paid to exercise if she was teaching classes while her children played in the local fitness center's kids club. As they moved into preschool at Neveh Shalom's Foundation School, Paula had more time and her fitness career evolved. She began training other instructors and managing programs. With daughters Kaela and Adrienne now 15 and 12 respectively, her attention turned to a familiar family path – owning a small business.
"We're an old Portland family," explains Paula's mother, Debbie Caldwell. "My grandfather, father and uncle owned men's clothing stores in downtown Portland. My grandmother, Paula Lauterstein, started the local Hadassah." On the other side of the family, Paula's father and brother, Drs. Richard and Judah Garfinkle, are also small business owners – they own their own orthodontic practice in Hillsdale. So April 6, Paula joined the family tradition and opened her own fitness studio where she offers spin classes and cycle bootcamps seven days a week. Monday to Friday there are classes morning, noon and evening, with morning classes on the weekends.
"Cycling is good on so many levels," says Paula, ticking off the benefits: low impact, easy on the joints, good way to recover from injury, excellent cardiovascular, builds strength in lower body and even strengthens the core. "It's a great workout for every skill level," says Ray O'Bannon, who has been cycling on the road about 10 years and "mixes it up" with spin classes. "You can rock out and kick it too."
Sally Olsen, 61, says she was nervous about trying a spin class because she knows so little about cycling. "I didn't have to know anything about bikes or how to change gears," she says, adding she's been riding at Born to Ride about twice a week since it opened. "It's one of the best workouts I've ever had other than running, and Paula makes it fun. It's important to me to have a good time." Paula says a lot of indoor cycling is driven by the music and camaraderie of the gym that builds a sense of community. Community is important to Paula, and having left the corporate world, she says, "Now there's nobody to say 'no' to my ideas."
She says she wants to offer fundraising and team-building opportunities to groups, and has already offered spin time to members of the Candlelighters, who are training for Cycle Oregon as a fundraiser to support children with cancer.
She says her husband, Scott, is very supportive of her efforts and helps ensure their kids get to Wednesday Night School at Congregation Beth Israel, where Adrienne will follow in her sister's footsteps and become a bat mitzvah next year.
Born to Ride: 8233 SW Cirrus Dr., Suite 16-J, Beaverton | 503-469-8444 | borntoridenw.com