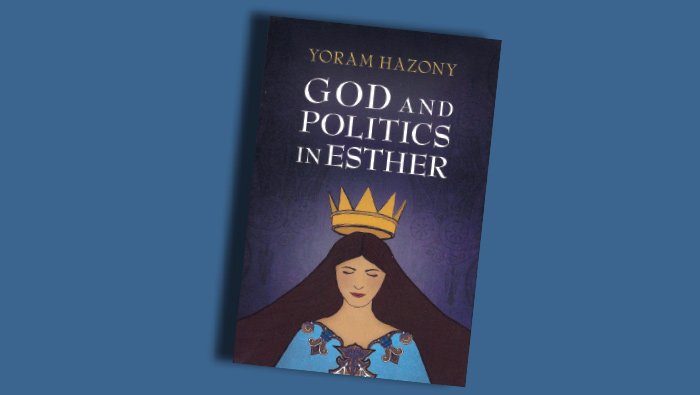 God and Politics in Esther by Yoran Hazony, 2016, Cambridge University Press, 288 pages, paperback, $29.99.
By Victor Chudowsky
The Jewish holiday of Purim is a joyous one. We get a little drunk, dress the kids up in costumes, and celebrate Esther and Mordechai's cunning. It's a funny, racy, over-the-top story that omits any mention of God, leading some scholars to regard it as a farce.
But parts of Esther are disturbing to modern readers. People ignore the fact that celebration among the Jews of Persia occurs not after Haman is hanged, but after they fight back against the deceased Haman's allies, killing 75,000 of them. At times, Esther reads more like Machiavelli.
Yoram Hazony, a Jerusalem-based scholar, wants us to take the story of Esther seriously. He wants to revive Esther's significance as political philosophy. Mordechai and Esther save Persian Jews from annihilation because they are able to get themselves into the very corridors of power and influence the decisions of the emperor – one way or another.
Esther still has difficult questions for us to ponder. How are we to cope as a minority in the diaspora? How should we relate to those who hold political power? And most importantly, what are the moral implications of getting involved with the tumultuous world of politics, or even worse, violence and war? The book is an extended discussion of the difference between morality and purity, and how too much emphasis on the latter may harm the cause of the former in political affairs. These questions are still relevant. In Israel, they are paramount. In the United States, some of these questions were raised recently when Donald Trump spoke before AIPAC. Should we boycott (in the name of purity), or do we keep the channels open?
The book finishes with a critique of the view that God always acts in the world through miracles or interventions in the course of natural or human events. Hazony finds that view unsupported. In Esther, God is omitted but is still present in the faith of the characters. Through this argument, Hazony hopes to attract new or lapsed readers to once again understand the relevance of Hebrew scripture in our distracted modern era. It will change your thinking – not only about the situation of Jews in the diaspora or Israel, but about faith and politics in general.
Victor Chudowsky is a policy analyst, Bend City Councilor and a member of Temple Beth Tikvah in Bend.