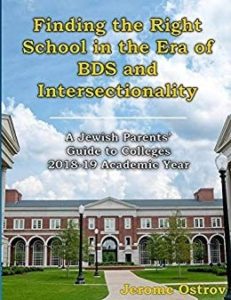 At a time when the BDS (Boycott, Divestment and Sanctions) movement against Israel continues to gain traction on college campuses and is bolstered by intersectionality, the framework linking aggrieved groups in society, author Jerome Ostrov offers a fact-rich and practical resource for Jewish parents to assess these issues on a campus-by-campus basis as they help their children find a stimulating and sympathetic higher education environment.
In Oregon last month the Israel Soldiers tour received markedly different receptions on two campuses.
Published ahead of the start of this school year, with an updated edition currently in the works for the 2019-2020 academic year, Ostrov's Finding the Right School in the Era of BDS and Intersectionality is more relevant than ever amid episodes such as this semester's series of anti-Semitic incidents at the University of Michigan, where two instructors denied student requests for study abroad recommendation letters solely because their planned destination was Israel, and where another lecturer compared Israeli Prime Minister Benjamin Netanyahu to Adolf Hitler.
Intersectionality places people into groups in accordance with their grievances against perceived systems of power and requires them to first identify as a member of an "oppressed" group, and then to unite in solidarity. On today's campuses, pro-Palestinian activists from organizations such as Students for Justice in Palestine have used intersectionality to recruit minority or marginalized groups (African-Americans, women, LGBTQ individuals, etc.) to join the BDS campaign against a common "oppressor" – Israel and its proponents on campus. In many cases, liberal-minded Jewish students identify with the causes espoused by these demographic groups. However, when these groups join the anti-Israel cause, Jewish students who choose to support Israel risk being left out of campus-wide conversations on key social issues and, even worse, being shunned by alliances of students who otherwise largely share their goals and values.
"With everything else that Jewish students have to think about when they decide on a college, this detailed guide ensures that remaining within their Jewish comfort zone will not be an issue," Ostrov says.
Ostrov is a retired attorney and author of two recently published World War II novels intended as a reminder of the anti-Semitic shadows of the past. In Finding the Right School, he lays out the changing campus environment with regards to Israel – reflecting his concern that under the guise of anti-Israel expression, those shadows of anti-Semitism are re-emerging on today's campuses. Ostrov profiles 136 colleges and universities that are the nation's most popular schools among Jewish students, focusing on the academic strength, setting and appeal of the covered institutions. He divides the campuses into three categories: "large schools with significant undergraduate Jewish populations," "small schools with significant undergraduate Jewish populations" and "interesting schools with small undergraduate Jewish populations."
Each profile coveys the school's history of anti-Israel and anti-Semitic sentiment, and includes key contextual elements such as the campus's level of BDS and SJP activity, a list of comparable schools, and how the institution was assessed in the Forward newspaper's Jewish college guide as well as The Algemeiner website's rankings of the best and worst colleges for Jewish students.
But Ostrov's guide does not rank the profiled schools, nor does it assign a letter grade to each campus. Rather, the guide is a judgment-free tool for parents to enable them to go into the college search with eyes wide open and to select a school where their children can flourish.
Illustrating the dynamics of intersectionality, Ostrov provides the example of the reaction this year to San Francisco State University President Leslie Wong's apology for comments in which he had refused to affirm that Zionists were categorically welcome on campus. While Wong clarified in the apology that Zionists "are welcome on our campus," the director of SFSU's Arab and Muslim Ethnicities and Diaspora Studies program blasted Wong's statement of inclusiveness as "a declaration of war against Arabs, Muslims, Palestinians and all those who are committed to and indivisible sense of social justice on and off campus."
This month, the Los Angeles City Council approved a resolution urging UCLA to cancel SJP's national conference on that campus due to the pro-Palestinian group's calls to "kill Jews," 'kill all Zionists," and "stuff some Jews in the oven."
"I understand that, for many Jewish parents, anti-Israel and anti-Semitic sentiment on campus will not be the determinative factor in helping their child choose a college. But all parents should be aware of the fact that campus environments vary greatly on these issues," says Ostrov. "Whether or not a campus's Jewish life or climate on Israel is ultimately a family's primary deciding factor on a school, my objective is for parents and students to enter the process equipped with knowledge on the full array of current realities as well as the historical context regarding BDS, intersectionality, and other relevant movements and trends. I believe my guide fulfills that goal, and, in so doing, will serve as an indispensable resource in any Jewish family's college search."
Finding the Right School in the Era of BDS and Intersectionality, by Jerome Ostrov, CreateSpace Independent Publishing (Aug. 2018) 454 pages, $18.95