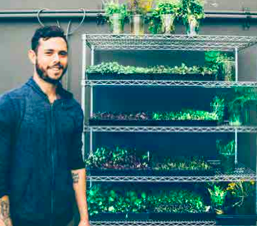 The most exciting food festival in the Pacific Northwest returns for a third year. Star-studded Feast Portland features a diverse array of chef-hosted dinners, tastings, panels and classes. This year's event, which will take place Sept. 18-21, benefits the charitable organizations Share Our Strength and Partners for a Hunger-Free Oregon. Feast Portland showcases cutting-edge culinary talent from all over the country as well as the finest chefs in Portland. We recently sat down with two of the innovators who will be featured at this year's event: Los Angeles- based Ari Taymor of Alma and Gabe Rosen of local Japanese favorite Biwa.
Ari Taymor
At only 28 years old, Chef Ari Taymor is taking the national food scene by storm. After opening Alma to critical acclaim in 2012, he was recognized with Bon Appétit's "Best New Restaurant in America" award. Says Taymor of the hype resulting from this honor, "It's a mind-blowing, crazy experience. (Business) was pretty steady before that happened, but it has allowed us to grow and to move into the format we are in now."
Taymor, who is of Russian Jewish heritage, combines garden- fresh, light cuisine with a focus on tzedakah. Together with his business partner, Ashleigh Parsons, he operates the Alma Community Outreach Program, which brings healthy food to underserved communities. The program was recently recognized by GOOD Magazine. According to Parsons, Alma is currently teaching cooking classes and building edible gardens at two high schools. She explains, "We show students that it is possible to access healthy food from farmers markets or local grocery stores, even while living in a food desert. We teach them recipes that are easy to replicate and that are nourishing. Education and inspiration are the foundations on which Alma was built."
Taymor is excited to be featured at Feast Portland this year. "I've never been to Portland before; I'm really looking forward to it," he enthuses. "I'm excited about the whole food culture. It's a city that I've wanted to go to for a long time."
Taymor will be involved in two events: "The Hot 10 Dinner: Celebrating Bon Appetit's Best New Restaurants in America" (Sept. 18, 7 pm); and "Ari Taymor and Sarah Pliner at Aviary with Archery Summit" (Sept. 19, 7 pm).
When asked what he will be serving at the latter event, Taymor says candidly, "It is so far off, it's hard to know if it will be a dish I really like at the restaurant or something that I will let happen closer to the event itself. We won't have a finalized menu until a day or two before the dinner."
He is complimentary toward Pliner: "I've heard nothing but great things (about her). The vibe I get from that restaurant is, it's really just about a lot of care going into the food. The staff loves what they do, the chefs, farmers love what they do. In that way, Alma is a very similar restaurant. We're about providing a memorable experience."
Gabe Rosen
For seven years, owner/chef Gabe Rosen has been providing one of the highest-quality Japanese culinary experiences in Portland. At Biwa, he serves up a menu equally inspired and authentic. Rosen developed a childhood love of Japanese cuisine as a college student in Hokkaido. To this day, he continues to travel to Japan, researching traditional dishes and discovering new ones.
Of his latest gastronomic expedition to Tokyo and the island of Kyushu, he exclaims, "We ate so much fried chicken! We also had a special eye out for gyoza, ramen, onigiri, yakitori and a couple of other standards."
Rosen keeps current on the latest culinary developments: "I had a sense that Okinawan izakaya were real trendy now, but I didn't expect to see (and go to) so many of them. I have had an eye out for new ideas in yakiniku, a very deeply Korean-influenced, but also very Japanese, grilled meat specialty where you grill your own weirdo cuts of animals and eat them whilst drinking. Slowly but surely, the influence of the trip will certainly work its way through (Biwa's) menu!"
Together with his wife, Kina Voelz, Rosen opened Biwa in early 2007. He says of the restaurant's culinary philosophy and focus, "The menu has always been focused on the straightforward, everyday way of eating in Japan. We generally present ingredients in a simple and transparent way, emphasizing the ingredients without a whole lot of embellishment. We also try and stay pretty much clearly within the techniques and seasoning of the contemporary Japanese culinary vocabulary. We opened Biwa as a way to explore the simpler and more populist side of Japanese cuisine."
Rosen has been involved in many aspects of the restaurant industry during the past two decades. Before opening Biwa, he performed a pastry internship in San Francisco, perfected his butchering skills at an artisanal meat shop and worked for a catering firm that served Portland's Jewish community. He even prepared a Passover seder at the home of a local rabbi.
Rosen will be featured at the USA Pears Night Market at Zidell Yards (Sept. 19, 6 pm), which is billed as "the nation's liveliest outdoor celebration of global street food." Although the chef is keeping his special dish a secret, it is sure to be delicious.
Feast Portland Sept. 18-21 Tickets: feastportland.com/schedule