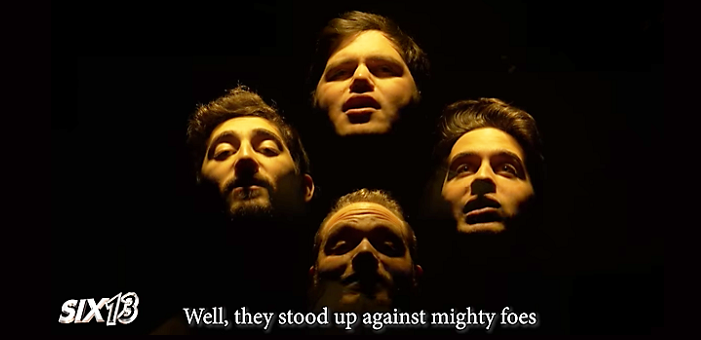 Six13 recently released "Bohemian Chanukah," a Queen cover, was (re)written to celebrate the festival of lights and pay homage to one of the greatest and most epic songs of all time.
The video has amassed over 3.5 million views since its release last week.
You can view the video on YouTube: www.youtube.com/watch?v=9P30ckBf1wk.
Anchored by a strong Jewish identity and driven by a mission to connect Jews around the globe with their heritage through music, professional Jewish a cappella group Six13 are the originators of today's Jewish a cappella sound.

Six13 is a national phenomenon both on the internet (with over 8 million views on YouTube) and in traditional media, featured in national television and press like The Today Show, The View, CBS, CNN, Huffington Post, Time Magazine and more. They have performed at the White House for President Barack Obama and First Lady Michelle Obama, and are three-time finalists in casting for NBC's prime-time hit "The Sing-Off". Music from their seven award-winning albums has been adapted by choirs worldwide and played on mainstream radio across the globe. Bruno Mars liked their Passover version of his song so much, he posted it on his own Facebook page.
The group's seven award-winning albums have over 20,000 copies in circulation, and are among the top Jewish music artists on iTunes; their songs have been chosen for ten "best-of" compilations to date. They have received distinctions and accolades from Jewish organizations like the National Council of Young Israel and Moment Magazine, and awards from musical organizations like the Harmony Sweepstakes and the Contemporary A Cappella Society of America. They are three-time finalists in casting for NBC's prime-time hit "The Sing-Off".
Six13 has made appearances around the world for millions, to rave reviews and standing ovations. They've played the White House, the Chabad Telethon, Washington D.C.'s Kennedy Center, traversed New York's Fifth Avenue in the Salute to Israel Parade, headlined the North American Jewish Choral Festival three times, and performed seven times for major league sporting events at Shea Stadium, Citi Field, Madison Square Garden and Dolphin Stadium. Each year, the group visits dozens of Jewish communities, providing entertainment appropriate for Shabbat or any other day of the week at congregations, religious schools, JCCs, fundraising events, B'nai Mitzvah and private affairs alike.