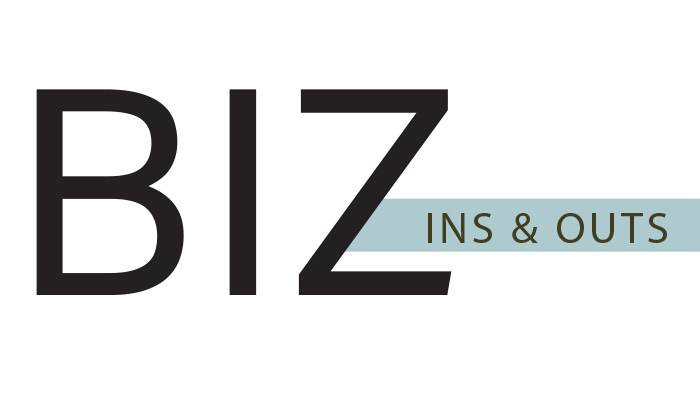 Michael Jeser leaves Portland to head San Diego Federation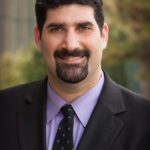 Jewish Federation of Greater Portland's Michael Jeser has been named president and CEO of the Jewish Federation of San Diego. Michael has served JFGP as director of financial resource development for the past 2½ years. Michael concluded his work at JFGP on July 27.
"Michael has been an incredible asset to our team ever since he arrived," says JFGP President and CEO Marc Blattner. "His efforts strengthened our Campaign for Community Need. He worked to develop our LGBTQ outreach efforts (including taking community members on a trip to Israel) and was the creator of our very successful Pathways program (young adult mentoring and networking cohort) – plus so much more."
In San Diego Michael succeeds Michael Sonduck, who retired in June after a 12-year tenure including six years as CEO.
In 2013, the San Diego Federation announced its shift from an umbrella organization, which primarily allocated funds to other Jewish organizations, to a nonprofit that collaborates with partner organizations to identify the community's unmet and greatest needs. It is this shift that led Michael to apply for the position.
"San Diego's Federation is on the cutting edge of the entire federation system," says Michael. "I was deeply inspired by its bold decision to focus on developing and supporting services that strengthen the local Jewish community. I'm especially proud to join a federation that is demonstrating tremendous commitment to connecting donors with the impact of their philanthropy."
Jewishportland.org
Rabbi Barry Cohen hired as Community Chaplain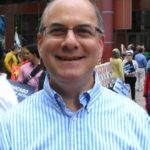 The Jewish Federation of Greater Portland has hired Rabbi Barry Cohen to serve as Community Chaplain as of Sept. 4. This new full-time positon is funded by the Jewish Federation in partnership with several donors. As a JFGP employee, the community chaplain works in coordination with the Oregon Board of Rabbis and Jewish Family and Child Service to provide pastoral care/counseling and to serve as a resource for all Jews across our community. Rabbi Cohen will build relationships with individuals and families and attend to their pastoral/spiritual needs as well as to teach, inspire and motivate. He visits local area hospitals, nursing homes and senior facilities. He is working with hospice and is available to assist with lifecycle events for unaffiliated Jews.
Rabbi Cohen received his ordination at the Hebrew Union College-Jewish Institute of Religion.
He began his career in Scottsdale, AZ, as a congregational rabbi. In 1999 he joined the Jewish News of Greater Phoenix, first as community editor and then as editor. In 2004, Cohen returned to congregational life in Oklahoma. He then moved to Chicago, and after serving a local congregation as associate rabbi, he founded Right Hand Rabbi to respond to the needs of those who had not been able to find their niche in the congregational world.
"I am thrilled to start a new chapter in my family's life and my professional career," says Rabbi Cohen. "In addition, I look forward to fostering sacred relationships, as together we celebrate, navigate crisis, mourn and heal."
Rabbi Cohen and his two children moved here from Chicago in August.
503-892-7407 | chaplain@jewishportland.org
 Marissa Wolf New Artistic Director of Portland Center Stage
Marissa Wolf became the new artistic director at Portland Center Stage at The Armory on Sept. 15.  Marissa, most recently the associate artistic director at Kansas City Repertory Theatre, previously served as the artistic director at San Francisco's innovative Crowded Fire Theater.
Marissa told the Kansas City Jewish Chronicle that her Jewish background reflects her work as an artist in that it is an inherent part of who she is and how she sees the world.
"I think I ask some of the questions I do because of my Jewish background," she said. "Judaism gives me sense of belonging.  I think it gives me a lens through which to question, to wrestle with hard questions around identity, family and social justice."
Marissa joins Managing Director Cynthia Fuhrman as co-leader of the city's leading professional theater.
"It is the dream of a lifetime to step into the artistic director position at Portland Center Stage at The Armory," said Marissa. "I am honored to build on Chris Coleman's powerhouse legacy of adventurous theater in the breathtaking, historic Armory, and I am thrilled to lead this extraordinary company into the next chapter of growth and vitality."
503-445-3700 | pcs.org
Rabbi Hannah Laner is new rabbi at P'nai Or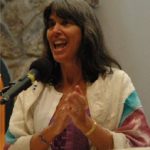 Rabbi Hannah Laner has been hired as the rabbi for Portland's Congregation P'nai Or, a vibrant, egalitarian Jewish Renewal congregation. Joyous worship is infused with singing, chanting and dance. A diversity of Jewish experience and expression is reflected in the congregation's membership; all are welcome. P'nai Or is a place where a Jewish spiritual perspective can flourish.
Rabbi Laner has more than 25 years of experience as rabbi and cantorial soloist, creating and leading services for High Holidays, Shabbat and other holidays. She is a professional Jewish educator who infuses her teaching with a passionate love of Torah and tradition. As an officiant of lifecycle rituals, she engages students, families and couples in meaningful rites of passage. She is also a certified psychotherapist with skills at counseling students, families and couples.
She has led services for Congregation Nevei Kodesh – a Jewish Renewal congregation in Boulder, CO – since 1988 and has also served as High Holy Days leader at several other congregations in the Boulder area. She received smicha (ordination) from the ALEPH (Jewish Renewal) rabbinic training program in 2013, and she has engaged in study through the Pardes Institute in Israel, the ALEPH Davenen Leadership Training Program, and the Maggidah program taught by Maggidah Devorah Zaslow and Rabbi David Zaslow. She has studied with Reb Zalman in Naropa University and completed a year of intensive training in Rabbi Tirzah Firestone's Ma'ayan Raz program.
 Pnaiorpdx.org
Sue Greenspan joins SHJ Board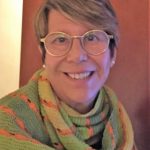 Kol Shalom, Community for Humanistic Judaism in Portland, has selected Sue Greenspan to be its representative on the board of the National Society for Humanistic Judaism.
Sue will attend the twice-annual SHJ Board meetings in Farmington Hills, MI. She replaces Mary Raskin as Kol Shalom's representative on the SHJ Board. Mary has now become vice-president of the SHJ. Elly Adelman, president of Kol Shalom, expressed pleasure and gratitude that Kol Shalom has such fine representation in the national leadership of the Humanistic Judaism movement.
Sue grew up in southern California and was raised in Reform Judaism through confirmation.  As she and her husband, Dan, raised their family they moved and joined synagogues in Los Angeles, San Rafael and New Jersey. She became active in these synagogues serving in roles ranging from Sisterhood president to congregation president. Eight years ago after moving to Tualatin to be closer to children and grandchildren, Sue and Dan became active in the Jewish community; they joined Kol Shalom two years ago. Both Sue and Dan became Kol Shalom board members with Sue as membership chair and Dan as an at-large member.
Kol Shalom has been an affiliated member with the national society since 1993. Kol Shalom will celebrate its 25th anniversary of becoming a nationally affiliated organization this fall.
info@kolshalom.org | shj.org
Portland's UnShul becomes full-service congregation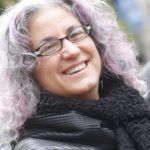 On June 10, UnShul members opted to transition from an event- and activity-based model to a congregation soaked in ecstatic and contemplative prayer, mystical Jewish learning, psycho-spiritual healing and radical political engagement in the Renewal tradition.
Launched in January 2016, the UnShul looked for ways to engage the Jewish soul with the best that Portland has to offer, including Torah Hikes, Dance Davening, Jewish meditation, Musar in the Bar, Kol Isha and Great Minds Think Alike (a comparative theology class). It used a pay as you go model with active inclusion of LGBTQIA+ people, Jews of color and interfaith families.
As time passed, the UnShul experimented with more traditional Shabbat and Holy Day offerings and found that those drew consistent participation: 5778 High Holy Days drew 50 people as did the community's three Queer Passover Sederim.
The congregation meets two Shabbat mornings a month on the West Side.
UnShul President Rivka Gevurtz says the congregation's commitment to social, economic, racial and gender justice is the foundation of all we do. Rabbi Debra Kolodny (Rabbah D'vorah) and members attend rallies, marches, City Council hearings and more as if our lives depended on it – because they do! Rabbah D'vorah is a founding member of Portland United Against Hate. She is a member of Portland's Interfaith Clergy.
Portland's UnShul launched as a congregation with 30 active members. An additional 50 people have participated and expressed interest in more regular engagement.
RabbiDebra@AsTheSpiritMovesUs.com | UnShulRivka@AstheSpiritMovesUs.com | asthespiritmovesus.com/unshul/ | facebook.com/groups/Pdx.UnShul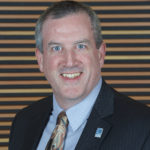 OJCF promotes three staffers
The Oregon Jewish Community Foundation has promoted three of its professional team members in recognition of their work on behalf of the organization.
Chris Vitron has been promoted to chief financial officer. He joined the OJCF team in late 2013. Vitron's responsibilities include oversight for general and fund accounting, budget management, investments and handling noncash charitable gifts.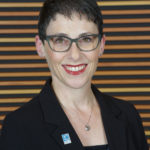 Gail Mandel, who has been with the foundation since 2010, has been promoted to director of philanthropy. She focuses on fund development, managing the Life & Legacy and Professional Advisors Group programs. She also directs OJCF's marketing and communications efforts.
Tara Siegman has been promoted to director of donor relations and grants. She joined the foundation staff in 2014. Her responsibilities include working closely with fund holders on their giving priorities and managing OJCF's grants and scholarship programs.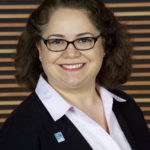 "I am proud of the professionalism and passion that Chris Vitron, Gail Mandel and Tara Siegman bring to their work for the foundation and our community," says OJCF President and CEO Julie Diamond. "Each of them has demonstrated outstanding knowledge, dedication and creativity in their years with OJCF. It will be exciting going forward to see them empowered to serve our donors, partner organizations and community members in their new and expanded roles."
503-248-9328 | ojcf.org
Neveh Shalom hires membership director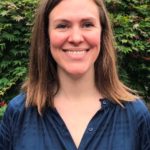 Congregation Neveh Shalom welcomes Lindsay von Colditz as the incoming membership and engagement director. She takes over for Daniela Meltzer, who is relocating to Denver with her family.
Lindsay is a fourth-generation Oregonian. A Beaver Believer married to a Duck, she will cheer for both teams as long as they are not playing each other. Lindsay has spent her professional life in government administration, most recently in city management, and retail and corporate customer service training.
She worked with the Dougy Center, as well as a similar organization in Denver, as a volunteer facilitator to support children who are navigating a significant grief loss. The loss of her mother at a young age to breast cancer, along with the lifeline of support she found in family and community in the time after her passing, sparked a passion for community building, engagement and the importance of taking time to learn people's stories.
Lindsay lives with her husband, their almost 2-year-old son, who attends Foundation School, and their crazy dog in Lake Oswego.
programs@nevehshalom.org
Linda Cohen leads speakers association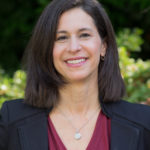 Linda Cohen assumed her term as the president of the National Speakers Association Oregon chapter on July 1, 2018. She has served on the NSA chapter board for the last two years and was elected the Chapter Member of the Year in 2017.
The National Speakers Association serves more than 4,000 members and is the recognized voice of the speaking profession, setting the benchmark for platform excellence worldwide. Cohen, also known as the "Kindness Catalyst," works with businesses and associations on cultivating kindness in the workplace through her highly interactive program: The Economy of Kindness: How Kindness Transforms Your Bottom Line.
"I found NSA when I was writing my first book, 1,000 Mitzvahs: How Small Acts of Kindness Can Heal, Inspire and Change Your Life, and was launching my speaking career," says Linda. "I enrolled in the two-year Speaker Academy program and knew I had found my people. The association is filled with mensches; fellow speakers share resources, expertise and refer clients to each other. There isn't a feeling of competition but the belief that if we help each other we can build a bigger pie."
The NSA community is known for the concept of removing competition by building a bigger market for all speakers.
lindacohenconsulting.com | nsaoregon.org
Spilt Milk moves to Lake Oswego theater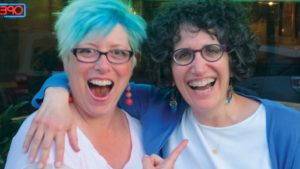 Now that O'Connor's in Multnomah Village has closed, Betsy Kauffman and Joanie Quinn are moving their Spilt Milk comedy show (minimum age 18) to the Lake Theater & Café in Lake Oswego.
Betsy was featured in Oregon Jewish Life in November 2015.
"This is an exciting opportunity for us," says Betsy. "O'Connor's was a sweet venue, but this past year, we were busting out at the seams there. We had a fun last O'Connor's show in May where we gave out some 'Not our last show!' commemorative coffee mugs. We had capacity for about 50 people. Now we'll have room for 90."
The comedy duo will be at the Lake Theater the second Thursday of each month. Doors open at 5:30 pm, the show starts at 7.
"Come early to eat, come to drink, come to soak in the view from the lakeside deck … and come to laugh till you cry," says Betsy.
The theater features cabaret-style seating on the main floor and traditional velvet seating in the balcony. Food and drink can be enjoyed in the theater. Designed by celebrated local architect Richard Sundeleaf, the Lake Theater first opened its doors in 1940.
spiltmilkpdx.com
Mother's Bistro to open new location in November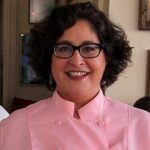 After 18 years in her downtown location, Mother's Bistro and Bar owner/chef Lisa Schroeder has signed a lease on a new location inside of the Embassy Suites in downtown Portland. The new restaurant is expected to open by November 2018.
Lisa attended high school at Akiba Hebrew Academy in Philadelphia and Hebrew University in Jerusalem. She is a graduate of The Culinary Institute of America. She says Mother's was "bursting at the seams" at the Stark Street location.
The new place will be much more spacious. Lisa plans to keep Mother's original menus as well some design elements from the original space. New menu items (pizza and more) will eventually be added, but longtime guests can expect to find the same menu they've grown to love including Lisa's matzah ball soup.
"We've had an amazing run here at the original Mother's location," says Lisa. "However, we've officially outgrown the space and in the interest of all of our 75 employees' comfort and creativity, and to continue to make sure our guests are receiving the highest level of hospitality possible, moving is the right choice."
Mother's will continue to operate out of the existing space at SW Stark under the name "Mother's Velvet Lounge and Cafe" and will offer a limited Southern comfort-focused menu.
mothersbistro.com
Society Hotel to open in Bingen
The owners of The Society Hotel in Portland are putting their successful modern-meets-historic, hostel-meets-boutique-hotel model into their latest project: The Society Hotel-Bingen, located in Bingen, WA, in the Columbia River Gorge National Scenic Area. Renovations of what was originally an 80-year-old historic schoolhouse began in spring 2018. The retreat-meets-spa property will include a range of hospitality options including European-style hotel rooms, bunkhouses and standalone cabins, as well as saltwater soaking pools and event spaces for conferences and retreats. It is slated to open in summer 2019.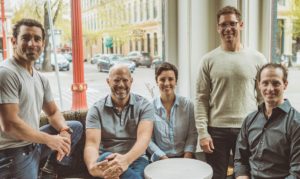 Hood River resident and contractor Carrington Barrs joins Portland Society Hotel owners Jessie Burke, Jonathan Cohen, Gabe Genauer and Matt Siegel as owners of the new hotel. The four Portland partners have strong ties to Jewish Portland. Matt's children attend camp at the Mittleman Jewish Community Center; Jonathan and Jessie's children attend Hebrew school at Congregation Beth Israel; and the Northeast Portland Chabad started its Hebrew school in Gabe's basement.
Adventurous travelers are drawn to the Gorge for its incredible diversity of activities in a stunning setting – from outdoor sports to wine, beer and cider tasting, to exploring the famous Hood River County Fruit Loop and nearby Mount Hood and Mount Adams. Located in downtown Bingen, just five blocks from the Amtrak train station (two stops from Portland) and just across the Columbia from Hood River, the hotel will offer affordable rates and old-school, concierge-style service.
thesocietyhotel.com
StandWithUs names new Pacific NW staff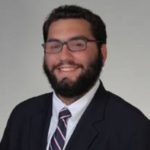 StandWithUs Pacific-Northwest has named new staff members for the 2018-19 school year. Matthew Levin takes over as campus coordinator from Noa Raman, who made aliyah to work in the Israel education organization's Jerusalem office. Carmel Alon assumes her new position as high school coordinator as Aryeh Gelfand moves to the Moishe House in California. Matthew and Carmel will use SWU resources to aid students in bringing Israel educational programming to schools.
Matthew graduated from the University of Nevada, where he was president of Hillel and a member of the AEPI chapter. Growing up in San Francisco, Matthew went to the Jewish Community High School of the Bay. He has been to Israel twice, once on a class trip and the other on Birthright. Matthew will support college students – including the new StandWithUs Emerson Fellows at the University of Oregon and Portland State University – as they combat BDS (boycott, divest, sanction) campaigns targeting Israel.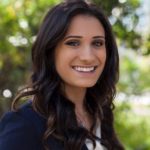 Born in Israel, Carmel attended San Diego State University and graduated magna cum laude with a degree in international security and conflict resolution. While in college, she held various leadership positions and participated in multiple internships including a summer in Tel Aviv as a research assistant for the former Israeli ambassador to the United Nations. Carmel will prepare students for the challenges they may face at university and within their community including the new SWU high school intern at Tigard High School in Portland.
campus@standwithus.com | highschool@standwithus.com | standwithus.com