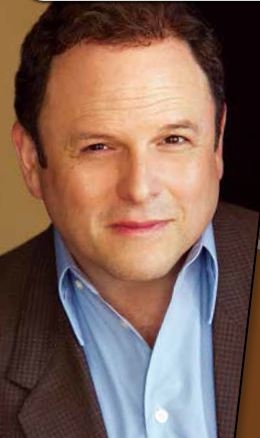 Jason Alexander is most recognized as George Costanza, the nebbishy, selfish and lazy character he played on the iconic TV series, "Seinfeld." But off-screen Jason is anything but lazy, with a career that also boasts movie roles, the Broadway stage, Jenny Craig commercials, TV poker tournaments and his current one-man show.
Jason, whose real name is Jason Scott Greenspan, began performing in his high schools plays in Livingston, NJ. Even before "Seinfeld" became a cultural phenomenon, Jason was a successful theater actor, winning a Tony in 1989 for Best Actor in "Jerome Robbins' Broadway." Most notably after "Seinfeld," he played Max Bialystock for the eightmonth run with Martin Short in the 2003 Los Angeles production of "The Producers."
"He's a brilliant, dedicated actor," says veteran actor Jerry Stiller, who played Frank Costanza, Jason's on-screen father in Seinfeld and is also famous for his father role on the hit TV series "King of Queens." (Jerry's real son, with actress wife Anne Meara, is actor Ben Stiller.)
"Jason is such a mature actor and person. It was as if there was no age difference between us on set," says Jerry, adding that from the first time they met and read a "Seinfeld" script together, something clicked. "We just let it happen between us. On the set we had no boundaries, and it all seemed so natural. There was no air between us. It allowed both of us to feel free to try different things, like lava flowing from a volcano." In contrast to Jason's mature nature, the George character never grew up. Jerry Stiller laughingly describes George and Frank Costanza as "trombeniks" and notes "that's Yiddish for someone who's a loose cannon."
"Jason is a fantastic singer and dancer," says Jerry. "Many years ago we went to see him perform. I couldn't believe his athletic dancing ability. He leaped into the air. I mean he did a 360 leap into the air. He was fearless."
Seinfeld's George, on the other hand, was schleppy and uncoordinated. Yes, Jason was convincing as the commitment-phobic George or the misogynistic attorney he portrayed in the movie "Pretty Woman." But in real life he's been happily married to his wife Daena for 32 years. They have two sons.
He's visited Israel several times, including the delegation trips he took with the OneVoice campaign, a peace initiative of moderate Israelis and Palestinians seeking mutual peace.
What Jason does share with George Costanza, unfortunately, is his hair, or the lack of it, rather. Nevertheless, he sometimes dons a semi-permanent hair piece. In fact, his Nov. 15 one-man show in Medford is titled "An Evening with Jason Alexander and His Hair." It It features stand-up comedy and singing.
For more information: 541-779-3000.
Kathy Shayna Shocket is a freelance writer, photographer and TV field producer who has written for publications such as Time Magazine, People Magazine, Money Magazine, the Hollywood Reporter and the New York Times.