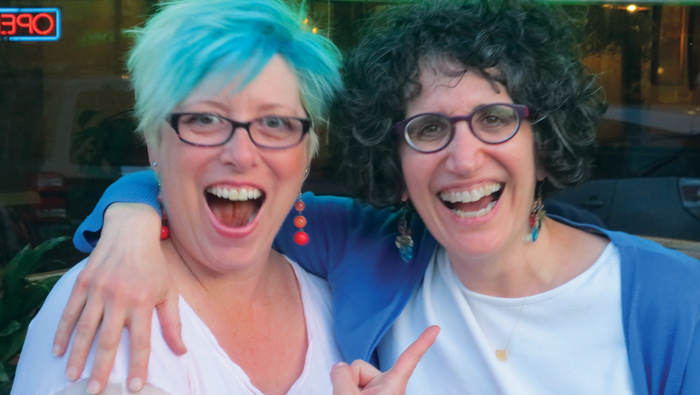 Portlander Betsy Kauffman lives a life full of beliefs that she puts into action on many stages.
Calling herself "weirdly domestic," this 55-year-old livewire puts her beliefs into practice as a Jewish wife and mother of two boys, Gabriel and Zach. Domesticity dwindles as she heads to her workday at the nonprofit organization Energy Trust of Oregon, where her drive for tikkun olam takes over.
"We give money to homes and businesses that install renewable energy like solar," says Betsy of Energy Trust. "It's a great job, and I'm lucky. I can take my values to work with me. I also have the pleasure of working with committed, super smart, creative and very nice people."
You might say Betsy's life is full enough. But this one-time radio news announcer undergoes another makeover by nightfall. No, she's not Spiderwoman righting social wrongs, she becomes The Joker! And no, not the gruesomely made-up, laughing monstrosity of films, but a scream – an ethical, politically correct scream.
Under cover of darkness, Betsy frequently musters up her chutzpah to bare her principled, humorous soul at local comedy clubs and Jewish fundraisers. She also performs at private functions with custom-tailored material.
"I've always been amused by the world," Betsy says about her nocturnal adventures. "Doing comedy is a way to express my thoughts about how silly it can all be. I so enjoy making people feel good and say 'Yes, I've noticed that weird thing, too.' Or 'I've also felt that way.' "
Betsy's mobile face might lead you to believe she made a good clown as a child. But humorous art was not on her to-do list then. "My mother is an artist and throughout my childhood I was intimidated by that, by making art," she recalls. But as an adult she signed up for a stand-up comedy course at Portland Community College. She has been a practitioner of "the laugh" ever since, no matter how many times she's feared facing the mic.
Verbal, highly accessible and honest, Betsy defines herself as "a reasonably good Jew." She belongs to Congregation Shir Tikvah. "I feel like a Jewish person. I attend Saturday services about once a month. I go to the fall High Holy Days services. I volunteer. I like bagels and cream cheese, and I eat Chinese food at Christmas. Judaism is the lens I use to look at the world." Jewish comedians Gary Gulman and Joan Rivers figure among her biggest inspirations.
However, Judaism has not always been completely comfortable for Betsy. "I grew up in Menomonee Falls, WI. At that time it had a population of 35,000, and my family was the only Jewish one in town until my cousins came when I was in junior high. I wasn't hugely different, but I was different enough. I think the big takeaway is my understanding of what it is to be different."
Thus she peppers many performances with insights into her heritage: "It was hard growing up with super curly hair. No one on TV looked like me. Barbie dolls didn't look like me. I think Mattel needs to come out with a Barbie for little Jewish girls: Bat Mitzvah Barbie with black, curly hair. She comes with a nice dress she got at the Nordstrom half-year sale, with her boyfriend – Kosher Ken – and with her buddy – Shiksa Skipper."
Here's another one: "If the Christmas story were a Jewish story, Mary would have told her mother that Joseph isn't the father of her baby, and her mother would have said 'Good! I never liked him anyway.' And after finding out that God was the father, she would have warned her daughter that 'God better have a good day job because you can't count on miracles.' "
If Betsy's mouth moves quickly, her audience soon learns her ear is no slouch either. Jewish ha-ha's resonate with a singular Yiddish accent – the one belonging to her Czechoslovakian Jewish grandmother. Yes, that grandmother, the one who regularly and resolutely played cards for a penny a point with her friends. Still another accent surfaces as Betsy whips out her Midwestern material – a highly convincing Midwest one.
Judaism and the Midwest don't completely dominate her inventory of jokes, though. Gags about family life often reign supreme. And no wonder. When unmarried, she placed an ad in Willamette Week's singles section, stating clearly that any date of hers would have to be funny. She dated and ultimately married Jeffrey Kauffman, whom our comedian calls "a very passionate, creative person. He's great keyboard player and writer who reviews movies for blu-ray.com." This husband, she boasts, has given her some of her best lines ever.
Betsy admits her family blesses her work. "My sons are both into computer science. They each built their own computers and love coding. Most of the time, I don't know what they're talking about. But they think what I'm doing is very cool – the only thing I do that's very cool. And they are both so funny. I asked Zach once what he wanted to be when he gets older. 'A trophy husband,' he quipped. And then Jeff chimed in with 'Yeah, just like me!' "
Beyond her comfortable family support, Betsy finds more from other funny women. A number of years ago she met Joanie Quinn, another stand-up comic, who is a staunch Catholic and a wife and mother of four. Quinn, who has served as mistress of ceremonies for both the 2014 and 2015 Multnomah Days Parade, laughs when she utters one of her standard jokes: "I have four kids from three different mothers." (You can see adoption figuring into her family, yes?)
They are fast friends now. Finding that some comedy clubs served up material these joke-smiths found too raunchy, they moved on to craft their own hilarity with Spilt Milk, a non-sleazy comedy act. O'Connor's Vault at 7850 SW Capitol Highway in Multnomah Village is their spiritual performance home. Their fourth year began Sept. 16. Spilt Milk presents their brand of humor, but also that of other humorists who have auditioned to prove their work is funny and suitable. One recent guest comedian and regular who had the audience rolling in the aisles was writer Nikky Schulak. She read from her snappy work entitled My Midlife Thong Crisis.
True, people under 21 aren't allowed at O'Connor's, though they probably know more about thongs than the rest of us. The club opens its doors early – at 5:30pm – so that guests can order dinner. The show itself begins at 7 pm and ends at a remarkably early 8:30 pm. This down-to-earth weekday schedule allows guests with kids to be home early, and as the Spilt Milk poster states: "We have kids, and we can't stay up later than that."
In addition to September and October shows, Spilt Milk's Fall 2015 schedule includes Nov. 18 and Dec. 8. Tickets: spiltmilkpdx.com.