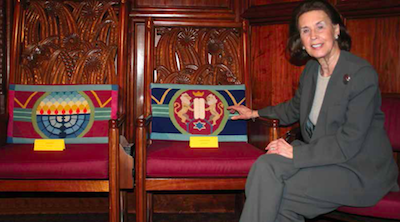 When Sharon Tarlow kicked off Congregation Beth Israel's needlepoint pillow reunion on April 11, the women involved in the 1974 project gathered around her and smiled. Their handiwork of two dozen chair backs has graced seats along the perimeter and bima of the Byzantine sanctuary for decades. Envisioned by the sisterhood, designed by artist Janet Louvau Holt (then Jansen), and approved by Rabbi Emanuel Rose, the flat, rectangular canvases stitched with muted colors display Bible stories and sacred objects.
The idea for a reunion started when Tarlow stumbled on an old project scrapbook while helping organize the congregation's library. The sisterhood invited all the living needlepointers, plus the daughters of those who have passed on, to a pillow tour followed by a scrumptious afternoon tea. "Jan Baddock (now Webster) and I taught crewel and needlepoint in our homes," said Janet Holt during her introductory remarks. "She and several students were members of Beth Israel. They invited me to a dinner party and seated me next to Rabbi Rose. People asked me questions about the Bible. They wanted him to be comfortable with me because I was not Jewish, and they were thinking of asking me to design the needlepoint. I'd grown up reading the Bible. It's part of our history as a people and nation."
Janet got inspiration by attending several services. She hand-painted each canvas, bordering the central theme with images from the synagogue's stained glass windows. There's Noah's Ark, the Garden of Eden, the Binding of Isaac and Priestly Blessing Hands. One chair back shows the walls of Jericho tumbling down.
"The one I did had the Lions of Judah holding the tablets," said Janet Zell. While most of the canvases use standard tent stitch, French knots give the lion his raised flowing mane. "The background arches gave us all trouble. Needlepoint is square and we wanted a rounded look. It was almost a math problem."
Barbara Cohn, who chaired the project, brought her daughter Susan Savage to the reunion. While Barbara's needlepoint now fills both women's homes, when the project started, the craft was something new. "The colors drove me crazy," she said about her pillow depicting Joseph and His Coat of Many Colors. "You had to start, stop, start. We met once a week and everyone had questions."
Janet welcomed stitchers of all skill levels, knowing she could fix anything in the end. "We met in the room across from the back of the temple until people felt comfortable on their own, and then we'd get together once in a while," she said. "People worked together and learned. "Rabbi Rose invited me to sit on the bima during Friday night service the week the pillows were installed. He said, 'This evening we wish to honor those who did the needlepoint and one who is not one of us but who loves us,' " she continued. "It still brings tears to my eyes. It was a great experience."