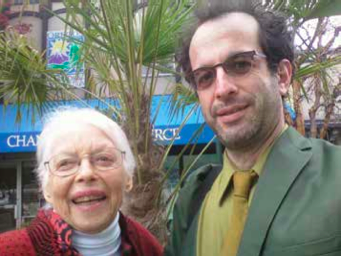 Artist Ben Killen Rosenberg is slowly beautifying Portland, one block at a time. While our city might not yet boast the public art of Barcelona, it is increasingly adorned with the whimsical creations of the painter/sculptor. The outdoor walkway at Legacy Emanuel Chronic Wound and Outpatient Burn Clinic is embellished with Rosenberg's colorful sculpted turtles, while vibrant sea creatures populate his marine-themed mural at A Child's Way Kindergarten Preschool.
Rosenberg helps to foster a sense of community with his work. At Richmond Place, a temporary housing facility, he taught children how to sculpt clay pieces for an outdoor installation of ceramic flowers. He also worked with Russian and Vietnamese children from Lutheran Family Services on a mural.
He has been featured in two exhibitions at the Mittleman Jewish Community Center, where he also taught art classes for several years. At Temple Beth Israel, he taught a class for children in which they made Judaica-themed projects.
Rosenberg continues the legacy of his mother, noted muralist and sculptor Lilli Ann Rosenberg. Working with her husband, Marvin, Lilli installed elaborate mosaics all over Boston, New York, and Portland and Jacksonville, OR. The couple's artwork can be seen at the Henry Street Settlement Center in New York, the Brookline Jewish Community Center, the Park Street subway station in Boston and Portland's Helen Gordon Child Development Center, among many other sites. Says Rosenberg of their Portland installations, "(They installed) some really cool little toddler chairs made from concrete, mosaic and clay at Helen Gordon, a cool bench at a low-income housing on NE Alberta and a water feature at the Federal Building. They did some amazing work."
The artist was born in New York; his family, including two sisters, later moved to Boston. As an adult Rosenberg moved to Portland and his parents moved to Jacksonville. Rosenberg maintains a collection of his parents' pieces at his Richmond studio, where he has worked for 20 years.
With such a creative family, it's no wonder that Rosenberg began making art at an early age. He explains, "My mom encouraged me to draw a lot. And whenever we got in the car, she always situated me with a view from the window, because I was enamored of looking at buildings. Because my mom was an artist, she used that to help nurture it as something to embrace and keep doing. She was always bringing me to museums, and we would always visit New York City because they had a lot of close connections there." At only 7 years old, Rosenberg printed his first illustrated book, All About Life. He says, "It was about my version of how life started. It talked about dinosaurs, and about how all of a sudden there were cities, and fire departments and police departments. It is a reflection on what I saw in New York City."
Rosenberg continued to illustrate and create ceramic pieces. Eventually, he would study painting and printmaking in Rome. "I realized that was my calling," he remarks. When he moved to Portland, he began to cultivate his passion for monotypes, which are a type of print created by painting images on a plate and transferring them to paper with an etching press.
The artist is incredibly prolific. Over the years, he has created countless illustrations for publications such as The New Yorker, The New York Times and The Oregonian, and he is always working in various mediums. He explains, "Right now, I'm painting watercolors, trying to focus on several bodies of work. I'd like to do a children's book about my dog."
Humor features promi- nently in many of Rosenberg's works. "I started discovering ceramic art that deals with humor and irony. One of my idols is Robert Arneson, who would do lots of funny pieces about himself, self-portraits in clay. I have made everyday objects out of clay; in the house here, I made an actual size telephone, a dartboard, a frying pan with eggs in it, a beehive. I've also made things that we're uncomfortable with, like a toilet, a urinal. The other thing I did, I started making these crazy teapots; each one is fired a different way."
Another project of Rosenberg's is constructing houses out of foam core. He says of this project, which was featured at the Disjecta Biennial, "I made houses that really struck me in my neighborhood. I took stuff from my mother's studio that she left behind, pieces of leftover scrap foam core. This was something we talked about doing together before she died. I just loved this idea of building."
Rosenberg does not shy from the controversial. While visit- ing Israel in 1988, he got an up-close look at the largest protest of Orthodox Jews at the Western Wall. He crafted clay pieces of the conflict, and also painted images of Orthodox and secular Jews who were arguing over the issue of theaters opening on Shabbat.
Currently, Rosenberg teaches art appreciation, history, water- colors and drawing at Clark College in Vancouver. During his free time, he visits the beaches of Manzanita to gather inspiration for his latest round of watercolors.
When asked about what inspires him, he ponders, "What intrigues me? I'm always looking for the unexpected. We all just keep walking – things just keep going by us all the time, and people spend their whole life not noticing. I notice things, and I start to question them. If they give me enough interest, I investigate them more."
He explains that his artistic view can be summed up in a line from a poem by Edna St. Vincent Millay: "All I could see from where I stood."
Kerry Politzer is a transplant from New York to Portland. She has written for IN New York, WHERE Traveler and Dessert Professional.