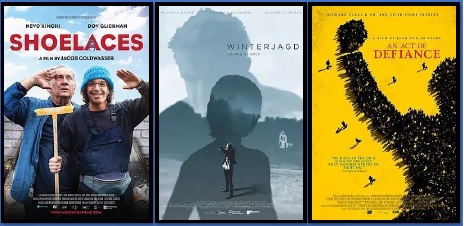 Beit Am, the Mid-Willamette Jewish Community, presents its second annual Jewish film festival in Corvallis on two Sundays, Sept. 15 and 22.  The festival will feature three films each day at the Darkside Cinema, 215 SW 4th St., Corvallis.  The movies highlight Jewish themes and also appeal to the broader community.
The event is planned by the Beit Am Arts and Culture Committee to provide opportunity for open dialogue and to examine our shared history for lessons we can apply to the present.  The movies are not expressions of devotional or political topics and do not promote any religion.  They are thought-provoking films that would not otherwise be shown in Corvallis.  All of the films have been selected by various International and Jewish film festivals and have adult content.
"After such incredible community support for our first film festival, the steering committee was very excited to bring another slate of exceptional films to the event
in September of this year," says Melinda Croft, this year's Corvallis Jewish Film Festival Coordinator. "We started the process by viewing 35 films that were all strong and exemplary in their own right, to narrow the list down to six films that were strongly championed by the committee and deemed to be a perfect fit for our community."
Croft stated that she is proud of the variety and diversity of the films, including movies from South Africa, the US, Germany and Israel.  "In addition, the committee felt strongly that we wanted a woman director in our mix, and we ended up with two films directed by women," says Melinda.
The selected films include three documentaries, two dramas and one docudrama.
The festival launches at 2 pm, Sept. 15, with a screening of Shoelaces, an Israeli film which tells the story of a developmentally delayed son and his aging father, who
confront an emotional and ethical dilemma when the father needs a kidney transplant.  At 4 pm Winter Hunt, from Germany, presents a dramatic thriller about a young woman seeking vengeance from an aging Nazi prison guard, with moral complexities and surprising revelations that emerge in a tense cat-and-mouse game. The first day's screenings end with the 7 pm presentation of In An Act of Defiance. Set in South Africa, the film tells the story of Jewish attorney Bram Stoker risks his career and freedom to defend Nelson Mandela and his inner circle of Black and Jewish supporters who face a possible death sentence for conspiracy to commit sabotage after they are arrested by the apartheid South African government during a raid in the town of Rivonia during the summer of 1963.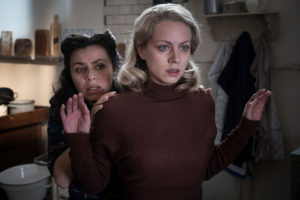 On Sept. 22, screening begin at 2 pm with Chasing Portraits, the memoir of one woman's emotional quest to find the art of her Polish-Jewish great-grandfather, lost during World War II.  At 4 pm a German film, The Invisibles, tells the story of the Jews who "hid in plain sight" in Berlin during World War II, with documentary interviews and dramatic footage interspersed. While Joseph Goebbels infamously declared Berlin "free of Jews" in 1943, 1,700 managed to survive in the Nazi capital through the end of the WWII. The Invisibles traces the stories of four young people who learned to hide in plain sight.
The final film of this year's Corvallis Jewish Film Festival, It Must Schwing: The Blue Note Story, starts at 7 pm., Sept. 22. In 1939, Alfred Lion and Francis Wolff, two young Jewish émigrés from Berlin who had fled from Nazi Germany, founded the legendary jazz label Blue Note Records in New York. The label dedicated itself exclusively to the recording of American jazz music and developed its own unmistakable recording style and sound. At a time when African-American musicians in the USA were discriminated against and ostracized, Blue Note records respected them as artists and equals.
Admission for adults is $7; Seniors, Students and Military are $5.  More information including the festival schedule, all of the movie trailers and further descriptions can be accessed at the festival website: www.beitam.org/filmfestival, or the Facebook page: https://www.facebook.com/corvallisjewishfilmfestival/