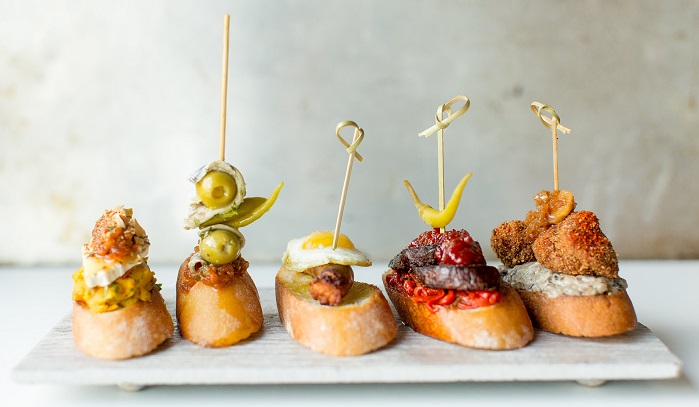 PHOTO: Urdaneta features an assortment of tapas which change seasonally.
As a child in the Basque village of Bermeo, Chef Javier Canteras enjoyed spending time with his maternal grandfather, who was a fisherman and epicure. Together they would attend meetings of the local gastronomic society, or txoko. This club was a place of culinary experimentation with impeccably fresh ingredients. Traditionally, txokos were exclusive, male-only affairs. Over a century ago, Queen Maria Christina was refused entry, with the consolation prize being a fish jaw to take back to her palace. (For background, see bbc.com/travel/story/20160105-spains-secret-food-societies.)
The memories of the txoko would continue to influence Javier into adulthood, inspiring him to found the monthly pop-up Basque Supper Club in Portland. The pop-up, which put a modern twist on Northern Basque cuisine, soon became wildly popular. It was featured on the "Secret Restaurants" edition of FYI's "Food Porn" as well as Joe Bastianich's "Restaurant Startup," a television program that awarded Javier $150,000 and a culinary excursion in Spain. After operating Basque Supper Club for two years, Javier was propelled by his success to open Urdaneta, which is named after his grandfather. The rustic restaurant features an open kitchen and a warm, inviting atmosphere.
While Javier is inspired by Basque traditions, he isn't one to recreate a dish to the letter.
"I never wanted to be one of those chefs who sees a classical Spanish dish and completely tries to recreate it with those exact ingredients," he says. "There's something great to be said about that, but I think the most important thing is to embrace the ideology. What you do is go to the farm stand down the street, the guy who milks his cows, the place with fresh eggs and the bakery. I do that with the ingredients here in Portland and (apply) the cooking techniques and flavors of where I'm from. So, because we're in the Pacific Northwest, I would serve halibut instead of turbot; it's going to be much more delicious and fresh."
The food Javier serves is stunningly presented and delicious to a fault. His menu, which changes according to season and the offerings of local farms, focuses on the small plates known as pintxos. True to Javier's coastal roots, he serves a delicious plate of grilled sardines (fresh from a morning catch, according to our server). Other dishes of note are spicy fried potatoes with garlic sauce and a decadent swirl of duck egg, and an amazingly textured salad of smoked beets, Spanish peanut brittle, manchego cheese, pickled onions and curls of frisée.
Vegetarians might enjoy the toasted noodles, which at the time of this writing featured asparagus, English peas and sheep's milk cheese. While some dishes include Spanish ham as an ingredient, diners can always request its omission.
Desserts include churros con chocolate, goat's milk flan, and a selection of cheeses with jam and almonds. You can accompany your sweets with a café con leche with coffee sourced from the nearby Caffe Vita.
Reservations are highly recommended, as Urdaneta fills up quickly. The restaurant is closed on Mondays.
Urdaneta: 3033 NE Alberta St., Portland, 503-288-1990, urdanetapdx