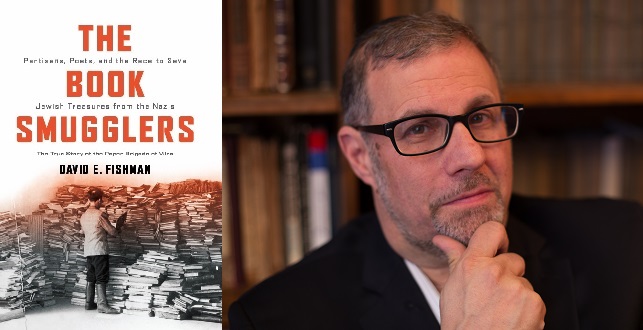 As an assistant professor at the Jewish Theological Seminar in 1989, David Fishman was asked to help evaluate an archive of Jewish materials discovered in Vilnius, Lithuania.
Over the next two decades, David followed the trail of the Jewish books and documents that Jewish writers and thinkers smuggled out of Nazi hands to be hidden in the ghetto of Vilna (then part of Poland).
"I knew the story needed to be shared," said David in a phone interview in anticipation of his Portland visit (see below). "I didn't know if there was enough material to make it into a book."
In 1996 he wrote an essay about the archives for YIVO, the Jewish cultural organization founded in Vilna in 1925 and now located in New York. YIVO, which had recruited David in 1989, is now the repository of most of the archives.
"But I kept collecting and looking and then focused on a book about seven years ago."
It took another five years, but when The Book Smugglers: Partisans, Poets and the Race to Save Jewish Treasures from the Nazis was published, it won a 2017 National Jewish Book Award.
"This is a great story of heroism and resistance to the Nazis," David says. "It is a great story of a large group of people saving culture and Jewish heritage. It is as important to remember as the Warsaw Ghetto uprising. … Both are moral victories of human dignity."
Spiritual and moral resistance to the Nazis was just as important as armed resistance, explains David.
"It's a Jewish story that resonates with a wide audience," he says. The book has been or will be released in several languages including Czech, Portuguese, Italian, Dutch, Japanese, Lithuanian, Chinese and Hebrew, which he says is a reflection of that resonance.
The book smugglers who are the heroes of the story were academicians, writers and intellectuals the Nazis ordered to sort the Jewish papers plundered from Vilna's famed Jewish cultural institutions. These slave laborers risked their lives to smuggle as much as possible into hiding in the ghetto.
David was able to recreate their story by reading memoirs written by those laborers during and immediately after the war. He also interviewed one survivor living in New Jersey.
He also shares the story of how many of those same heroes saved parts of the collection a second time. During the war Poland lost control of Vilna, which became part of Soviet Lithuania.
"The survivors quickly realize Soviet Lithuania was not a safe place (for Jewish cultural treasures)," says David. "So they have to get it out."
Once again the intellectuals and writers risked their lives to smuggle materials to safety.
"These materials were now Soviet property," he says. "You could be arrested and sent to Siberia for stealing property of a Soviet institution. You're not killed like under the Nazis, but you could be sent to a Soviet camp where many people died."
Many of the documents the survivors smuggled out ended up in the United States or Israel.
"The material they could not take out was hidden for about 40 years and was unknown to the world," says David, noting it was that hidden archive he was asked to help evaluate in 1989.
YIVO and the Lithuanian library have agreed to digitize the materials since they are divided among multiple locations. David explains digitizing will help researchers since some documents were divided. For instance, one page of a letter might be in YIVO's archives in New York and the second page of the letter might be in Lithuania.
"This community had a special spark," says David. "The community was committed to reading, study and culture. The people could not save the Jews, but through their books they could save the culture so important to them."
"People were willing to risk their lives for Jewish heritage," says David. "So we should cherish our traditions and our legacy. That is the point of my book and my talk."
EXCERPT FROM AUTHOR'S NOTE OF The Book Smugglers:
A few years ago, I gave a talk about the Vilna ghetto and mentioned in passing the bravery of  the "paper brigade." After the program, an elderly man … said to me, "You know, I worked in that brigade for a few months. I slipped quite a few books and papers past the German guards myself." I was stunned. I didn't think any of the heroes of the paper brigade were alive by 2012. But as he answered my battery of questions, I could tell he was indeed a member of the group.
Ninety-three-year-old Michael Menkin now makes his home in an assisted-living facility in New Jersey. …
Michael's activity rescuing the books is one of the few happy memories he has from his years in the ghetto. His mother, two sisters and a brother were executed in Ponar. "We were all certain we would soon be killed. So why not do a good thing and rescue some treasures? I don't remember the names of the books and manuscripts I 'stole' from work, but I often lie in bed at night and think to myself, Who knows? Maybe I rescued something important."
He did. He rescued his humanity and ours.
PORTLAND JEWISH BOOK CELEBRATION
The Eighth Annual Portland Jewish Book Celebration presents two January events focused on The Book Smugglers: Partisans, Poets and the Race to Save Jewish Treasures from the Nazis, by David Fishman.
BOOK DISCUSSION: Unpacking The Book Smugglers
WHEN: 7-8:30 pm, Jan. 22
WHERE: Havurah Shalom, 825 NW 18th Ave., Portland
RSVP: Havurah Shalom, 503-248-4662
AUTHOR TALK: David Fishman on The Book Smugglers
WHEN: 1 pm, Jan. 27
WHERE: Portland State University, Browsing Lounge (Room 238), Smith Memorial Student Union, 1825 SW Broadway
FREE: Sponsored by Congregation Beth Israel, Mittleman Jewish Community Center, Portland State University's Judaic Studies Program and Congregation Shaarie Torah
INFO: oregonjcc.org/arts-culture/jewish-book-celebration