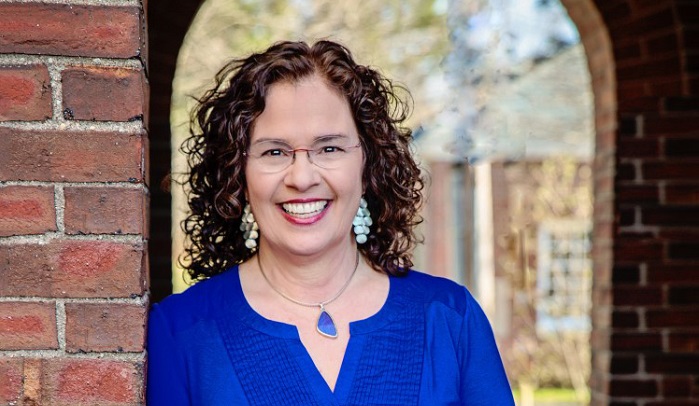 The daughter of Holocaust survivors, Ani Tuzman grew up on a backroads chicken farm in a community where anti-Semitism was common. She took refuge in writing and nature to escape the darkness she saw around her.
When her passion for writing, nature and meditation merged with her interest in the Eastern European Jewish world her parents left behind, she felt an inner call to write about the 18th century mystic known as the Baal Shem Tov. After two or three years of research into the life and times of the mystical rabbi considered the founder of Hassidic Judaism, author Ani set the book aside to care for her "differently abled" son. Her son was born with no sternum and was not expected to live long. "He's a walking miracle," she says, noting his special needs have required much of her time over the years.
"I thought I'd let it go," says Ani of the novel she intended to write based on the life of Rabbi Yisroel ben Eliezar. "The book never put me down. It never let me go."
When she picked it up again after three years, she knew she would stick with the book until it was finished. It took another 10 years as she balanced writing with other aspects of her life. With her three children grown, she finished the book, but its release was delayed by a family crisis. The book was released a month after the presidential election in 2016, remarkable timing she considers "not a coincidence."
"The book is a reminder of the immense power of love … the power of action taken from love, not from fear," says Ani. "People talk about how that message in the book has been sustaining for them. That has been moving to me."
Her novel soared to the top 20 of sales in several categories on Amazon the week it was released. She hoped to go on a book tour, but her son's health kept her close to home. Portlander Joanie Levine, who was good friends with Ani when they both attended Brandeis, saw her old friend's book and invited her to Portland to speak at P'nai Or. In March Ani will visit Oregon for a series of book talks, including participating in the Author Series at the Mittleman Jewish Community Series (see below).
While the advent of her novel was delayed, her devotion to writing never wavered. She founded Dance of the Letters, and for 30 years has helped others "find and free their voices or the voice of their hearts." She continues to lead writing circles and mentor writers of all ages.
"Writing has saved my life," says Ani. "I adore writing, so I enjoy sharing with people who dream of writing – with those who have written their whole lives or those who haven't given themselves permission to write."
"I love doing groups for women 60 and older; I also work with children and teens," she says.
In Oregon, she will do a writing circle (see box) based on the theme "write your way to inner peace," a theme she explores in A Tremble of Love.
She also has plans for at least three more books of her own: one inspired by her parents' stories of surviving the Holocaust, one about the kabbalists practicing in Tsfat in the 1500s and one about being a parent of a special needs child.
"If God grants me a long life and good mind, maybe all the books will be written," she says.
anituzman.com
MJCC AUTHOR SERIES
March 6 – Tom Teicholz 
Tom Teicholz is a writer, producer and content creator in Los Angeles. Everywhere else he is an award-winning journalist whose work can be found on Forbes.com, The Huffington Post and The Los Angeles Review of Books. His talk will focus on "Jews of the 20th Century" and include his encounters with Jewish authors Jerzy Kosinski, I.B. Singer and Cynthia Ozick, as well as Jewish cultural figures.
March 13 – Susan Simon, Almost a Minyan
Susan Simon has been illustrating children's books for over 30 years. Almost a Minyan, her 18th book, aims to help Jewish youth grow into their own in a more modern world.
March 20 – Ani Tuzman, A Tremble of Love: A Novel of the Baal Shem Tov
This story is inspired by the legendary spiritual master, Rabbi Yisroel ben Eliezar, known as the Baal Shem Tov, the Good Master of the Name, who beckoned forth love from the hearts of rag pickers, ruby merchants, midwives and murderers.
WHERE: Mittleman Jewish Community Center, 6651 SW Capitol Hwy., Portland
TICKETS: Individual events: members $5; guests $8. Series pass: members $12; guests $20.
RSVP: oregonjcc.org/arts-culture/arts-culture-events/authorseries
ANI TUZMAN'S OREGON TOUR
The Tremble of Love: A Novel of the Baal Shem Tov
Mystical Study Night featuring The Tremble of Love
Wednesday, March 14, 7:30-9 pm
Hosted by Portland's UnShul, 3651 SW Custer St., Portland
Contact: rabbidebra@asthespiritmovesus.com
IN THE PRESENCE OF LOVE: Havdalah with the Baal Shem Tov
Saturday, March 17, 7-9 pm
Hosted by P'nai Or, 9750 SW Terwilliger Blvd., Portland
Contact jlevinehummingbird@yahoo.com
Writing Our Way to Inner Peace: A Dance of the Letters Writing Circle
Monday, March 19, 6:30-8:15 pm; Please arrive 15 minutes early to register. $15.
Congregation Shir Tikvah, 7550 NE Irving St., Portland
Sponsored by: MJCC, Compassionate Listening Oregon, and the Oregon Jewish Museum and Center for Holocaust Education
MJCC Author Series (see box)
Tuesday, March 20, 7 pm
IN THE PRESENCE OF LOVE: Reading, Discussion and a Musical Offering
Thursday, March 22, 7 pm
Hosted by Temple Beth Israel and Or haGan
at Temple Beth Israel, 1175 E 29th Ave., Eugene
IN THE PRESENCE OF LOVE: An experience of The Tremble of Love 
Sunday, March 25, 7:30 pm