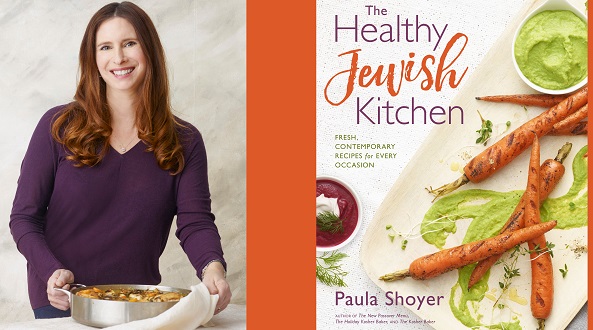 Paula Shoyer's journey from attorney to kosher innovator and cookbook author crossed two continents, with an important stop in Portland.
Paula says her career as a cookbook author took off thanks to a culinary conference she attended in Portland. Brandeis University Press published Paula's first cookbook in August 2010. She brought a galley of the book to the International Association of Culinary Professionals meeting in Portland that spring.
"I was just a young, not seasoned, cookbook author with one cookbook at a small publisher," she says. "I showed my book to an agent and (now) have done three books with that agent and publisher."
That publisher, Sterling Epicure, is known for its food and wine titles with upscale packaging and a focus on lifestyle. Paula's latest book, The Healthy Jewish Kitchen, focuses on Ashkenazi and Sephardic classics that are made with fresh, nutrient-dense ingredients.
Paula grew up in an Orthodox Jewish community in Long Beach, NY. Though she enjoyed watching and cooking with her grandmother in Brooklyn, Paula didn't plan a career in cooking. She graduated from Brandeis University and received a J.D. from American University. She worked as an attorney in a Washington, D.C., law firm for four years.
The family moved to Switzerland in 1993, where her husband, Andy Shoyer, served as the legal advisor to the U.S. Mission to the World Trade Organization until 1997.
"I went to cooking school in Paris for fun," says Paula. "I thought I'd go back to law. But people kept asking me to cook for them … and soon I had a catering business."
When she returned to the states, she soon found her new niche as a cookbook author who created fresh, easy, healthy, kosher recipes for busy families.
"The whole approach to The Healthy Jewish Kitchen is to take traditional foods we love and preserve them by making them healthier and easier and more contemporary," says Paula. "It's not a diet book, but I add whole grains and less salt and fat."
Paula says her recent book offers many recipes that will help people start the new year with a healthy diet.
"If you ODed on carbohydrates and wake up in January saying 'I need to eat healthier,' but you still want the foods you like … (this cookbook) has healthier versions of foods people really want," says Paula.
Following are some recipes she has shared for healthy dishes that are not complicated to make. The Dry Roasted Salmon has no extra fat and is great accompanied by her Mango Coleslaw, which uses mango purée instead of mayonnaise. Her Ribollita Soup is one "you want to make on Monday so you can eat it all week long." And her Modern Borscht is just one of the soups she makes from scratch with no soup stock.
See the recipes, which are excerpted with permission from The Healthy Jewish Kitchen, by Paula Shoyer, Sterling Epicure.