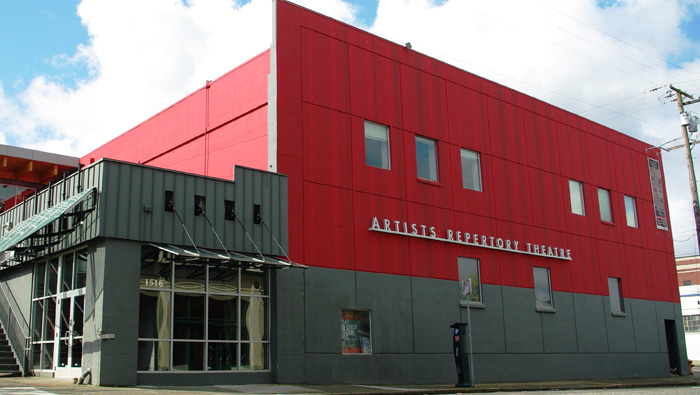 Artists Repertory Theatre announces an ambitious and stylistically diverse 2015-16 season of eight engaging plays. These selections emphasize Artists Rep's role as Portland's premiere mid-size regional theater company by offering five critically acclaimed contemporary plays, alongside two magnificent mid-20th century classics and the world premiere production of the Broadway-scale musical, "Cuba Libre."
"This season's lineup of bold and diverse plays presents us with characters facing and ultimately emerging through life's obstacles," says Artistic Director Dámaso Rodriguez. "From challenges of immense or fantastical proportions to deep, internal hindrances they may not yet understand, the characters this season reveal the grace and beauty of accepting change through adaptation and perseverance." Rodriguez continues, "I hope both veteran and new theatergoers see titles that inspire them to discover what makes Artists Rep such a special place to experience theater in Portland."
The 2015-16 season will again feature the work of Artists Rep's Resident Artist Company, alongside guest artists from Portland's top-notch theater community and beyond. Now composed of 24 theater practitioners, the resident artists include five Jewish artists: director and actor Michael Mendelson, who has been with the company since the first group of resident artists was named in 2008; actor and playwright Linda Alper, who joined the company in its 2013 expansion; and actor Susannah Mars, playwright Andrea Stolowitz and actor Joshua Weinstein, who became resident artists in 2014.
Tickets for all shows are on sale now at artistsrep.org or by calling 503-241-1278.
ASL-interpreted performances are presented at the Saturday matinee of each play with open-captioned performances on the third Sunday night performance of each play.
The 2015-16 season features an exciting lineup.
"The Understudy" is directed by Michael Mendelson. An understudy rehearsal for a fictional Kafka play on Broadway teeters on the edge of reality when Harry – the understudy for Jake, who is the understudy for Bruce, a Hollywood action star about to land a multimillion-dollar part – must work with the ill-fated production's exasperated stage manager whose life he ruined long ago.
"Cuba Libre" features the irresistible rhythms of Cuban music driving this riveting, timely story of a man caught between countries, losses and loves, and his search for freedom. This Broadway-scale, contemporary musical features the internationally acclaimed, three-time Grammy nominated band Tiempo Libre with a company of 22 actors, dancers and musicians in a not-to-be-missed theatrical event.
"Broomstick" is a fairytale-twisted yarn of delightful humor and spine-tingling suspense that conjures a spooky seasonal experience unlike any other.
"The Miracle Worker" is one of the most triumphant stories of the human spirit ever told. With dignity, perseverance and respect in the face of seemingly insurmountable challenges, a child, a teacher and a family learn to communicate.
In "Mothers and Sons" a mother, after a 20-year silence, pays a surprise visit to her deceased son's former lover seeking a connection she can't fathom. Vastly different worlds collide, yet truth and compassion rise to reveal that all dreams begin with the common ground of forgiveness.
Truly innovative is the play titled "A Presentation About the Herero of Namibia, Formerly Known as South West Africa, From the German Sudwestafrika, Between the Years 1884-1915." A multiracial cast of six idealistic actors sets out to improvise a story about the first colonial genocide of the 20th century in Africa, but get lost in the reality of their undertaking. The unusual presentation, humor and inevitable discomfort of this provocative new play gripped audiences in theater hubs like New York, Chicago, London, Washington, D.C., and Seattle with its unique theatrical investigation of prejudice, power and perspective.
"Grand Concourse" is set in an industrial soup kitchen in the Bronx, where Shelley is a
nun struggling to pray and questioning her life's work.
"The Skin of Our Teeth" is a comedic masterpiece that spans the entirety of history, with one ordinary American family who lives through it all. Dad's just invented the wheel, Cain is throwing rocks at the neighbor kid, mammoths and dinosaurs lounge in the family room, and Mom frets about how to get all those animals on the boat two by two. Through ice ages, biblical floods and political conventions, the Antrobus family of Excelsior, NJ, perseveres.
For performance dates, visit artistsrep.org
Founded in 1982, Artists Repertory Theatre is the longest-running professional theater company in Portland. Artists Rep is also home to the ArtsHub, a program that offers residencies within Artists Rep's facility to smaller and emerging arts organizations with subsidized administrative, performance and rehearsal space, as well other infrastructural services.