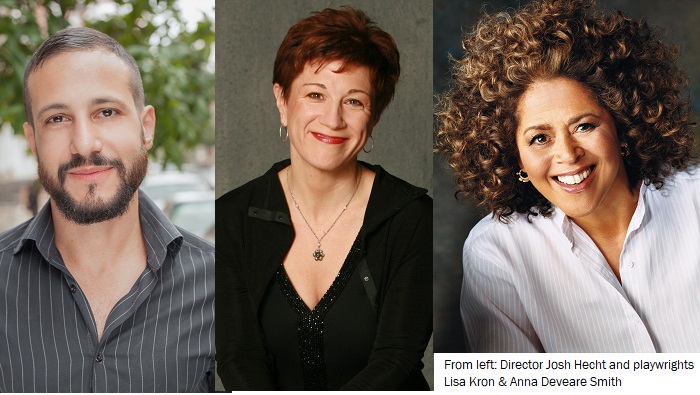 UP NEXT IN PROFILE THEATRE'S DOUBLE SEASON: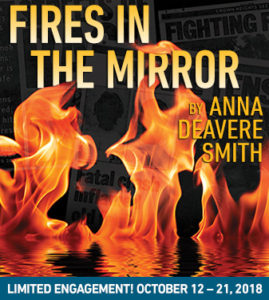 Fires In The Mirror by Anna Deavere Smith

Profile Theatre's double-season with Lisa Kron and Anna Deavere Smith
THE PLAY: In August 1991 simmering tensions in the racially polarized Brooklyn, NY, neighborhood of Crown Heights exploded into riots after an African-American boy was killed by a car in a rabbi's motorcade and a Jewish student was slain in retaliation. Pulitzer Prize-finalist Fires in the Mirror is dramatist Anna Deavere Smith's stunning exploration of the events and emotions leading up to and following the Crown Heights conflict.
WHEN: 7:30 pm, Oct. 12-21; 2 pm Oct. 20 & 21
WHERE: Artists Repertory Theatre, 1515 Morrison St., Portland
TICKETS: .$36; Special pricing for students
By J. Wandres
When Profile Theatre introduced Josh Hecht, its new artistic director, to the repertory company's volunteer guild in February 2017, guild members wondered what he had in store for the venerable performance company. Guild members knew only that Hecht was from "back East" and had directed on and off Broadway.
Twenty years earlier, in 1997, the curtain went up on Profile at Theatre-Theater, which was located in Portland's Eastside Belmont neighborhood. Founding Artistic Director Jane Unger had a vision to celebrate the playwright's contribution to live theater. Since its debut, Profile has presented one playwright per season. The 2008 season included John Guare's "Six Degrees of Separation." Other seasons featured playwrights such as Wendy Wasserstein, Neil Simon, Horton Foote, Athol Fugard and Sam Sheppard.
When Theatre-Theater lost its lease about five years ago, the performance companies that used the venue had to find new homes. In 2013 Profile Theatre moved in with Artists Repertory Theatre at Morrison Street near Providence Park stadium. That was Profile's 16th season. That same year, Adriana Baer came on board as artistic director to continue the work begun by Unger, in particular by bringing live theater to new audiences.
Artists Rep had also changed venues, having outgrown a single stage at the YMCA and relocating to its own house with two stages and gallery space. The Arts Hub is now home to 10 companies and the signature "Geezer Gallery" of art.
Three years ago, Profile, then led by Baer, launched its Diversity and Inclusive Initiative project. The three-year commitment was to produce plays written by women and playwrights of color. The 2015 season included Sarah Ruhl's "In the Next Room, or the Vibrator Play." In 2016 Tanya Barfield brought us the haunting "Blue Door." Last season featured Quiara Alegria Hudes' eloquent "The Elliott Trilogy: A Soldier's Fugue."
Now in progress under Hecht's hand is the 18-month 2018-2019 season, which departs from the previous emphasis on one playwright and instead features two. Leading off is Lisa Kron's "2.5 Minute Ride," followed by Anna Deveare Smith's "Fires in the Mirror." Other Kron productions are "The Secretaries," "In the Wake" and "Well." Deveare Smith's works include "Let Me Down Easy."
"For my first full season at Profile, and the third and final year of the Diversity and Inclusion Initiative, I wanted to do something extra ambitious: a special double season featuring two of our most celebrated, most important national playwrights in conversation for a full 18 months," says Hecht. "Two writers at the peak of their powers, whose work over the last 25 years will seem shockingly urgent and relevant and, taken together, will connect us with Americans of every shape, size, creed and color and remind us of the tapestry in which we live."
Unlike the trope, "How do you get to Carnegie Hall? Practice, practice, practice," Hecht began his career in theater not as an actor. In New York he worked with the William Morris Talent Agency. He read scripts, learned the structure of a well-crafted play, and met and cast actors.
"It was like grad school," Hecht recalls. For the next several years he directed on and off Broadway and at regional venues: the Guthrie (Minneapolis), Signature (Washington, D.C.), The Kennedy Center, Berkshire Festival (Stockbridge, MA), Boston Center for the Arts, and festivals in Dublin and Edinburgh. It was Portland's JAW festival that attracted him to our fair city.
The voices of veterans
One of Hecht's early projects with Profile was the development of a program to accompany Alegria Hudes' "The Elliott Trilogy," which explores the tale of a veteran trying to return to a life back in his hometown of "north Philly."
Hecht understood clearly that merely saying "thank you for your service" could never be adequate compensation. Veterans, he believed, needed a voice to express what they endured and how they survived. So he reached out to a veterans' organization. Responding was Jeff Meeks, a veteran of the 82nd Airborne Division who served in Afghanistan and is now a field worker with Mercy Corps.
Profile and the Writers Guild Initiative met monthly to help the vets and family members parse the soldiers' views into lines on paper. On a cold evening in November 2017, a group of male and female veterans stood before the audience to share their service, their commitment and themselves in the present. In Jeff Meeks words, "It was good to be around people with similar experiences and needs to express."
How the Profile Guild supports the company
When Hecht met with the Guild last February, he asked how they supported the company. He learned that members come with experience in many professions. They are active and network with other groups and take part in community affairs. Each brings an enthusiasm for Profile's mission. When Lauren Bloom Hanover, Profile's associate artistic director, puts out a call for help, Guild volunteers come in to help prepare a fundraising mailing or call long-time supporters. Guild members have picked up actors from PDX and the train station and delivered them to their hotel. Susan Magazine, who chairs the Guild, emails the date and time of the First Read script rehearsal for the next production and coordinates the snacks guild members supply for cast, crew and visitors.
J. Wandres is a Portland-based freelance writer. He and his wife, Judi, are long-time members of both the Profile Theatre and Artists Repertory Guilds.