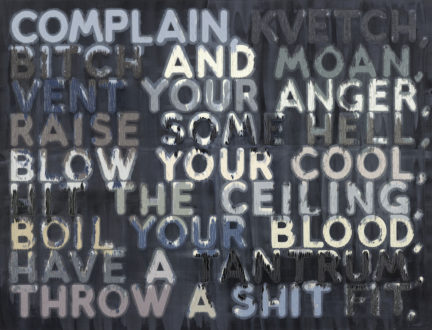 IMAGE: Complain by Mel Bochner. 2007
OJMCHE presents Mel Bochner
The Oregon Jewish Museum and Center for Holocaust Education presents "Mel Bochner – Enough Said" March 7-May 26.
From the Collections of Jordan D. Schnitzer and His Family Foundations, this body of recent works, 2007-2018, challenge audiences to reflect on the nature and structure of everyday language. Curated by Bruce Guenther, adjunct curator for special exhibitions, the exhibition explores language as image and idea through Bochner's long-held interest in complex printmaking techniques.
"Bochner's historic use of language and words as both a linguistic system of inquiry and as a formal visual vocabulary of his painting practice has found new focus in the last decade through the artist's intense engagement with printmaking and his exploration of the relationships of words as image, text, voice and thinking," says Guenther. "He plumbs English and Yiddish for language's power to establish identity, to command respect, or to attack in works of unpredictable emotionality and humor."
"Mel Bochner is one of the most important conceptual artists of our time. His word art makes us smile, laugh, frown and jeer – but always forces us to think," says Jordan D. Schnitzer. "He seduces us with emotions, words and phrases that we all have used. Whether we laugh or frown experiencing his art, we are forever moved."
Born in 1940 to an Orthodox family in Pittsburgh, the artist attended Hebrew school and was exposed to art early through his father, who was a sign painter with a workshop in the family's basement. Displaying an early talent for drawing, Bochner participated in the Carnegie Museum of Art's innovative children's art classes, eventually winning a scholarship to Carnegie Melon University.
ojmche.org
Isaac Mizrahi in concert March 20
Fashion icon, singer and raconteur Isaac Mizrahi will bring his singular talent, humor and charm to Revolution Hall (1300 SE Stark St., Portland) at 8 pm March 20 as he kicks off a national tour with a brand new show, "I&ME," in conjunction with the release of his memoir I.M.
Mizrahi will be accompanied on stage by the dazzling Ben Waltzer Jazz Quartet, a combo that has backed up the fashion designer in recent years as he has turned to performing cabaret shows in New York City and across the country.  The New York Times has called Mizrahi a "founding father of Alt Cabaret."
"I&ME" is a cabaret revue including stories, songs and even a very comical, audience participation re-gift segment.  The show is a fun, casual and meaningful look at life through Isaac's eyes, from growing up gay in a small Jewish community in Brooklyn to scaling the heights of fashion as one of the world's most popular and beloved designers.
Tickets to "I&ME" at Revolution Hall can be purchased online at helloisaac.com.
MJCC hosts three authors in March
Portland's Jewish Book celebration continues in March with three authors speaking on Tuesday evenings at the Mittleman Jewish Community Center. All talks begin at 6:30 pm.
On March 12 award-winning novelist and memoirist Mary Morris shares Gateway to the Moon, the story of a sleepy New Mexican community that must come to grips with a religious and political inheritance they never expected. Morris is the author of numerous works including the novels The Jazz Palace, A Mother's Love and House Arrest, and the travel memoir Nothing to Declare: Memoirs of a Woman Traveling Alone. She is a recipient of the Rome Prize in literature and the 2016 Anisfield-Wolf Award for Fiction.
Mark Sarvas will share his novel Memento Park March 19. A son learns more about his father than he ever could have imagined when a mysterious piece of art is unexpectedly restored to him. The novel's central, unanswerable predicament lingers: How do we move forward when the past looms unreasonably large? Sarvas is the author of Memento Park and Harry, Revised, which was published in more than a dozen countries. His book reviews and criticism have appeared in The New York Times Book Review, The Threepenny Review, Bookforum and many others.
On March 26, Michael David Lukas shares his page-turner novel The Last Watchman of Old Cairo. This tightly woven multigenerational tale illuminates the tensions that have torn communities apart, and the unlikely forces – potent magic, forbidden love – that boldly attempt to bridge that divide. Lukas is the author of the international bestselling novel The Oracle of Stamboul, which was a finalist for the California Book Award, the NCIBA Book of the Year Award and the Harold U. Ribalow Prize and has been published in 15 languages.
Single event tickets are $8, member $5. A series pass is $20, or $12 for members.
oregonjcc.org
Beaverton presents Anne Frank production
Beaverton Civic Theatre presents "The Diary of Anne Frank," March 1-16.
For nearly two years, Anne, her father, mother and sister joined with the Van Daan family to hide in a secret annex space above her father's former office in Amsterdam, as the Nazis deported the Jews of Holland to their deaths. In her secret attic, Anne comes of age: she laughs, plays, fights with her mother and falls in love for the first time. In spite of her oppressive circumstances and the horrors that surround her, Anne's spirit transcends, as she voices her belief, "in spite of everything, that people are truly good at heart."
The play by Wendy Kesselman is presented through special arrangement with Dramatists Play Service, Inc.
Performances are Fridays and Saturdays at 7:30 pm and Sundays at 2 pm.
On Sunday, March 10, immediately following the 2 pm performance experience a brief talkback with the cast and crew and engage in an informal, moderated discussion about the production design, rehearsal process, creating characters and more.
Beaverton Civic Theatre is located inside the ​Beaverton City Library Auditorium, 12375 SW 5th St., Beaverton.
Tickets are $15 for adults, $12 for students/seniors/groups of 10+, $5 for youth 10 and under. Reservations can be made at beavertoncivictheatre.org or by calling the box office at 503-754-9866.