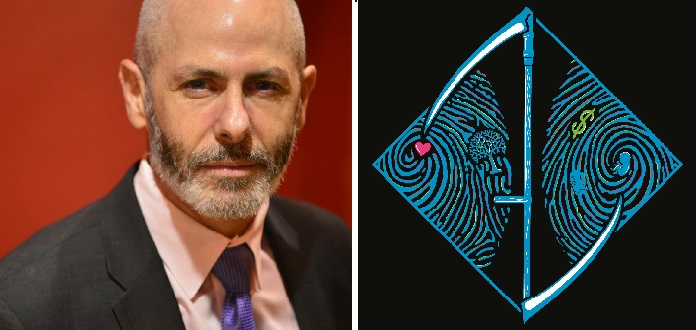 ABOVE: Michael Mendelson. "Everybody" Design by Jeff Hayes, Kisha Jarrett and Mary Beth Leavens
Artists Repertory Theatre presents Everybody, an inventive twist on a medieval morality play (see schedule below).
Death tells Everybody that their time is up. But Everybody doesn't want to greet Death alone, so Everybody seeks the company of their friends Stuff, Kinship, Friendship, Cousinship and Love to make the trip bearable. Everybody is an audacious riff on the 15th century morality play Everyman. Five brave actors will play a multitude of roles with their characters chosen by lottery onstage every night – with a possible 120 combinations – as they fight to cheat Death.
ON 'EVERYBODY'
By Michael Mendelson
Everybody by Brendan Jacobs-Jenkins is a play about taking account of one's life in the face of death, as one faces God at their final reckoning. I have been tasked with relating the play 'Everybody' to the Jewish experience. I'm going to give it a spin with the caveat that I'm not really sure how to do that, exactly. But, I'm going to give it a shot by relaying what's happened in my personal life.
I had an extraordinary opportunity this past July to spend time with my mother during her final days. I would say that we spent time together, but I'm not sure she was actually there with me for the entire time. I do believe that for most of it, or significant part of it, she was bargaining with death, perhaps even giving a presentation to "God" about her life, and why she lived it the way she lived it – just as "Everybody" does in the play. Over the course of hours, I watched her beauty fade, watched her strength leave her body, witnessed her mind diminish and finally her senses fail to the point where understanding was not part of her experience.
That is the journey of every human. That is the journey ahead for us all. And, in those final days when my mother was no longer able to communicate with us, I definitely sensed that she was communicating with something or someone. That was the bargaining time I felt her have – she was justifying her life. It was extraordinary to watch, I wish I had known what was going on. I wish I knew what was in store because maybe it would make me a better person? But would it?
This is what I know, Love, do unto others as you would have them do unto you, be a little more kind to Everybody. Following God's will is done by following the Commandments in the world in which we live and this physical experience connects us to the essence that is "God."
The root of "mitzvah" is "tzavta," meaning "to connect." So, I guess our Presentation to God is about how we connected to Everybody in this physical world.
"So think about that and what you want to do with the rest of your life, vis-a-vis that."
—Everybody, by Branden Jacobs-Jenkins
Michael Mendelson appears in the production.
EVERYBODY
By Branden Jacobs-Jenkins; Directed by Jessica Wallenfels & Dámaso Rodríguez
WHEN: Nov. 25-Dec. 30, 2018
Preview Performances: Nov. 25, 27, 28, 29 & 30
Opening Night: Saturday, Dec. 1 @ 7:30pm
Regular run Dec. 2 through Dec. 30
Wednesdays-Sundays @ 7:30 pm, Sundays @ 2 pm
Additional Performances: Tuesdays: Dec. 11 & 18 @ 7:30 pm; Saturday Matinees: Dec. 8, 22, 29 @ 2pm; Wednesday: Dec. 12 @ noon
WHERE: Artists Repertory Theatre, Alder Stage, 1516 SW Alder St., Portland
TICKETS: $60 regular price; $30 preview/student/under 35; 503-241-1278 or www.artistsrep.org
PREVIEW PERFORMANCE SPECIALS:
Nov. 25: Sunday Sounday – Pay-What-You-Will + pre-show music with Portland Jazz Composers Ensemble @ 6:30 pm
Nov. 27: Ten Buck Tuesday – $10 ticket
Nov. 28: Wine Down Wednesday – $30 ticket + a glass of Dark Horse wine
Nov. 29: Thirsty Thursday – $30 ticket + Lagunitas beer
Nov. 30: Foodie Friday – $30 ticket + discounted food at ArtBar