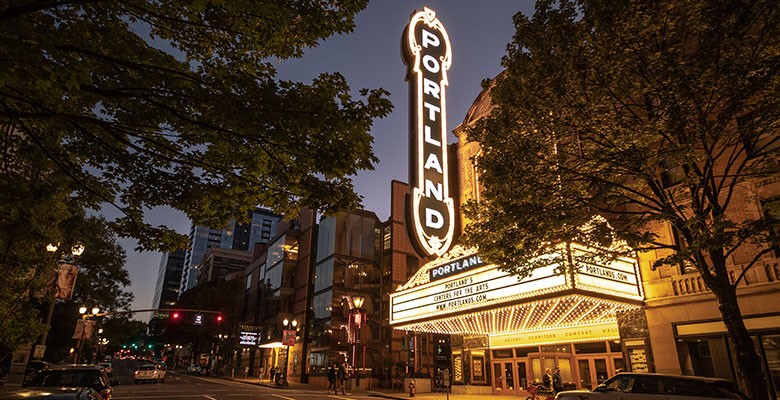 Portland'5 Centers for the Arts announced the completion of the Arlene Schnitzer Concert Hall marquee enhancements funded by a grant from Prosper Portland. The enhancements retain the historical architectural look and feel of the theatre at its opening as well as allow staff to remain focused on the guest experience and safety protocols when the theatres safely reopen.
"We are so appreciative of this grant from Prosper Portland," says Robyn Williams, executive director of Portland'5 Centers for the Arts. "The LED lighting installed in our marquees and signs over the past few years reduced energy consumption by 90%. And, we look forward to reopening better than ever providing a space to celebrate culture, inspire youth, and showcase diverse artists which appeal to and reflect the region's diverse communities."
The restoration project began April 5 and was completed mid-May, resulting in clear easy-to-read signage that never dulls. The prior manual sign changes placed staff very close to traffic lanes which will no longer be necessary.
Portland'5 Centers for the Arts provides approximately 1,000 cultural events annually, provides cultural experiences for over 14,000 Title-1 students and teachers at zero cost to the schools, and is home to five resident organizations – Oregon Symphony, Portland Opera, Oregon Ballet Theatre, Oregon Children's Theatre, and Portland Youth Philharmonic – that rely on these facilities.
Portland'5 Centers for the Arts is operated by Metro, a regional government. The buildings are owned by the city of Portland. Portland'5's education program is the largest in the region with, curriculum and lunches with diverse artists and community members. Programming is taken to surrounding Title-I schools from Hillsboro to Gresham, reducing transportation barriers in order to support schools outside of the urban core.
"These theatres are part of our community's cultural fabric. This grant provided an opportunity to prepare for Oregonians to return to the theatres they have known and loved for generations. These types of improvements ensure future generations can enjoy the cultural celebrations and educational experiences our theatres offer," says Scott Cruickshank general manager of Metro's visitor venues.
About Portland'5 Centers for the Arts
The Portland'5 Centers for the Arts manages five theatres in three buildings, including the Keller Auditorium, Arlene Schnitzer Concert Hall and Antoinette Hatfield Hall which houses the Brunish, Winningstad, and Newmark theatres.