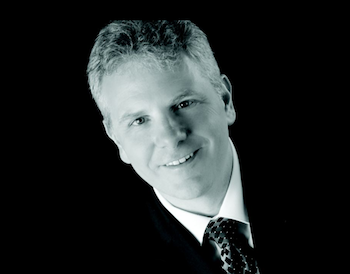 When Brian Yablon was 8 years old, his father taught him an important lesson: support of israel is not only a matter of words – it is something you do. Yablon, the new chair of Oregon AIPAC, remembers it well. it was 1973. the Yom Kippur War had broken out. the family came home from services, his father made a few calls and then left for israel that night with a group of other doctors, heading to help.
"We didn't hear from him for three weeks," Yablon recalls. "he was at hadassah hospital, taking care of people, including arabs, wounded in the fighting, and then was at a field hospital in the Sinai." His father, Dr. Isadore Yablon, an orthopedic surgeon, returned to his family and his medical practice in Boston after the fighting stopped. But israel – and the challenges faced by the Jewish state – remained a key concern.
His father's example, he says, is among the reasons he has taken over leadership of the Oregon group. Other reasons include his admiration for Ken Kwartler, the recently retired Oregon AIPAC chair, and Kim Danish Rosenberg, another Oregon leader. And, of course, his respect for AIPAC and his commitment to the State of Israel.
"I've always been impressed by the professionalism of the organization and its even-handedness," says Yablon, an engineering director at Intel who joined the Oregon board soon after attending his first AIPAC function about a decade ago. "AIPAC brings together republicans and democrats, people from the left and the right, who share the common goal of keeping israel safe and strong." he says. "Our goals are very simple – we support the current government of israel – whatever its political makeup may be, and we want to strengthen the relationship between israel and the United States."
He says an important focus of the organization is educating people, and particularly elected officials, "about the facts on the ground" in israel. "there has been so much turnover in Congress recently, and so many more members to reach out to."
Right now he and the local AIPAC board are focused on the Oregon State Community dinner, scheduled for Sunday, May 19, at the Mittleman Jewish Community Center. After that he wants to increase programming, hosting speakers on a variety of topics at least every other month, and ideally moving toward a monthly schedule. and he wants to continue outreach efforts to high school and college students, as well as general community members. One of AIPAC's challenges in Oregon is the size of the Jewish community. "We aren't Los Angeles or New York or even Boca Raton," he says. "But we do have a small number of very committed people."
Despite the 400 plus that attend the annual local AIPAC dinner or donate to the organization, Yablon says there are just several dozen "committed members" who work on programs, write letters and otherwise support the local chapter. He hopes the new programming initiatives, as well as a renewed focus on strengthening ties with local congregations, will help expand the base. "My goal is simple," he says. "I want to reach people with the message that assisting israel means we have a strong partner in a very turbulent region. Supporting Israel is not just good for Israel, it's good for the United States."