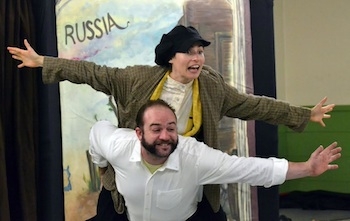 Hershel takes to stage for last free performance of the summer
On Aug. 9 Page2Stage Express, the touring wing of the Jewish Theatre Collaborative, presents the summer's final free performance of The Adventures of Hershel of Ostropol. This free community performance of Portland children's author Eric A. Kimmel's folktales will be at 2 pm, Aug. 9, at Willamette Park Amphitheater through the West Linn Public Library. The 30-minute performance is followed by a brief talk-back with the performers.
The lovable trickster Hershel of Ostropol has been entertaining audiences at libraries across Clackamas County during July and August for free thanks to generous support from the Oregon Arts Commission and the Clackamas County Cultural Coalition.
This latest literary adaptation by Page2Stage Express brings Hershel to life, straight from the folktales retold by Portland children's author Eric A. Kimmel. Like his cultural counterparts, Anansi and Coyote, Hershel survives by his wits in stories that are endlessly entertaining. Even during hunger and poverty, Hershel shows the importance of humor over hardship.
Adapted and directed by Avital Shira for Page2Stage Express, the show stars comic actors Sara Fay Goldman and Sam Dinkowitz. With the Page2Stage touring company, the magic of story meets the wonder of theater. In this 30 minute performance, audiences of every age are charmed by entertaining characters, timeless life –‐lessons and an engaging style that turns two actors into many. Performances are followed by a talk‐back, where audience engagement is enhanced and the experience is brought home. The performance is recommended for children 3+ and their families to enjoy together.
Eric A. Kimmel has published more than 50 children's books since 1974 and is often included in school and library recommended lists. He has received many awards and accolades, including the prestigious Caldecott Honor Medal and the Sydney Taylor Picture Book Award. He lives and writes in Portland with his wife Doris. This performance is adapted by arrangement with the Maria Carvainis Agency, Inc. from the text of The Adventures of Hershel of Ostropol as retold by Eric A. Kimmel.