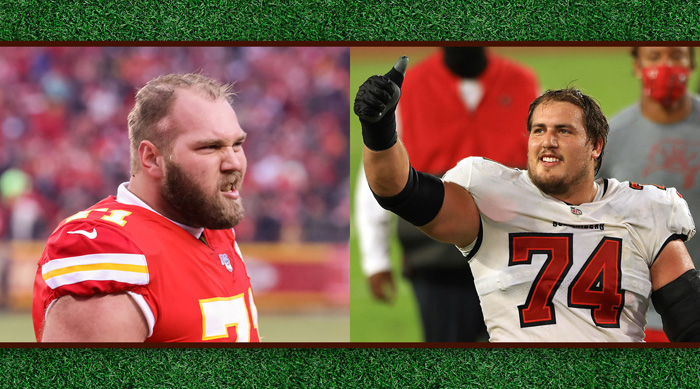 Photo: Mitchell Schwartz, left, and Ali Marpet are two of the NFL's few Jewish players.
Here's a football bet you probably could've gotten long odds on before the season started: each Super Bowl team having a Jewish offensive lineman.
Both are standout players, but only one — Ali Marpet, a sixth-year pro for the Tampa Bay Buccaneers — is expected to suit up for the NFL championship game on Sunday in his home stadium.
(That's a first, incidentally, that a team is playing in the Super Bowl at its own field.)
Mitchell Schwartz, the Pro Bowl tackle for the Kansas City Chiefs, has been sidelined by injury since October and is likely out for Super Bowl LV, when the Chiefs aim to retain the title they won last season with a 31-20 victory over the San Francisco 49ers.
Marpet, 27, who plays left guard, has been especially strong in protecting Tom Brady, not allowing a sack of the iconic quarterback all season. He is the son of a musician mother and fashion videographer father from New York's suburban Westchester County who hosted Shabbat gatherings for family and friends.
He attended Hobart College, arriving unheralded at the school of some 2,400 students in upstate New York. At the Division III level, meaning the colleges do not award athletic scholarships and their players almost never reach the pros, Marpet grew to over 300 pounds and combined his athletic prowess and a strong work ethic to make himself into a bona fide NFL prospect. The Bucs picked him in the second round of the 2015 NFL Draft.
Marpet, a Birthright Israel alumnus, has enjoyed a standout career, thus earning a five-year, $54 million contract a few years ago, with half in guaranteed money.
Read the entire article here.