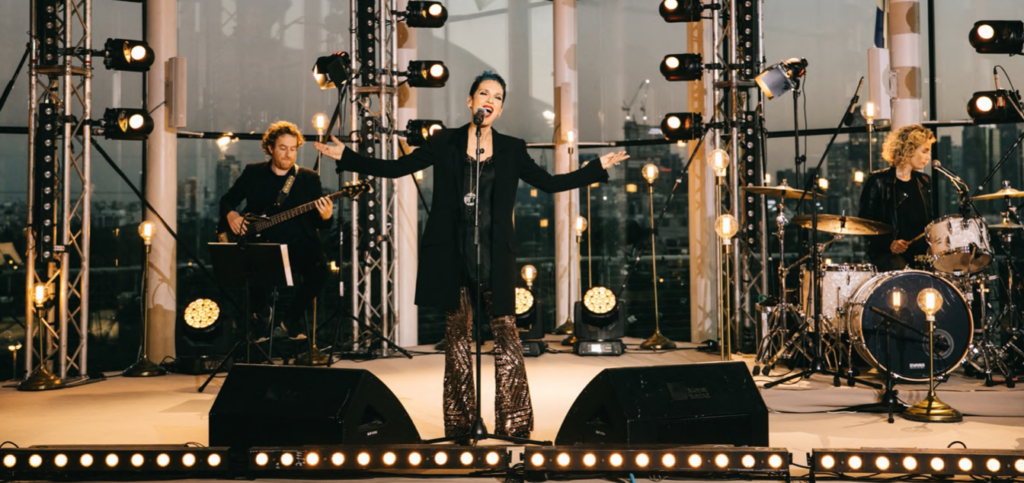 Set against a majestic Tel Aviv sunset, Israeli soul singer Bat Ella presents a special tribute concert honoring the late Jewish-American singer-songwriter Debbie Friedman (1951-2011), who was among the most prolific and influential spiritual leaders in the world of Jewish music.
The concert will premiere on Jewish Life Television/JLTV, the largest Jewish-themed television network in North America, on Saturday, July 24 at 8 pm ET and PT, with an encore performance on Sunday, July 25 at Noon ET.
Bat Ella became acquainted with Debbie in the 1990's in the United States, and had the opportunity to perform with her in the States, as well as tour with her in Europe.
Debbie's personality and work captured Bat Ella's heart from their very first meeting in June 1994 at "Hava Nashira" – the annual song-leading and music workshop at URJ-USRUI in Oconomowoc, Wisconsin. Debbie was – and still is to this day – an inspiration and role model for Bat Ella on her musical and cultural journey around the world.
After Debbie's passing ten years ago, Bat Ella made it her mission to commemorate her incomparable legacy by bringing her music to Israel, making her work accessible to Hebrew-speaking audiences. As part of this endeavor, Bat Ella released a solo album ("L'chi Lach," 2015) dedicated to Debbie's songs, performed in Hebrew for the first time.
Bat Ella is dedicated to the pursuit of "Kiruv Levavot" (bringing souls together) and uses her music to bridge people of all religions, streams and ethnicities. Bat Ella said, "In commemorating Debbie Friedman, I strive to create and maintain a bridge between Israeli and North American Jewry." Brad Pomerance, JLTV's Senior Vice President of Programming, said, "Bat Ella brings Debbie Friedman's iconic songs to life. Bat Ella's Tribute Concert will surely touch your soul."
The concert features some of Debbie's greatest works, as well as songs from Bat Ella's own repertoire inspired by Debbie. Bat Ella is accompanied on stage by thirty musicians, including "The "Sharonit Children's Choir" from Raanana, Israel, who previously performed for the Pope during his visit to Israel; the Israeli Arab singer Hiba Bathish, soloist in the Nazareth Arabic Orchestra; and the Dream Team, Bat Ella's touring band composed of some of the best musicians in Israel, including her son singer-songwriter Nitzan Birnbaum.