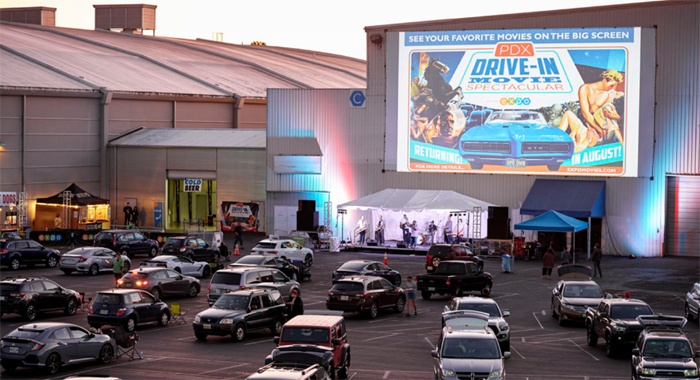 The Portland Expo Center announced July 20 that it will again host its PDX Drive-in Movie Spectacular! Presented by Xfinity, starting Thursday, July 29. Tickets must be purchased in advance and are on sale to the general public now. The 7th Annual PDX Drive-in Movie Spectacular! is promoted in partnership with the Hollywood Theatre and presented by Xfinity.
The PDX Drive-in Movie Spectacular! running July 29-August 28, welcomes guests to safely gather for a nostalgic movie experience with today's clear digital projection and professional sound quality. This is an all-ages event that is a throw-back with a modern twist. And for this year's season, the Expo Center and Hollywood Theatre are pleased to be working with acclaimed Portland-based musician, composer, and recording engineer Collin Hegna to book incredible live music opening acts before most of the films.
"Through our amazing partnership with Hollywood Theater, we not only provided much-needed jobs during the COVID pandemic last year, but we were a part of bringing joy back to our region. We're in a unique position with our 53-acre campus to accommodate events and programming in a drive-in or drive-up format. We are excited to offer the community an opportunity to get out this summer once again," says Matthew Rotchford, the executive director of the Portland Expo Center.
We are so excited to partner with Xfinity and the Expo Center this year on such a fun, high-quality series. With a giant 60-foot screen and live music, it's an amazing experience that even the most passionate cinephiles will approve of!" states Doug Whyte, the executive director of Hollywood Theatre.
"Comcast is very happy to help bring back the drive-in movie to the Portland metro area," says David Tashjian, regional senior vice president of Comcast Oregon/SW Washington. "These family-friendly films are sure to create happy summer memories for kids and induce a bit of nostalgia for the older set."
The movies run Thursday, Friday and Saturday, July 29 through Aug. 28, starting at 8:30 pm and tickets are $40 for a carload (up to 5 people) and $10 per individual (walking, biking, etc.). This year's lineup features selections of fan favorites like "The Wizard of Oz" (July 31) and "The Princess Bride" (Aug. 13) and other curated selections like "Blade" (Aug. 8)  featured at the Portland Black Film Festival, Queer Horror, "The Craft" (Aug. 14) and Oregon Made "The Goonies" (Aug. 6).
Other movies include series opener "Raiders of the Lost Ark" (July 29), "Repo Man" (July 30), "Bill & Ted's Excellent Adventure" (Aug. 5), "Grease" (Aug. 12), "Star Wars: The Empire Strikes Back" (Aug. 19), "Safety Last" (Aug. 20), "La Bamba" (Aug. 21), "Monty Python & The Holy Grail" (Aug. 26), "The Texas Chainsaw Massacre" (Aug. 27) and "Romy & Michelle's High School Reunion" (Aug. 28).