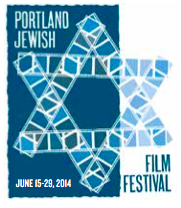 22nd Portland Jewish Film Festival
June 15-29, 2014
Produced by the Northwest Film Center and the Institute for Judaic Studies
General Admission: $9,
Students and Seniors: $8
Festival Passes: $125
Tickets available online at portlandjewishfilmfestival.org or nwfilm.org.
Location: Northwest Film Center's Whitsell Auditorium inside the Portland Art Museum at 1219 SW Park Ave.
Welcome to the 22nd annual Portland Jewish Film Festival, produced by the Northwest Film Center and co-presented with the Institute for Judaic Studies. While the Festival specifically celebrates the diversity of Jewish history, culture, and identity, we hope that these films and the stories they tell resonate beyond their settings and speak to experiences and issues that confront our common humanity.
JUN 15 SUN 7PM
FRIENDS FROM FRANCE
FRANCE/RUSSIA 2013 DIRECTORS: PHILIPPE KOTLARSKI, KIRA SAKSAGANSKAYA, ANNE WEIL In 1979, a young couple, Carole and Jérôme, go behind the Iron Curtain to Odessa on a vacation to celebrate their engagement. At least, that's their story. In truth, they are cousins who have come to the USSR to secretly meet with persecuted Jews denied visas to leave the Soviet Union. By day, Carole and Jérôme act like tourists, but by night, they reach out to the so-called "refuseniks" in an attempt to help them flee the country. As the pair begins to infiltrate this dark, Cold War world, they're confronted with a reality they never expected. Throughout, Carole is motivated by political commitment and a taste for danger, but it soon becomes clear that Jérôme has a hidden agenda. (101 mins.)
JUN 16 MON 7PM
AFTERMATH
POLAND 2012 DIRECTOR: WLADYSLAW PASIKOWSKI A gripping psychological thriller, AFTERMATH tells the story of two estranged brothers, Franek and Josef, who discover a terrible secret that forces them to revise their perception of their family, neighbors, and the history of their nation. The sons of a poor farmer from a small village in central Poland, Franek immigrated to the US in the 1980s and cut ties with his family. Only when his brother's wife arrives two decades later without explanation does Franek decide to return to his homeland. There he finds his brother has been ostracized from the community and is receiving various threats, and soon they are drawn into an incendiary gothic tale of intrigue and reckoning with a dark period in Polish history. "Gripping. A bombshell dis- guised as a thriller…. An especially effective film noir. Excellent."—Kenneth Turan, The Los Angeles Times. (107 mins.)
JUN 17 TUES 7PM
FOR A WOMAN
FRANCE 2013 DIRECTOR: DIANE KURYS Inspired by her own family history, Kurys's (SAGAN, PEPPERMINT SODA) handsome drama moves between post-World War II France and the 1980s, where novelist Anne (Sylvie Testud) goes on a quest to understand the past. Equipped with recently discovered letters and photos, she begins to shed light on the tangled relationship between her parents and a mysterious uncle, thought dead, who appeared on their doorstep in 1947 Lyon. (110 mins.)
JUN 18 WED 7PM
SUPERMENSCH: THE LEGEND OF SHEP GORDON
US 2013 DIRECTOR: MIKE MYERS Mike Myers (AUSTIN POWERS, WAYNE'S WORLD) makes his directorial debut with this witty, loving tribute to his friend Shep Gordon, a legendary talent manager who has built his career representing an eclectic range of artists, from rock legends Alice Cooper, Pink Floyd, Blondie, and Anne Murray to celebrity chef Emeril Lagasse. Myers reveals a man who has embraced his dualities: a hard-driving dealmaker who wants everyone to be happy and a rock-and-roll hedonist who yearns for family. But it is Gordon's crisis of faith with fame (and his philosophical approach to his Jewish/Buddhist identity) rather than the incredible showbiz story that constitutes the film's moving portrait. (85 mins.)
JUN 18 WED 9PM
TRANSIT
THE PHILIPPINES 2013 DIRECTOR: HANNAH ESPIA In 2009, the Israeli government passed a new law allowing the children of foreign workers to be deport- ed back to their parents' country. Janet's work visa has expired, and she may be deported from Tel Aviv back to the Philippines. Her teenage daughter Yael, born of an Israeli father from a past relationship, wants to stay, and Janet's brother Moses hides his four-year-old son at home for fear that if he is found, the child will also be deported. A poetic illumination of the social and economic struggle facing displaced people across the globe and how immigration laws impact human relationships, TRANSIT was this year's Philippine submission for the Best Foreign Language Film Oscar. (93 mins.)
JUN 19 THURS 7 PM
THE JEWISH CARDINAL
FRANCE 2013 DIRECTOR: ILAN DURAN COHEN THE JEWISH CARDINAL tells the gripping, amazing true story of Jean-Marie Lustiger (1926-2007), son of Polish- Jewish immigrants to France, who maintained his cultural identity as a Jew even after converting to Catholicism at a young age and later joining the priesthood. Quickly rising within the ranks of the Church, Lustiger was appointed Archbishop of Paris in 1981 by Pope John Paul II and found a new platform to celebrate his dual identity as a Catholic Jew, earning him friends and enemies from both groups. Lustiger's split allegiance is tested when a group of Carmelite nuns decide to build a monastery on the edge of Auschwitz. Where will Lustiger stand? (96 mins.)
JUN 21 SAT 8PM
HUNTING ELEPHANTS
ISRAEL 2013 DIRECTOR: RESHEF LEVI Nominated for seven Israeli Academy Awards including Best Film, HUNTING ELEPHANTS is a bank heist caper and coming-of-age tale alternately full of jocular hijinks and tenderness. When Yonatan's—somewhat of a boy genius—father suddenly dies of a heart attack, his mother leaves him in the care of his cantankerous grandfather Eliyahu and mate Nick, both former Zionist freedom fighters now barely existing in a nursing home. Guilt-ridden over his father's death and mortified when his mother, out of financial desperation, begins dating the manager of the bank where his father worked, Yonatan and his aging guardians hatch a plot to rob the bank that wronged his family. (107 mins.)
JUN 22 SUN 2:30 PM
THE ZIGZAG KID
THE NETHERLANDS 2012 DIRECTOR: VINCENT BAL THE ZIGZAG KID is a stylish, witty, action-packed caper à la THE PINK PANTHER that also touches on more serious themes of self-discovery, the strength of family, and acceptance. The son of the world's greatest police inspector, Nono is on a train trip to see his uncle when he meets his father's arch-nemesis, the notorious criminal Felix Glick, and must put his own detective skills to work. Wearing disguises and evading police, he heads to the French Riviera but only has 24 hours to complete his high-stakes mission—while also confronting the mystery of his own identity and the truth about his mother— before his bar mitzvah! (95 mins.)
JUN 22 SUN 4:30 PM
MAMELE
POLAND 1938 DIRECTORS: JOSEPH GREEN, KONRAD TOM In this early Yiddish "talkie" starring musical queen Molly Picon as "Mamele" (little mother), the dutiful daughter keeps her family intact. She's so busy cooking, cleaning, and matchmaking for her brothers and sisters that she has little time for herself, until she discovers a handsome violinist across the courtyard. Set in Lodz, this musical comedy/drama, which features Picon's trademark song "Abi Gezunt," embraces the diverse gamut of Jewish life in interwar Poland, from hoiiday celebrations to nightclubs and gangsters. Featuring film restoration and new English subtitles by the National Center for Jewish Film. (103 mins.)
JUN 22 SUN 7PM
CUPCAKES
ISRAEL/FRANCE 2013 DIRECTOR: EYTAN FOX A group of friends in a Tel Aviv suburb gathers to watch "Universong," a Eurovision-style song contest, trying to forget the stress of their daily lives. Yael is an unfulfilled former beauty queen. Dana is a harried aide to a cabinet minister. Anat has a successful bakery but an unsuccessful marriage. Keren is a shy blogger; Efrat a frustrated singer-songwriter whose career has stalled. And Ofer is a nursery-school teacher who is upset that his boyfriend, a spokesmodel for his family's famous brand of hummus, is still in the closet and won't publicly acknowledge their romance. After they realize Anat is distraught over the crisis in her marriage, they write a song to cheer her up, and Ofer secretly submits it as Israel's entry to "Universong." (92 mins.)
JUN 23 MON 7PM
THE STURGEON QUEENS
US 2014 DIRECTOR: JULIE COHEN THE STURGEON QUEENS visits the four generations who built Russ and Daughters, the Lower East Side New York lox and herring emporium that survives and thrives to this day. Produced to coincide with the 100th anniversary of the store, warm interviews with two of the original daughters for whom the store was named, now 100 and 92 years old, hit all the key notes of the New York Jewish immigrant experience: hard work, humor,romance, and a little tsuris. Adding to the story is poignant commentary from such devotees as Ruth Bader Ginsburg, Calvin Trillin, Maggie Gyllenhaal, and Mario Batali. (52 mins.)
FOLLOWED BY
BEFORE THE REVOLUTION
ISRAEL 2013 DIRECTOR: DAN SHADUR At one time, Israel and Iran had a mutually prosper- ous political and economic relationship. Israelis living in Tehran enjoyed great privilege and wealth. Such was the much-coveted "friendship of the Middle East"—Iran supplied oil while Israel helped with infra- structure and weapons. Then, in 1979, the Islamic Revolution shook the Shah's regime. Suddenly, Israelis in Tehran were enemies of the people and feared for their very lives, including director Dan Shadur's family. Interviewing many who were forced to flee, while using a wealth of news and personal footage shot during these events, Shadur provides a riveting look at a seismic political shift that has shaped the Middle East we know today. (60 mins.)
JUN 24 TUES 7PM
BIG BAD WOLVES
ISRAEL 2013 DIRECTORS: AHARON KESHALES, NAVOT PAPUSHADO After a girl goes missing in the woods and is later found beheaded, suspicion immediately falls on a timid religious studies schoolteacher who is arrested but released due to a police blunder. Frustrated by the lack of justice, a renegade cop and the victim's vengeful father take matters into their own hands by capturing, interrogating, and tormenting the accused killer in the basement of a remote farmhouse. Their diabolical rage quickly spins out of control in a series of unpredictable (and often mordantly funny) plot twists that ingeniously toy with audience emotions and subvert genre tropes. Declared "the best film of the year" by Quentin Tarantino, BIG BAD WOLVES was nominated for 11 Israeli Academy Awards, with wins for Best Cinematography, Best Art Direction, and Best Music. (110 mins.)
JUN 25 WED 7PM
HANNA'S JOURNEY
GERMANY/ISRAEL 2013 DIRECTOR: JULIA VON HEINZ Hanna's motives for spending several months in Israel working with disabled youths and elderly Holocaust survivors aren't exactly noble: a sharp-eyed careerist, the young German woman figures this charity work will make her résumé sparkle. What she doesn't count on is Itay, the brusque but charming social worker she meets on her first day abroad. He teases her with off-color jokes about the Holocaust and for being German—all of which she considers ancient history, having nothing to do with her at all. As she reluctantly warms to Itay's insistent flirtations, however, she realizes the hold this history truly has on her. (100 mins.) Sponsored by the Consulate General of the Federal Republic of Germany, San Francisco.
JUN 26 THURS 7 PM
THE GREEN PRINCE
GERMANY/US/GREAT BRITAIN/ISRAEL 2013 DIRECTOR: NADAV SCHIRMAN "Such an extraordinary story that one is tempted to think it is fiction, if only somebody had the audacity to invent it. A Palestinian in Ramallah, Mosab Hassan Yousef grows up angry and ready to fight Israel. Arrested for smuggling guns at the age of 17, he's interrogated by the Shin Bet, Israel's security service, and sent to prison. But shocked by Hamas's ruthless tactics in the prison and the organization's escalating campaign of suicide bombings outside, Mosab agrees to spy for Israel. For him, there is no greater shame. For his Shin Bet handler, Gonen, there is no greater prize: 'operating' the oldest son of a founding member of Hamas. Based on Yousef's memoir SON OF HAMAS, THE GREEN PRINCE is a story of two men, spy and handler, whom history insists must be adversaries. Embroidering a tangled web of intrigue, terror, and betrayal, Schirman builds superb tension throughout a surprisingly emotional journey."—Sundance Film Festival, where the film won the Audience Award for World Documentary. (99 mins.)
THE WONDERS
ISRAEL 2013 DIRECTOR: AVI NESHER This modern-day film noir centers on a bartender who doubles as a graffiti artist in Jerusalem. Arnav enjoys whiling away the days with simple pleasures until he gets pulled into a mystery in his own apartment building. Spying a man seemingly held captive in a unit near his, he investigates and is soon taken down a rabbit hole into the seedy underbelly of Jerusalem's criminal underworld. Earning artistic comparison to everyone from the Coen brothers and Tim Burton to Lewis Carroll and Carol Reed, Nesher has fashioned a taut thriller with striking original music composed by Avner Dorman and select recorded tracks by Israeli megastars Hadag Nahash.(112mins.)
JUN 29 SUN 2PM
THE LAST OF THE UNJUST
FRANCE 2013 DIRECTOR: CLAUDE LANZMANN In 1975, while making his landmark Holocaust documentary SHOAH, Claude Lanzmann interviewed Benjamin Murmelstein. Age 70 and living in exile in Rome, Murmelstein was the only surviving "Jewish Elder" appointed by the Nazis to run the "model ghetto" camp at Theresienstadt, Czechoslovakia. Murmelstein's interview wasn't included in SHOAH, but it's the focus of this compelling postscript. Condemned after the war as a collaborator, he explains the terrible accommodation he had to strike with a murderous regime. Lanzmann returns to sites that marked Murmelstein's wartime experiences and uncovers their savage history, but it's the intelligent, witty, courageous Murmelstein who provides the film's most compelling testimony. Comparing himself to Scheherazade from "The Arabian Nights," Murmelstein survived, he tells Lanzmann, because he "had a story to tell." (220 mins.)