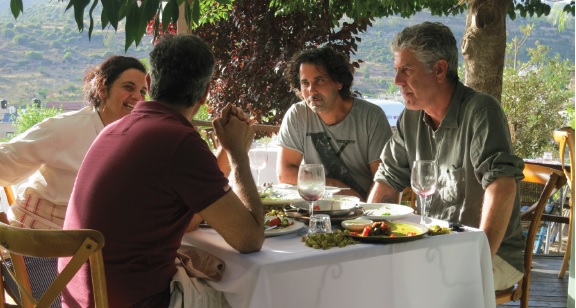 PHOTO: Anthony Bourdain: Parts Unknown-Israel with Yotam Ottolenghi, Michal Baranes and Yakub Barhum, proprietors of the Majda restaurant in Ein Rafa. Yakub is Muslim and Michal is Jewish.

On Sept. 15, 2013, the season two premiere of "Anthony Bourdain Parts Unknown," on CNN featured the late host, Anthony Bourdain and his crew making their first trip to Israel, the West Bank and Gaza. During the episode titled simply "Jerusalem," Bourdain spends time with local chefs, home cooks, writers and amateur foodies as he explores the history, food and culture of this divided region.
In 2011 Rob Eshman at the Jewish Journal wrote an open letter urging Bourdain to take a trip to the Holy Land, around the same time a Facebook group called "Send Anthony Bourdain to Israel" cropped up.
As the episode begins, Bourdain explains perhaps why it has taken him so long to come to Israel. "By the end of this hour I'll be seen by many as a terrorist sympathizer, a Zionist tool, a self-hating Jew, an apologist for American imperialism, an Orientalist, a socialist, a fascist, a CIA agent and worse – so here goes nothing."
During this episode, Bourdain travels through Jerusalem, a few small Israeli towns, Jewish settlements and Palestinian parts of the West Bank as well as the Gaza Strip. He eats falafel in the Old City of Jerusalem with the British-based Israeli chef Yotam Ottolenghi. He dines at a home in the Jewish settlement of Ma'aleh Levona in the West Bank, attends a cooking class in the Aida refugee camp and has a vegetarian meal at Majda in Ein Rafa.
Located about 10 minutes from Jerusalem, Ein Rafa is an Israeli Arab village. Yakub Barhum and Michal Baranes own Majda. They are partners, co-owners and husband and wife. Yakub is a native of the area, Michal is from Netanya, and the couple met at a nearby kibbutz. The main difference between them and other couples in Israel – Yakub is Muslim and Michal is Jewish.
As the camera pans the idyllic setting in the Judean hills, Bourdain narrates, "You could almost believe for a minute or two that some kind of peace, some kind of reconciliation, a meeting of the minds, sanity, is possible after you visit Majda … It is incredibly beautiful here. I don't know why I didn't expect that."
Majda is located on the ground floor of the couple's home (that Yakub built), and together they grow and raise many of the ingredients used in their kitchen. Their dishes are a fusion of what is shared and what is different from their backgrounds. Majda is only open on the weekends when people can linger and truly enjoy their meal.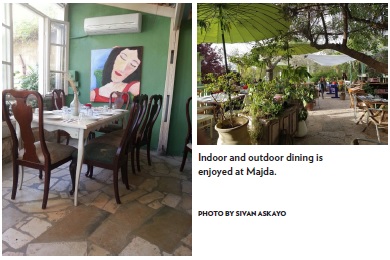 Also, they don't show bias toward either religion; instead they have eliminated both Jewish and Muslim dietary laws from their menu. They serve non-kosher shrimp falafel and offer non-halal wines for tasting.
While dining at Majda, Bourdain ate fried eggs with roasted peppers; roasted tomatoes, okra, onions and mint; grilled zucchini covered in fried yogurt sauce; and fresh zucchini with mint and little sweet apricots.
Near the end of the meal, when Bourdain poses the question, "Are you hopeful?" to the couple, Yakub replies, "Together we can build something for our kids, our future country. That's what we think and that's what we give, (that's) the message for our customers."
Perhaps for others visiting the region, they will stop and enjoy the warm hospitality and delicious cuisine that Yakub and Michal serve and hope that peace can spread from this small home in this tiny village near Jerusalem.