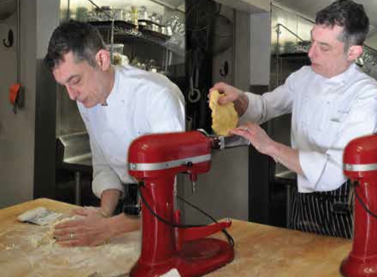 Where does a chef in an Italian restaurant with more than 30 years of experience go to ensure the foods he is plating each night are authentic? Why Italy of course.
Michael Karman, sous chef of a Cena restaurant in Sellwood, joined Italian- born chef Gabe Gabreski, restaurant owner Chris Custer and other restaurant staff, family and friends for an August 2012 experience in Italy.
Michael came from Chicago to Portland to help Chris, his friend of some 30 years, prepare a Cena for its opening. In June 2008, he moved to Portland to cook at a Cena, Italian for "come to sup- per." Since then he's been a familiar face at some Jewish community food events, including a Jewish Federation women's Impact event devoted to food and two Taste of Temple fund-raisers.
Though the Italian restaurant in Sellwood opened shortly before the Recession began, it has grown steadily, earned a loyal following and garnered heady reviews. Executive Chef Gabe Gabreski is from Bolgna, Italy, and serves up plenty of Bolognese sauces and lamb dishes at a Cena, but many others involved in the restaurant have roots in Chicago's restaurant scene. So in 2012 they took a field trip.
"We went to Italy to see Italian life and Italian food, so we can make sure we can get that on the plate," says Michael of the trip. The a Cena crew visited three vineyards, whose wine they serve, and sampled Tuscan foods near Florence.
For Michael, the trip is especially memorable. He took the opportunity to propose to Melissa Dolinsky, who was born blocks from his home in Chicago, but whom he didn't meet till he joined the a Cena staff, where she was on the waitstaff. Melissa now works at another Italian restaurant in town. The couple married Sept. 1, 2013.
Professionally the trip was also a suc- cess in that it reinforced many of their ideas.
"Italian food is all about the ingredients," Michael says. "Most of it is very simple and not over manipulated. If you have really good ingredients and put them together well, you don't have to do much to it."
The restaurant group had one big surprise: "We didn't find a lot of handmade pasta," says Michael, who loves to make a variety of noodles at a Cena. "They said nobody makes pici (hand-rolled, thick, spaghetti-style noodles) anymore. The Italians use dried noodles."
That's not a choice in the United States, where dry pici noodles are almost unheard of. And that's OK with Michael, who calls the process of making pasta his favorite kitchen pastime.
"I like the days I get to make the pasta," he says. "It's very Zen, there's a rhythm to it. … When you are cooking on the line, you don't control the rhythm, the orders control it. You are controlling the chaos. … With pasta, when you are done you can look at all the bundles neatly stacked and looking 'happy.' "
He says that the pasta is made fresh daily at a Cena, and it is "very luxurious – all egg yolk – northern-style Italian pasta." Between noodles and the gelato made in house, a Cena goes through more than 1,000 eggs a week.
Michael says that anything they can't make in house or find or buy locally, they import from Italy. For instance, when fresh tuna isn't available, they buy a tuna packed in olive oil from Italy. The menu changes bimonthly to make use of whatever is in season. For instance, with last fall's exceptional mushroom season, chanterelle mushrooms appeared in many dishes.
Though he had hunted morel mushrooms in southwest Michigan, Michael says his introduction to hunting chanterelles in Oregon was rather memorable. A couple of months after moving to Portland, he and Gabe headed for the slopes of Mt. Hood in search of the wild chanterelle. Of course, when you are hunting mushrooms you can't stay on the trail, so they headed cross country above Zigzag. They soon realized they were lost. Michael says they followed a dry creek bed to the river and followed that to the road and hiked back to their car. By the time they had cell phone coverage, seven hours had passed and it was nearly time to open the restaurant. "Chris did a great job handling it," says Michael of the challenge to get the restaurant up and running that evening until the chef and sous chef returned with their hard won prize.
Chris and Michael first met as young men on the Oak Street Beach in Chicago, "where the sand meets con- crete," says Michael. He had a Frisbee, Chris had a Hacky Sack and they both worked in restaurants. In fact Michael had worked in an Italian steakhouse for Chris's godfather Eugene Martello, who is now general manager of a Cena.
Michael grew up in the large Chicago Jewish neighborhood of West Rogers Park and became a bar mitzvah at the modern Orthodox synagogue known as Congregation K.I.N.S., an acronym for Knesset Israel Nusach Sefard. Though the name sounds Sephardic, it is actually an Ashkenazi shul, and not the reason Michael became involved at Congregation Ahavath Achim. When he moved to Portland, Michael says he just happened to move across the street from Portland's original Sephardic congregation. He says he enjoyed attending services there when he lived nearby and still maintains friendships with many families he met there. The bonus, he says with a smile, is that when he goes to their homes for seders, he gets to eat rice (which is eaten during Passover in Sephardi, but not Ashkenazi, traditions). Passover is also the time when he gets to eat his favorite "Jewish" food charoset. He still uses his mom's recipe – with apples, honey, walnuts, cinnamon, raisins and red wine, but now adds chopped dates, too. He also uses his aunt's recipe for chopped liver, with egg.
Michael began his restaurant career at age 15, lying about his age to get a job as a busboy. But he soon found he enjoyed the camaraderie of the kitchen and started washing dishes; then he worked his way up from prep cook, to line cook and ultimately head cook at Ground Round Roadhouse. He's worked in restaurants ever since, with a few years off to play professional paintball for the Chicago Aftershock, during which time he was a very successful salesman of wholesale paintball supplies. He says the money was great, but when he and his first wife divorced, he decided to return to his first love, restaurants, "where you don't make any money."
The one thing he never got comfort- able making in Chicago was dessert.
"I like to taste and cook," he says. "Baking is more science – measure and cook."
But when he moved to Portland, he says, "Gabe taught me to make bread and pasta."
"I was always afraid of desserts," says Michael. "I'm not afraid anymore."