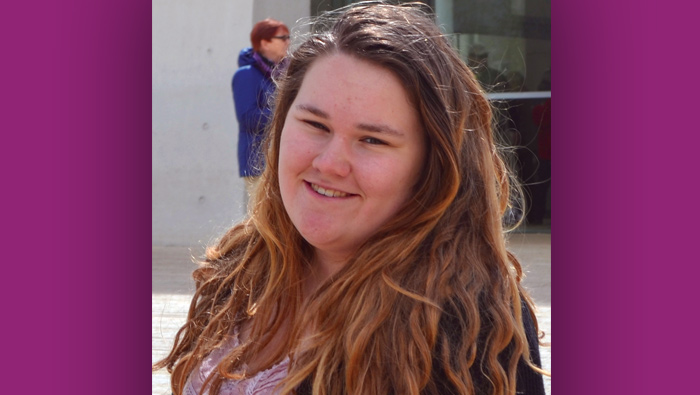 From staff and wire reports
During a semester in Israel, Ashland High School student Bryce Ennis, 16, has experienced Israeli society as she learns Jewish history from the Torah through the Holocaust and on to the creation of Israel as a modern state.
The daughter of Lisa and Steve Ennis, Bryce has spent the spring semester at the Jewish National Fund-sponsored Alexander Muss High School in Israel. The family are members of Ashland's Havurah Shir Hadash. For the past five summers, Bryce has gone to B'nai B'rith Camp.
AMHSI-JNF provides a semester abroad in Israel for American high school students grades 10-12. While the students' course load includes core classes such as math and science, they also learn much more.
"We try very hard to get the students to strengthen their Jewish identity and their connection to Judaism through Israel, the land and its history," says Danny Stein, 31, a history teacher at AMHSI-JNF.
Currently, 61 high schoolers from public schools across the United States are taking part in a four-month program at the school's Hod HaSharon campus, located just outside Tel Aviv. Students study Jewish history daily and spend half of their learning time on site, experiencing history firsthand. "We start with the Torah … and end with present-day Israel," Stein says.
The section on Holocaust studies is especially powerful and thought-provoking.
The students' journey begins with two intense days in Israel, one studying the history of World War II and the beginnings of the Holocaust and the second spent at Yad Vashem in Jerusalem, Israel's national Holocaust museum. At Yad Vashem students explore the somber exhibition halls with a guide and attend a talk by a Holocaust survivor.
Students wrestle with many difficult questions about Jewish identity, history and the Holocaust during this trip. "They process how to interpret and find meaning in their experience at Yad Vashem and how to turn it into something they can build on," explains Reuven Spero, an AMHSI-JNF faculty member.
Following their visit to Yad Vashem, students get on a plane and spend a week in Poland. "We try to help the students connect to the Holocaust intellectually and emotionally," Stein says. Students visit concentration camps, synagogues and cemeteries all over Poland, but they also get an immersion in what life was like pre-WWII in the rich and vibrant Jewish communities that were once a large part of Poland's national fabric.
Upon their return to Israel, students continue with their lessons in Jewish history and visit Independence Hall, and continue to learn about the creation of the current modern
State of Israel. "Where students were singing the HaTikva (Israel's national anthem) in a concentration camp just a few days ago, now they're singing it in Independence Hall where the State of Israel was officially proclaimed," Stein explains of the moment's powerful significance.
When looking back on her experience from Yad Vashem to Poland, Bryce says, "Knowing how so many people fought for Judaism and cared so much that they wanted to protect it for generations to come makes me feel that I need to pass that on to my children."
This story includes material from a JNF wire report by Megan Turner.