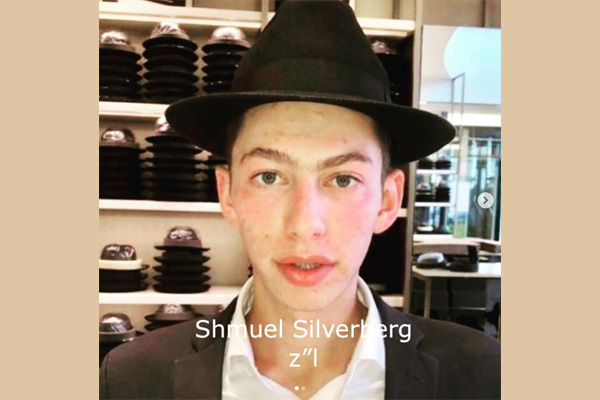 Shmuel Silverberg, a Yeshiva student, was shot and killed late Tuesday night, Aug. 17, in front of the Yeshivas Toras Chaim in Denver, Colorado.
Yeshiva Toras Chaim released this statement, "Our Yeshiva Toras Chaim community is grief stricken at the killing of one of our students overnight. We are caring for our faculty, staff, students, and their families in the face of this tragic and incomprehensible act of violence. We are grateful for the support we are receiving from our Denver community and from around the country, and for the work of local law enforcement authorities who have made this their top priority. Our community is seeking solace and privacy at this time."
A parent whose child attends Toras Chaim wrote this heartfelt statement:
"It's been a very rough, emotional day. I woke up to the horrifying news that there had been a shooting last night at around 11:15 pm at my son Yehuda's yeshiva (school) in Denver.
"At least 2 shooters drove up and attacked the school. They started by shooting the front windows of the building, then they chased a 19-year-old student who had been right outside the building, pinned him against a wall and shot him in the chest as he begged for his life.
"They fired at least 4 shots at the principal's head but missed.
"Students performed CPR on the unconscious student who had been shot but were unable to save him. There are no words.
"It's truly a sad day when people whose highest values are peace, performing acts of lovingkindness, self-improvement, study and prayer are targeted by such hate.
"May we all know of no more sorrow, and may G-D wipe away the tears from every cheek and give the student's family, the Yeshiva, and the entire community solace and comfort."
The shooter remains at large, and police are continuing to investigate the incident.
The murder came amid a night of shootings in the city, with three incidents happening late Tuesday night and early Wednesday morning.
Denver police indicated that these crimes were linked to a single armed and dangerous group, and identified three vehicles linked to them, calling on the public for information and offering a reward of up to $2,000.
Police say they are working with multiple witnesses and are looking at surveillance video.
Anyone who spots the vehicles or has more information about the suspects is asked to call Denver police. Tips can also be submitted to Metro Denver Crime Stoppers at 720-913-7867.