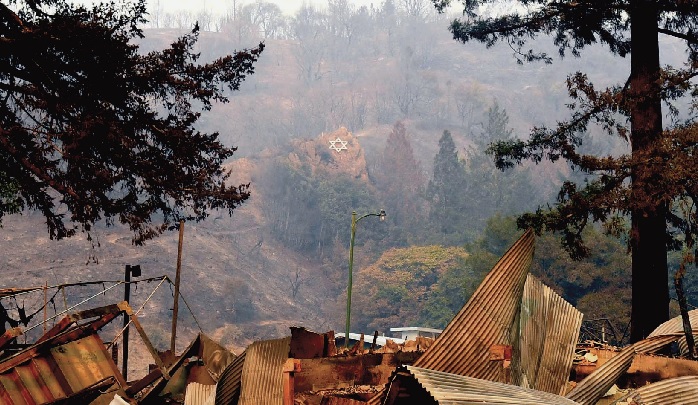 Within three weeks of the Oct. 8, 2017, wildfire that destroyed URJ Camp Newman, a site to hold their 2018 summer camp was located. The Union for Reform Judaism camp will convene at the California State University Maritime Academy in Vallejo, about an hour southwest of theSanta Rosa camp.
"We have exclusive use of the facilities while we are there. It will be smaller, but we are excited to be able to run camp and offer it to the community," says Camp Director Rabbi Erin Mason.
Last year, URJ Camp Newman celebrated 70 years of Jewish camping in the West. Although they have had various names and locations over the decades, they had been at the Santa Rosa location on Porter Creek Road for more than 20 years.
They have no idea when they will be able even to begin the process of rebuilding as they are still waiting for the U.S. Army Corp of Engineers to begin their clean up.
"We have been pushed back a few time due to the enormity and vast amount of clean up in the area," explains Erin. "We have been told three different dates when they think clean up will be complete, but they are really just starting the process. Once they come in and clean up, then we have to go back in and see what it looks like from there. We are not going to know our timeline for at least another six months."
There are a couple of things that survived the devastating fire, and when you consider that they are made of wood – it's pretty extraordinary. The first is the giant Star of David that sits on the hill. The Star is constructed of wood but is mounted on a large rock. "It is a sight – seeing it in person," says Erin. "When you are standing in the middle of camp and you can look up and see the Star – it's pretty amazing."
Another survivor of the fire is a shed that contained sacred texts, prayer books and the tallitot. "It's a wooden shed that you can see where the flames went underneath, and you can see where the flames were on the trees around it, but the shed is untouched," says Erin.
The outpouring from the camping community has also been incredible. In addition to their summer camp program, Camp Newman also offers retreats throughout the year to local congregations and other organizations. Trying to find a new location for these retreats has proved challenging.
"Every time we call someone and ask to set up a tour [of their camp facility] the first thing they say is, 'Our hearts are with you. We will do whatever we can to help you,' The feeling is not only from the Jewish camps that are part of our network in the Bay Area and California but across America," explains Erin.
Many individual campers from across the United States are doing mitzvah projects for their b'nai mitzvah that benefit Camp Newman. Two children from sister camp URJ Goldman Union Camp Institute in Indiana are making mezuzot and sending them. "We need mezuzah for every single dorm room," says Erin.
From that first evening when they were processing what was happening, Erin says they knew one thing for sure: "Camp Newman is about community, … the community that we create together – that is stronger than any site."
Even though they felt this way, camp staff was still nervous about how the community would react to having camp at this new location. When they opened up summer registration, the reservations started pouring in.
"It was such a validation of what we had already felt from our community – that they just want to be together, they want the experience that being at Camp Newman gives them," says Erin. "Even though we are at a different place, we are going to have the same ruach, we are going to have the same community, and we are going to have the same love of camp that we had when we were at Porter Creek."
California State University will offer some opportunities that their forest location did not have including an Olympic-size swimming pool and an indoor beach volleyball court. But there are also significant activities that they don't offer, including the high elements ropes course. "That is an integral part of our program, and we think it is so important in terms of building confidence, resilience, trying new things and pushing yourself to new heights – literally," says Erin. They are currently looking for a place to take campers offsite so they can still create this experience for them. They are facing each new challenge as it arises.
"This whole experience has been such a dramatic learning curve," explains Erin. "You never wish to learn, in this way, how you or your community respond to tragedy and crisis. What we've found is such positivity and support for the work that we do. It's really been uplifting to our whole team."
For more information on URJ Camp Newman, visit campnewman.org.