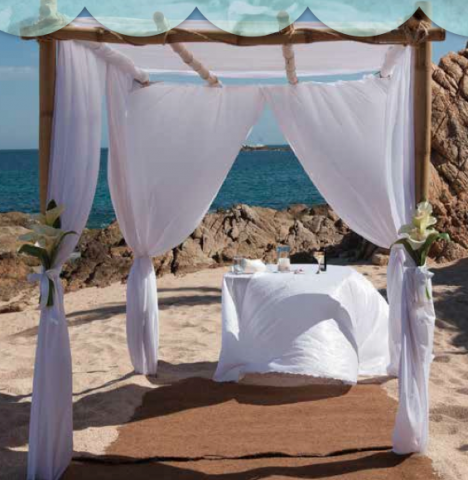 After you say "Yes!" comes your next big decision: where to say "I do."
But before you can decide where you and your beloved want
to celebrate your union, you have a lot of questions to consider. How many guests will you have? What is your budget? Will the ceremony be at your synagogue? Will the wedding and reception be at the same place? If not, how easy will it be for guests to transfer between them? Do you want an elegant or casual setting? Does it have a setting for photos that complements your style?
What about food? Do you want/need your reception to be kosher, vegetarian or gluten-free? Does your venue have its own or preferred caterers? Can liquor be served?
Do you want a site that has everything you need? Or do you want to bring all the elements together yourself or with the aid of a wedding planner?
There is so much to decide before you choose the venue that is just right – the one that lets you bring it all to life on your special day. When you're ready to start looking, Oregon offers a breathtakingly diverse array of venues. Here are just a few that might have the right answers to all your questions:
Weddings are the raison d'être for Abernethy Center in Portland. More than 85% of the events at Abernethy are weddings.
"Our property hosts several different types of venues ranging from a traditional white wedding chapel, the Veiled Garden, which has a classic Northwest feel where your ceremony is intimately surrounded by trees, a formal ballroom and Abigail's Garden, which is a full outdoor ceremony and reception (site) that sits on 41⁄2 acres," says Elizabeth Fowler, Abernethy Center senior event specialist. "Depending on the day of the week, time of year and space there is an option to accommodate just about every budget, guest count and feel that couples are going for. … What makes Abernethy Center unique is our range of spaces available to brides and grooms."
She adds that Abernethy Center is very familiar with Jewish wedding traditions, has exclusive on-site catering and is able to customize menus and accommodate dietary restrictions.
Ashland Springs Hotel is a 1925 historic landmark property with a naturalist theme.
"The entire hotel's atmosphere takes its guests into simpler times, when destination hotel was part of the adventure," says Karolina Wyszynska Lavagnino of the Neuman Hotel Group. "With over 5,700 square feet of banquet space, we set up ceremonies from the beautiful outdoor space – the English Garden – to our palm-filled, naturally lit conservatory, as well as in the tall-ceiling Crystal Room.
"Receptions of up to 180-200 people take place in the Grand Ballroom. More intimate (events) are in the Crystal Room. We cater to every budget, making it the most amazing event the bride and groom imagined. We have had it all from vintage, Hollywood glam, to country, shabby-chic and modern design weddings. With the right linens, flowers, centerpieces and light- ing, our banquet spaces transform to your liking."
The iconic Benson Hotel houses the charm and elegance that comes with more than 100 years of legendary service in downtown Portland. "The best part is that the newlyweds can visit the hotel for years to come – celebrating anniversaries and reflecting on special memories never to be forgotten," says Benson General Manager Ron Gladney.
"The staff at The Benson Hotel are happy to work with bud- gets and groups of any size to make your wedding day perfect," says Gladney. "While the hotel and the Crystal Ballroom have an unmistakable historic feel, the Mayfair Ballroom is decidedly more modern; the layout of any of the available rooms offers the opportunity to personalize the atmosphere of the event. Our catering and event staff is on hand to make sure the personal- ity of the newlyweds truly shines through – from customized menus (including kosher, gluten-free and vegetarian), seating arrangements, music and more!"
Another downtown option is The Mark Spencer, a boutique, family-owned Arts hotel with 102 guest rooms and suites. The hotel offers settings for smaller ceremonies and receptions of 40 to 100 people. The hotel's largest space can accommodate about 150 people for a sit-down dinner reception.
Where the hotel really shines is with its packages for smaller gatherings with family and friends.
"Ideally located in downtown Portland's West End at the gateway to The Pearl District, The Mark Spencer Hotel offers attractive packages for out-of-town guests and intimate space for rehearsal dinners, receptions and send-off brunches," says Dave Spacek, director of marketing for the hotel. "Just one block from Powell's and situated between Kenny & Zukes and Jakes Famous Crawfish, this location cannot be matched in down- town Portland for dining, entertainment and nightlife."
The Mittleman Jewish Community Center in Southwest Portland offers both a range of settings and built-in Jewish amenities, including a kosher kitchen.
The center's ballroom has offered a formal option since the center was renovated last decade. When the chuppah and the reception are all in the ballroom, it can accommodate about 150-175 guests; for larger weddings, couples have held just
the reception in the ballroom. Just outside the ballroom is the center's lovely lobby, which can be just the right space for a pre- dinner cocktail hour.
he center also has two outdoor settings available seasonally. The front courtyard can accommodate about 200 people for outdoor ceremonies. The pool patio and lawn is a mix of a very nice natural space and casual patio. It's a nice option for smaller outdoor ceremonies and receptions for 50 to 80 guests.
The Nines lives up to its name, offering an elegant luxury option for weddings and receptions. Sophisticated yet approach- able, The Nines allows for events from intimate groups of five guests to grand dinners for 500.
"An elegant staircase adds to the grandeur of our amazing event space (13,500 square feet)," says Marketing Director Laura A. van Daal. "A creative design concept and floor plan allows our highly skilled staff to offer a personalized experience to you and your guests. The Nines is an elegant location to hold a ceremony, followed by cocktail hour and dinner.
"When selecting The Nines, not only do you receive impeccable service and divine food, but we also offer table décor including votives and a beautiful fresh white seasonal flower centerpiece," says van Daal. "We also have a customizable dance floor and staging for band or DJ."
Ever dreamed of being married by the captain of ship? That dream can come true during a river cruise with Portland Spirit. The cruise line offers four ships for private weddings for 40 to 250 guests, with smaller groups welcome to book a public cruise with a private ceremony before the ship gets under way.
"It's all inclusive, so planning is easy," says Director of Marketing Kari Baxter. With food, decorations, sound system and dance floors provided, it doesn't take long to pull together a full wedding. While summer weekend weddings often need to be booked six months to a year ahead of time, off-season and midweek weddings have more availability.
People can bring their own officiant, but Baxter says about 75% of the couples choose to be married by the captain. "He is dressed in his full uniform – it makes for fun pictures. Our ceremonies are nondenominational."
Located in Portland's West Hills, the World Forestry Center has a definite Pacific Northwest feel. The center's two indoor halls feature warm wood, broad-beamed ceilings and an elegant, natural setting. For weddings and receptions of up to 250 guests, Miller Hall is a good choice. The smaller Cheatham Hall accommodates 150, but when combined with a tented plaza option, it can host 400 guests.
Photography options include the beautiful outdoor fountain that backs up to the forested hills and a variety of settings in the Discovery Museum. Many couples have their photo taken in front of the 1909 Lima Shay-Geared locomotive named Peggy located between the museum and the two halls.
Since the center is nonprofit, Event Coordinator Amber Morrison says it offers another very Oregon feel: "Holding your special event here supports our mission to educate and inform people about the world's forests and environmental sustainability."