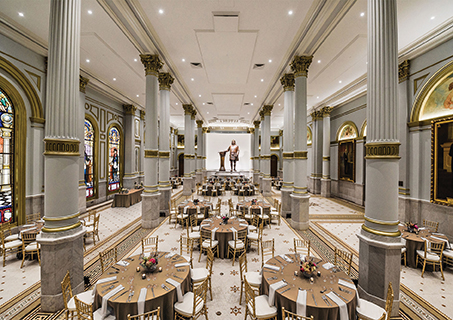 Planning a wedding can be overwhelming. Just a simple internet search can result in thousands of photographs on Pinterest alone. Each year, wedding planners come up with what they think some of the hottest trends will be in their industry. Here are a few ideas of what's trending for 2018: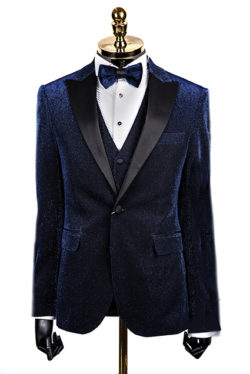 Navy is the new black
Gaining popularity as an alternative to formal black, navy is showing up in everything from invitations to bridesmaid dresses. This deep hue has timeless appeal whether in an uber-elegant or bohemian-themed wedding. Navy pairs nicely with bold colors such as burgundy, coral and bright yellow and with softer tones of mint, peach and pink, so that it can work for any season. Also, metallic accents of gold, silver and copper will pop on a navy background.
Copper and chrome = the metals of the moment
Metallic elements always add a pop of sparkle and elegance to any festive occasion. The popular rose gold is taking a back seat to a more industrialized copper look this year. Copper is a very affordable material and looks great when reflecting candlelight, so it's a go-to material for lanterns and tea-light holders. Chrome has gained popularity with a rise in the '70s influenced home décor, with the trend carrying over to the wedding industry.
Pantone purple is in
The Pantone color of the year has always influenced what's to come in wedding trends. This year's Ultra Violet will provide a bright swatch of color to invitations, wedding bouquets, bridesmaid dresses, bridal flats and glassware. Even amethyst crystals might make an appearance in décor.
Big blooms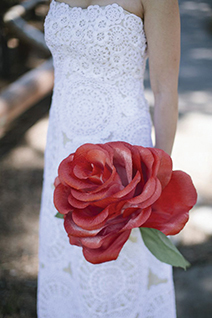 Hanging installations are still going strong, creating a great dynamic in the space, but florists are getting more requests for tall pillars to stage and display flowers. Having a massive arrangement on either side of the aisle that can then be transported to the reception location is a great alternative to immovable arches. Bridal bouquets are also getting bigger and bolder incorporating larger blooms like peony, dahlia and hydrangea. Or, ditch the live blooms in favor of one giant perfect paper flower. Brides can also forego the veil for a crown of live or artificial flowers.
If it feels good …
Details matter when trying to enhance your guests' experience and texture is a big trend in these details. Invitations incorporating fabric, acrylic, leather and metal in a layered effect get guests excited about what's to come. Place cards made of metal, wood or stone; a variety of tabletops at the reception and assorted or laser-cut linens all add to the "feel" of the wedding.
Let us entertain you
Couples are coming up with creative ways to entertain their guests. Hiring magicians, aerial acts, caricature artists, tarot card readers or palm readers help create an unusual and memorable experience. Photo booths are also evolving. There are GIF-maker booths that allow guests to apply fun filters over animated portraits – other photo booths generate instant scrapbooks and flip books. Create a hashtag for your wedding and have your friends share their photos on Instagram.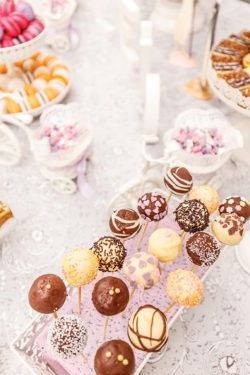 Dazzling desserts
Wedding cakes will never be replaced, but 2018 will see more dessert bars at wedding receptions. The sheer variety of desserts makes the options endless. Dessert shots, ice cream, popsicles, pies, s'mores, cookies, donuts, macarons, cream puffs, cake pops and cupcakes are just some of the sweet treats guests can enjoy. Candy buffets can be matched to your wedding colors and can become instant party favors when you invite your guest to fill a bag to take home.
Location, location, location
There has been a shift from the rustic weddings of couples saying their vows in barns with mason jar candles to more formal affairs in settings with architectural ambiance. Empty warehouses, industrial lofts, museums and sheltered rooftops are all places that couples can get creative with their own "space."