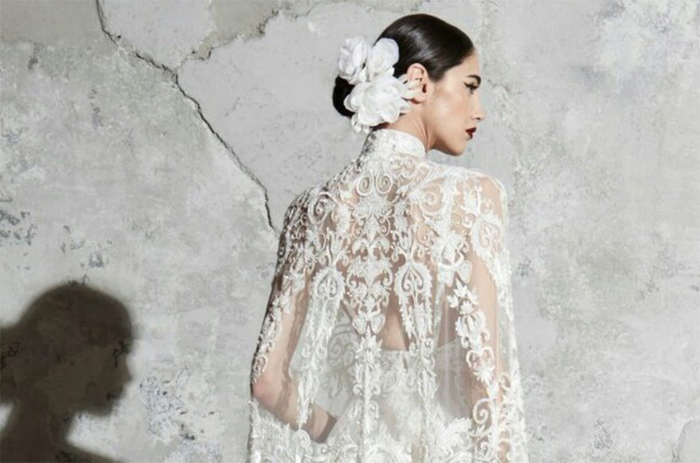 New decades always bring new fashion trends, and wedding dresses are no exception. Bridal Fashion Week happened in New York in October 2019, and those designs are emerging from the runway for those brides planning a 2020 wedding.
There are six fundamental wedding gown style silhouettes: empire, A-line, ball gown, trumpet, sheath and mermaid. But there are as many variations to those basic styles as there are brides.
Here's some inspiration that you may want to incorporate into your gown – remember it's about your day and what you want to wear.
BLUSHING BRIDE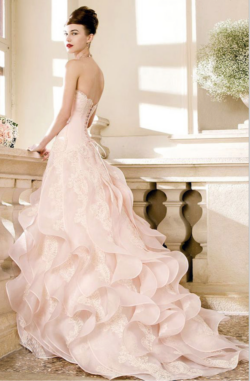 Blush gowns are not new to the dress scene, but its updated counterparts buff and ginger (a tone between blush and champagne) complement a wide range of styles and skin tones, making it a favorite alternative to white.
Perfect for a bride looking for something a little out of the ordinary, this color pairs well with bolder tones or metallic. It just stands out a little more than ivory or alabaster.
DITCH THE DRESS
Dresses aren't your only option for your walk down the aisle; meet the wedding suit. This borrowed-from-the-boys option has taken on innovative approaches. It's not all about slim pants and blazers – styles vary from tuxedos to jumpsuits and even the dress-suit hybrid. Make it more feminine by adding a veil.
If you still think a suit isn't traditional enough, wear one to your rehearsal dinner, or after the ceremony, change into a suit jacket that doubles as a mini dress. You'll be more comfortable dancing the night away.
UNDERWEAR AS OUTERWEAR
The "underwear as outerwear" trend, which first graced the fashion pages at the start of this decade, is making a comeback. The change is that it appears less sexy and more refined.
There are corsets built into dresses with the boning on the outside and others that are meant to be seen as part of a focal point of the gown's design.
For a bride who doesn't want layers of tulle and lace, a simple sheath or "slip" dress can be sophisticated and elegant. The fabrics range from satin to crepe, but the key is to make sure of a precise fit because this style of dress is meant to hug your body just so.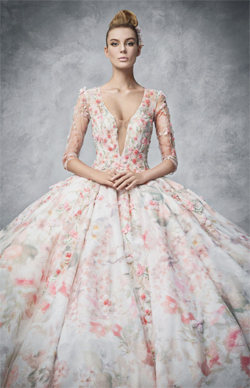 FLOWER POWER
You don't have to just carry flowers on your wedding day; you can wear them too!
You can go for an all-over floral print (perfect for a garden wedding), or choose a 3-D floral appliqué, floral lace embroidery, hand-painted flower detailing, beaded buds or a tulle flower belt added to a sheath gown.
Take the unique choice of a flowered dress one step further by matching the style of the flowers on your gown to the flowers in your bouquet. Your dress can also inspire the rest of the flowers from table settings to décor. It's a detail that will make everything come together beautifully.
FEATHERED FRIENDS
Feathers appeared on the runways last year, and now they have made their way to bridal attire.
You can wear a fully-feathered ball gown or if you're not feeling that bold, add a little texture to cuffs or straps, or wear a feathered shoulder shrug. The designers seem not to skimp on this embellishment, and it comes off looking ethereal.
Another alternative is to wear a feathered mini to your rehearsal dinner or change into one for the after-party. They give your dress movement even when you're not dancing.
LACE – CLASSIC OR FUNKY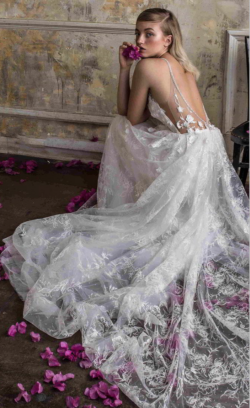 From classic Chantilly to ornate three-dimensional, lace is a fabric that will never go out of style.
Lace can be added as a simple embellishment, an insert, sleeves, or the whole gown. For something different, opt for a short or tea-length, lace wedding dress. A lighter style can also help you stay cool during a summer wedding.
There is also a surprising trend if you search for "crochet wedding dresses" or "macramé wedding dresses" on Pinterest or Etsy. You will see a wide variety of beautiful gowns that look nothing like your grandmother's bedspread or a hanger for plants.
BOHO BRIDE
Bohemian "boho" chic has been a popular phrase for both fashion and décor, and wedding dresses are no exception. But the days of flower crowns and fringe are over.
Boho wedding dresses achieve a style that evokes a sense of wonder and whimsy with delicate laces, gossamer meshes and floral motifs. This style is for brides that want a relaxed, yet beautiful, celebration.
There is no specific silhouette for the boho style, just one that compliments your figure and makes you feel effortlessly chic.
CAPES AREN'T JUST FOR SUPERHEROES
Capes may not be new to bridal fashion, but if you need more coverage for a sleeveless or off-the-shoulder gown at a winter wedding, this makes for a striking look that also emphasizes the gown underneath.
Capes have also become a more modern alternative to the traditional veil. Fabrics for capes range from sheer lace to silk adorned with embellishments. The length can also vary from cropped capelets to floor-skimming designs that attach at the shoulder so that they can be ditched for the dance floor.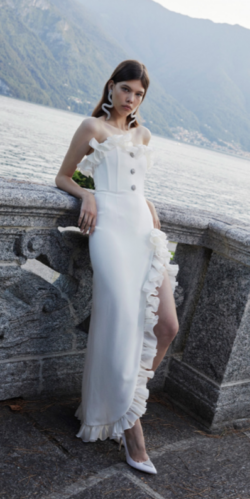 LOTS OF LEG
I don't know if Angelina Jolie's leg originally started this trend, but legs are on display again.
Whether it's short hemlines, thigh-high slits, or high-low hems, brides seem to be showing more calves and thighs.
This look can be subtle yet sexy with a slit on the front, side or center of the skirt and works on almost any silhouette. And you get to decide just how much skin you want to show with how high it goes.
SLEEVES – THEY'RE BACK
Reviving '80s fashion is usually not a great idea, but there is a new take on the voluminous sleeves and cuts from four decades ago.
Puffy sleeves are becoming a focal point on dresses. (It's hard not to immediately think of a "Seinfeld" episode when you hear puffy sleeves, huh?) Created with flowing fabrics and structured shapes, these sleeves range from dramatic to divine.
Some of the examples are puff sleeves that complement a sleek corset ball gown, oversized sheer lace on a fitted gown, voluminous sleeves on an ultra-glam gown or cuffed puff sleeves in a sheer tulle fabric for a feminine touch. None of these even remotely resembles the horrible sleeves from your family's wedding albums.