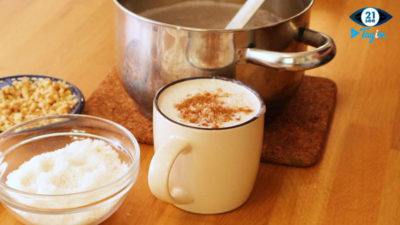 First ISRAEL21c started with doughnuts, now they teach you how to make the popular Middle East hot milk beverage – sachlav – in the second cooking video of their new Tayim (tasty) series.
In less than a minute, 21see's Tayim videos teach you how to make classic Israeli dishes in your own kitchen.
SACHLAV
Ingredients
1 liter (4½ cups) milk
4 heaped tablespoons cornstarch
1/3 cup sugar
1 ¼ teaspoons vanilla
Large pinch salt
Top with a sprinkling of cinnamon/chopped walnuts/coconut
Directions:
1. Mix the cornstarch into the milk when cold.
2. Mix in the sugar
3. Bring up to a light boil, stirring the whole time until frothy and thick, but still pourable (about five minutes total).
4. Pour into the cup and garnish with cinnamon, walnuts and coconut.
Executive Producer – Jonathan Baruch
Producer / Director – Haim Silberstein
Chef – Jessica Halfin
Camera – Ari Amit
Recipe and video courtesy of ISRAEL21c.org