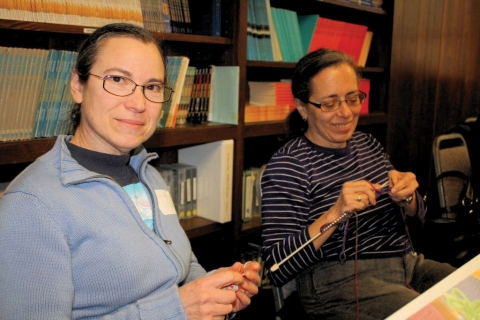 Knitting and mitzvah-making mesh. Think war relief, supporting the poor, even thoughtful Hanukah presents and the craft comes to mind.
Why does kibitzing over needles and yarn lend itself to helping others so well? We asked experts from three local knitting mitzvah groups to explain.
"To create something and know it will go to someone who needs it is an extraordinary feeling," says Deborah Freedberg of Neveh Knits and Crochets. Started during Mitzvah Day last year, the group meets at Congregation Neveh Shalom once a month. They make hats for Israeli Defense Force soldiers, hat liners for American soldiers, baby blankets for the Legacy Emanuel neonatal unit and more.
"So much love goes into these items," Freedberg continues. "For baby blankets, we each make 12-inch squares. Then Leah Rubin crochets them together and often makes a hat to go with them. They're gorgeous. The yarn is donated, and we use size 10½ needles."
Neveh Knits and Crochets welcomes newcomers of all ages and levels. For schedules or more information call Jennifer Greenberg at 503-246-8831 x139.
* * *
Next we spoke to Annette Gerard, Dorothy Potenza and Marianne Strauss from Purls of Wisdom, a group that meets at Rose Schnitzer Manor.
"It's a feeling of accomplishment, and we know the things we knit are useful and appreciated," Potenza says.
Gerard agrees: "Knitting gives us something to do, and we're doing something for other people. Some (members) haven't knit in years and were hesitant to start, but it's rewarding mentally and physically. Even people who have arthritis do well."
Purls of Wisdom makes hats, mittens and scarves for groups such as Jewish Family and Child Service, Raphael House and homeless shelters.
Volunteer Carol Gladstein knits with the group and delivers finished products. They appreciate lightweight non-wool yarn donations and often find bags left at the front desk.
All are welcome to join them Mondays from 3:15 to 4:45 p.m. For more information, contact Gerard at 503-535-4000.
* * *
Finally, we spoke to Susan Milstein from Beth Israel Mitzvah Knitters, a group started by Sarah Krakauer and Cantor Judith Schiff. They offer handmade hats as gifts during the annual Lift Urban Portland (formerly Northwest Portland Ministries) community dinner held at Congregation Beth Israel. They publicize the event at shelters, Friendly House and low-income high-rises.
The knitters appreciate donated yarn but, unlike the other groups, prefer wool. Everyone is welcome to the monthly get-togethers and urged to call the Congregation at 503-222-1069 for more information.
"About a dozen of us get together, but others don't come to meetings," Milstein said. "They just drop off a bag of hats. You're creating something useful for people who need it. The tagline for Mitzvah Knitters is 'repairing the world one stitch at a time.'"
Polina Olsen is a freelance writer in Portland.