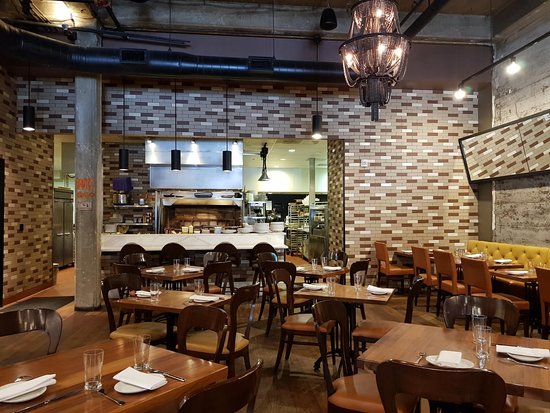 In 2012, Vitaly Paley — the celebrated, James Beard Award-winning chef and owner of Paley's Place — opened his second restaurant. Imperial, a large, highly anticipated restaurant within downtown's Hotel Lucia, centered its menu around a wood-fired grill and cited inspiration from "the historic cuisine of the Pacific Northwest." Its executive chef at the time, Ben Bettinger, went on to run the kitchen at the beloved steakhouse and butcher shop, Laurelhurst Market; his successor, Doug Adams, became a "Top Chef" favorite and a restaurateur in his own right.
Now, after eight years, Imperial has closed, announcing the news with little more than a line on its website.
Late Monday night, an Eater tipster noticed that Google now lists Imperial as "permanently closed." The restaurant's website provided confirmation: A black bar at the top of the page reads, "Imperial is now closed. Thank you friends for your love and support over the years." Its third line announces the impending closure of its sister restaurant, the Crown, on October 8.
Although its tenure in Portland is far less storied, the Crown has developed a loyal audience of devotees. A few months after Imperial fired up its grill, Paley opened the Portland Penny Diner, a casual restaurant with sandwiches on fry-bread and boozy egg creams. In 2017, however, Paley flipped the restaurant, turning it into a New-York-meets-Neapolitan pizzeria.
In recent years, both restaurants had become downtown stalwarts, favorites among tourists as well as locals. Imperial's fried chicken remained one of the city's finest, and the Crown became one of the top pizzerias on the west side of the river. In many ways, Paley was the first local chef to beef up downtown Portland's hotel dining programs; after he opened four restaurants in Portland hotels, chefs like Adams and Jose Chesa (Ataula) followed suit.
However, when coronavirus hit Portland, Imperial and the Crown temporarily shut down, along with Paley's other restaurants. "The money has been seeping out steadily since the moment we closed," the restaurateur said in a spring interview. "It took not tens of thousands, but hundreds of thousands of dollars just to close. It knocked the wind out of us."
After about six weeks closed, Paley shifted its business model to reopen, beginning with takeout from the Crown. The menu included pizzas, as well as homey dishes like lasagna and fried chicken. "I've always said that people are challenged by so much in their daily lives and they shouldn't be challenged by food," he said at the time. "That statement is certainly true now."
Slowly, Paley reopened Imperial and Paley's Place, starting with takeout and modified forms of indoor dining service. Imperial's sudden closure came with no explanation from its owner; Paley chose not to speak with Eater Portland at this time. Nonetheless, the obvious and excruciating weight of the pandemic likely played at least some part.
The Crown will continue to take orders for takeout, delivery, and dine-in until its closure in October. Paley's Place, the chef's original restaurant, is also open for dine-in and takeaway. Paley's other restaurants, Headwaters and Rosa Rosa, remain temporarily closed.