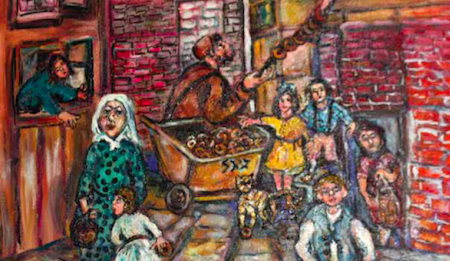 Renate Dollinger was a landscape painter with a small gallery in Palo Alto, CA, a husband, four children and lots of dogs when, in 1968, at the age of 44, she suddenly turned to painting life in a shtetl. "Cute," her husband said when he saw the first painting. "Where did that come from?" "I don't know," she replied.
Here's what Renate's official brochure says: "The rich culture of the shtetl is evoked in Renate's compelling paintings with their uncanny portrayals …While the scenes are born of the artist's imagination, they possess a compelling sense of truth … as if they were part of Renate's own personal experience."
Here's what Renate says:
One day in 1968 a woman named Dixie started spending time in Renate's Palo Alto gallery, sitting in one or the other of two chairs, not saying much, just looking around. After Renate closed the gallery – business was too slow – Dixie called her at home and Renate invited her over for tea. That's when Renate heard Dixie's strange tale. 
The Master says you lived a former life in a small town in Poland," Dixie told her. She went on to give her details about that life. For example, Renate's mother sold vegetables in the village and Renate would sit under the table, with the water from the vegetables dripping on her head, drawing pictures of life around her with a stick in the muddy dirt. "Your mother stopped you," Dixie said, because the rabbi wouldn't like it if she made drawings of people. Later, the Cossacks came to the town and smashed the houses. They killed Renate and her parents and burned the house down. Renate poured them both more tea. When you went over to the other side, Dixie went on, you complained to the angels that it wasn't fair that you had to live in a time when people couldn't draw.
The angels met about it; their decision was to ask if you would be willing to paint the world of your Polish village when you're in the middle of your next life. "That," Dixie told her at Renate's kitchen table, "is now." "What?" Renate exclaimed. "I don't have any idea what that looks like! How are they going to give me the memories?" "Don't worry," Dixie assured her. "They will do it." The next day, Renate put her art supplies on the dining room table and waited. And waited. After maybe half an hour, she was suddenly remembering something: a street, the clop clop clop of hooves, houses with funny roofs … a stork sat on a chimney. Renate had never seen any storks in California, but she painted the street with the men, the horses, the houses and the stork.
Every day for three years, the memories that came to her were so clear that it was as if she were remembering a picnic from the day before. She painted and painted. Her family called them her "loony stories." She still painted landscapes on the side for the income, but she finished 39 shtetl paintings, starting with the town and its peddlers and ending with the Cossacks destroying it all. Then Dixie called again. "You can sell the paintings, and thank you," she said. "You can do whatever you want now."
A Berkeley museum curator called Renate out of the blue, came to look at the paintings and signed her up for a one-person show: "The Lost World of the Shtetl." She has been painting the scenes ever since. Renate and her husband raised their children in Palo Alto and then moved to Salem to be near their daughter. Today she lives at a senior residence near Seattle, close to another daughter. Now 90, her paintings for the Eugene show are out the door, and she is working on 28 new paintings for an upcoming show in Seattle.  Renate never saw Dixie again, although Dixie did call to say good-bye. She had had a baby and was moving to Montana.
Epilogue
"Don't worry," I've been known to assure nervous interview subjects. "I'm not doing an investigative expose. It's more like 'LIVE with Kelly and Michael' although without the jokes and contests." No dirty laundry, no hours of Internet research. This time: still no dirty laundry, but I confess I spent some time on Google seeking out "shtetl images." I haven't seen "Fiddler on the Roof " in many years, but I think I'll watch it tonight.
Exhibit info:
Seven paintings of European shtetl scenes created by Renate Dollinger are on display at Eugene's Temple Beth Israel Gallery through Aug. 24. The one-woman show features new work by Dollinger. The gallery is open Monday, Wednesday and Thursday from 10 am to 5 pm; Friday 10 am to noon; and whenever the temple is open for public events. Temple Beth Israel is located at 1175 E. 29th Ave., Eugene. For more information, call 541-485-7218 or visit tbieugene.org.
Liz Rabiner Lippoff is a Portland freelance writer and a medical marketing specialist at Liz, ink. See more at LizInk.biz.