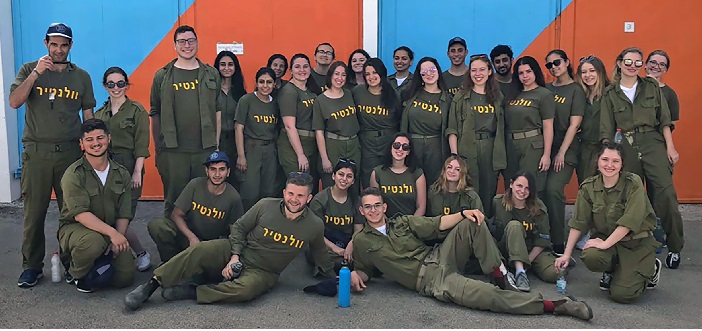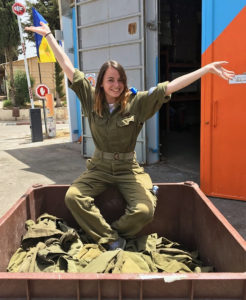 PHOTOS: American VFI volunteers from the pilot group of Birthright alumni. The new program is open to Birthright alumni still in college. Photos courtesy of Volunteers for Israel.
Volunteers for Israel announced a new program that will bring Birthright alumni from colleges across the United States back to Israel to volunteer on Israel Defense Forces bases.
Thousands of American Jews have connected to Israel through Birthright. On their post-trip evaluations, participants have consistently rated encounters with Israeli soldiers to be among the most valuable experiences.
"To build on these positive experiences, VFI has created an incredible opportunity for Birthright alumni to return to and give back to the state of Israel by working alongside their peers and IDF soldiers on military bases," says Campus Director Linda Askenazi.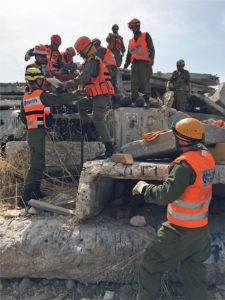 Earlier this month, a pilot group of 30 students selected for their commitment to Israel and leadership potential from 19 American college campuses completed their volunteer work on an IDF base in Israel's north. These students will now assist with recruitment from their campuses and communities for the continuing VFI program, which was announced June 27.
The inaugural trip was funded by VFI and the support of a very generous donor. VFI is exploring partnerships with other pro-Israel campus-based organizations for the program.
For more information about this campus initiative, contact Linda Askenazi at LindaVficampus@gmail.com.
Since 1982, VFI has partnered with the Israeli organization Sar-El to recruit, process and prepare Americans to volunteer on Israel Defense Forces bases. To learn more, visit www.vfi-usa.org.