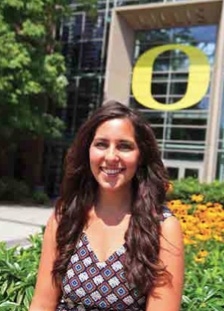 As students returned to the University of Oregon this fall and reconnected with Oregon Hillel, it's a safe bet that most took note of a new face on campus.
An Oregon native and 2012 graduate of the university's religious studies program, Becca Marx returned to Eugene this summer to lead Hillel's expanded student engagement program.
"I moved to Portland when I was 10, but I consider it my hometown," Marx says. "I was definitely involved in the Jewish community even before I moved to Portland. I would always go to B'nai B'rith summer camp. My big focus was in biblical Hebrew, and I really loved that." Thus she found herself at karaoke night with the two people most equipped to turn those realizations into reality.
"When Becca said she might be interested in coming back to Oregon, she demonstrated exactly what it was we wanted to accomplish," Gitelson says. "To have someone who had that clear understanding and a familiarity with our campus, that made it a really easy conversation. Throughout the hiring process, there was never anybody that seemed to be a better fit than she was."
Marx's Oregon Hillel connection began the same way many students today find their way – through a friend and a leap of faith.
She began her collegiate career focused on dorm life and making friends down the hall, not searching out the Hillel, until she tagged along with a group on the
Faced with an ever-growing population of Jewish students – around 1,600 according to Executive Director Andy Gitelson – he and Amanda Weiss, director of Jewish leadership and learning, realized they had maxed out their capacity to welcome more students while providing the Jewish experience they pride themselves on.
"We had hit the critical point where we were maxed out at about 600 students," Gitelson says. "We would never be able to move far beyond that number and still be able to build sincere, quality relationships with all of our students."
Last December, while attending a conference at the Los Angeles Brandeis-Bardin campus, Gitelson and Weiss reconnected with Marx, who was working for the Hillel at San Diego State University. Proud of the work Marx was doing as a recent graduate, Gitelson recalls Marx being interested in a position that was still just a hypothetical at best. Though she'd only recently begun life in Southern California, Marx says she had quickly learned two things about herself: she loved being invested in Hillel's mission full time, and she was an Oregon girl at heart.
Marx went on to serve on the Hillel student board her sophomore year before other commitments kept her from as big a role while an upperclassman. Despite her full schedule, she and her friends still found time for Jewish tradition. Her senior year, Marx and six friends rotated hosting Shabbats at their own houses. "Not at all related to Hillel, except we all met each other there. I think that's the success of Hillel – empowering students," she says.
"That's my main goal here," she adds. "Meeting as many students as possible and helping to empower them in a way that's best for them."
Will Rubin is a senior at the University of Oregon with a major in journalism and an internship at Oregon Hillel. A lifelong resident of Eugene, Will has covered the Oregon Ducks for the Oregon Daily Emerald and AddictedToQuack.com, and currently writes for DuckTerritory.com. In the future, he hopes to write for a major metro publication or work for a collegiate athletic department.