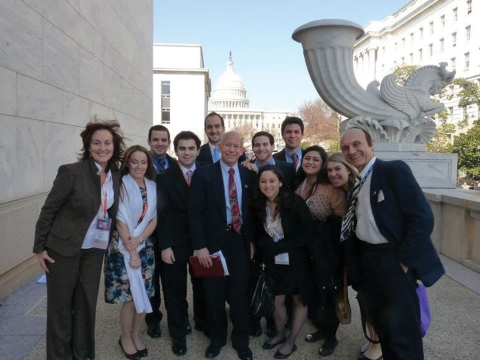 Washington, DC – The American Israel Public Affairs Committee recognized the outstanding efforts of pro-Israel students from University of Oregon at the AIPAC Campus Awards Dinner held during its annual Policy Conference in Washington.
Student activists from University of Oregon were presented with the "Activist of the Year" award for their steadfast commitment to pro-Israel politics. Throughout the year, pro-Israel students have actively cultivated strong relations with key campus leaders. This culminated in a leadership statement in support of the US-Israel relationship. That statement includes the signatures of a diverse spectrum of mainstream student leaders, including those of five fraternity and sorority presidents on campus. Last December, four UO students met with their representative in his Washington, DC, office and have built a strong relationship that continues to deepen over time.
The award was presented during the 2012 AIPAC Policy Conference, an event that brought together more than 14,000 pro-Israel advocates, including more than 1,600 pro-Israel campus delegates and 217 Geller Student Government Association presidents. Students represented more than 500 campuses, from all 50 states and the District of Columbia. "Activist of the Year" awards were also presented to activists from University of Pennsylvania, Tulane University and University of Colorado-Boulder.
Consistently ranked as the most influential foreign policy lobbying organization on Capitol Hill, AIPAC is an American membership organization that seeks to strengthen the relationship between the United States and Israel. With more than 100,000 members across the United States, AIPAC works throughout the country to improve and strengthen that relationship by supporting U.S.-Israel military, economic, scientific and cultural cooperation.