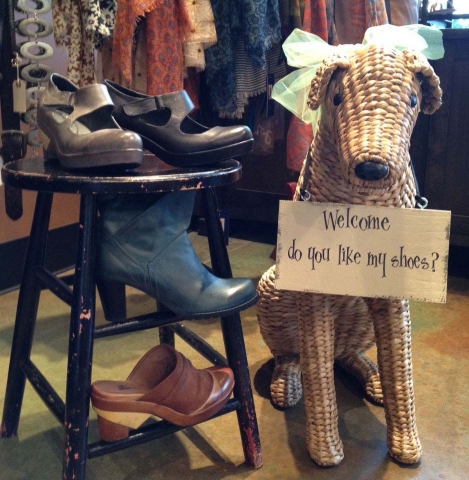 Lake Oswego is a fashion destination extravaganza in a charming village atmosphere just minutes from downtown. Here's a trio of hip boutiques that I enjoy slipping into regularly.
e. g. page (333 S. State St., 503-699-8940) is located in Lake Place Center just off State Street (aka Hwy. 43, parallel to the Willamette River). Known for almost 18 years as Naturals, e.g. page recently changed its name to conform to two of the owners' other stores in California. Whitney Bond and Erin Henke keep this space fashion-forward relying on marketing trips, blogging and their sheer love of fashion.
Shoppers range from teens to adults seeking just the right outfit or accessory for school, around town, holiday or career style. Add an accent with pieces from local jewelry designers Naomi Campos and Graling Jewelry, whose creations are featured attractions.
Erin says, "You will find something unique to make your every-day or evening outfit pop."
Follow e.g. page on Facebook so you'll be in the know about their twice-a-year week-long sale when they reduce prices each day to a bargain shopper's dream.
Then take a short stroll and visit Spin Boutique (440 1st St., 503-850-4375).
Oregon grown Lisa Hamilton with a background in retail and realty paired up with Mississippi-transplant and retail guru Stephanie Gurdian to open Spin in 2010.
Lisa says her shoppers are the moms: "One day she is working and the next she is the wife attending her husband's corporate event and then the next day she's at the local school auction."
Personally, I found an over-the-knee JNBY zip-up hooded black cotton coat that fits my casual style; as an added bonus, I haven't seen anyone else wearing one. Lisa and Stephanie buy just a few items in each style giving the customer almost a one-of-a-kind look locally.
Both ladies love to show the merchandise and explain the look. They are open to putting looks together for you or letting you do it yourself. This is not mall shopping, it is what Lisa and Stephanie pride themselves on – the art of dressing.
Soletta, Italian for "inner soul," (390 N. State St. Suite 116, 503-210-4125) opened in Lake View Village last fall and is a serious shoe collector's destination. Owners Carrie and Steve Elliot defy the present economy and bring the customer a little bit of European shoe shopping. Anyi Lu, Bettye Muller, Chi Mihara and Israeli designer Antelope are just a few of the brands. Personally, I can just sit and enjoy the beauty and artistry of the shoes.
Besides shoes, the salon is filled with handbags, scarves, jewelry and belts. Warm, friendly and oozing with style, Soletta is a shoe fetish connoisseur's must see. They want you to stay, play and experience what a great pair should feel like.
Manager Liz Teachout says, "Soletta's business card captures our clients: 'Fashion forward designs for sophisticated souls.'" If you don't find that special pair, get on their mailing list so you can keep up with new arrivals.