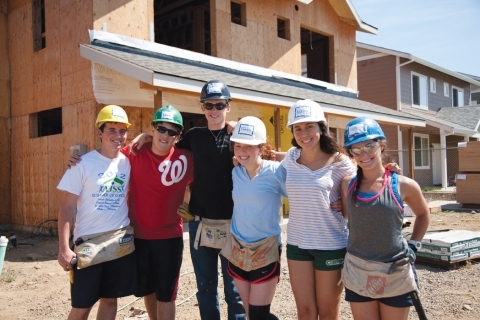 Many Jewish youths seeking a gap year experience between high school and college head to Israel. Steve Eisenbach-Budner has no qualms about that – as a teen, he participated in a Young Judaea program in Israel before the term "gap year" was even invented. Yet he recognizes that not every young adult has the desire to travel that far.
In response, the 50-year-old social activist has launched Tivnu: Building Justice, a comprehensive Jewish gap year experience based in Portland, OR. He is recruiting students ages 17-20 for the nine-month program, which begins Aug. 26.
Tivnu (Hebrew for build) participants will work on construction sites with representatives from Habitat for Humanity, creating affordable housing structures in greater Portland. When they put down their hammers and saws, they will study social justice issues – learning what Jewish tradition has to say about poverty, charity, communal obligation and collective responsibility. Guided by professional educators and guest speakers, students will examine rabbinic texts, Yiddish poetry, modern American-Jewish literature and film – looking at food, housing and health care issues through a Jewish lens. In addition, they will volunteer at local nonprofits, working with people currently experiencing homelessness.
"A big piece of the program is learning tangible life skills, such as budgeting, cooking and working communally as a group," Eisenbach-Budner says. In addition, he promises ample time for group camping, hiking, rafting and exploration of the beautiful Pacific Northwest.
To date, six young adults are registered for the pluralistic program, with many more considering it. He hopes to attract 15 to 20. Eisenbach-Budner wants a broad spectrum of the Jewish community to participate. In an effort to facilitate this, the food will be kosher, and the program will be Shabbat observant.
The cost is $26,000, which includes full room and board. Tivnu has done private fund-raising and has received a significant matching grant from the Jewish Social Change Matching Fund. Much of the money will go toward financial aid and scholarships.
For Eisenbach-Budner, founding a nonprofit like Tivnu represents a culmination of his life work. A native New Yorker, he grew up in a middle class housing project cooperative, originally built for garment workers. He describes it as "a super- charged political atmosphere, populated by Jewish anarchists, democratic socialists, unionists, communists and members of the Workmen's Circle." In his early years at the coop, he learned about civic engagement and Jewish values, all while gaining a respect for physical labor. "It gave me firsthand experience in knowing how important affordable housing is to a family. I didn't realize what a special place it was until after I left," Eisenbach-Budner says.
After college, Eisenbach-Budner moved to Israel, where he did construction work alongside Palestinian laborers. When he returned to the States, he worked as a carpenter in Boston while his wife, Deborah, pursued graduate work in Jewish education and Judaic studies at Brandeis University. A dozen years ago, the couple relocated to Portland, his wife's hometown. "I had worked as a carpenter and contractor for 15 years. I did nice kitchens for people who had nice houses. It was all fine, but it wasn't answering my soul's purpose," Eisenbach-Budner says.
He began volunteering with Portland YouthBuilders, a nonprofit alternative high school/job training program for at-risk youth. This turned into a decade-long, paid position that changed the course of his life. "I trained young people how to build houses, and also taught them soft skills such as how to get along with your boss and the importance of showing up to a job site on time. It was very inspiring, and I felt like I was doing something useful," Eisenbach-Budner says. "But around five years ago, I decided that I wanted to wrap in the Jewish and social justice piece in a more direct way. I gave some workshops and then ran a weeklong program. Then I got the idea of a Jewish gap year program in the U.S.," he says. In September 2012, Eisenbach-Budner received a $100,000 fellowship from the Joshua Venture Group, which funds Jewish start-ups. He left his job at YouthBuilders to focus on Tivnu.
Tivnu partnered with Camp Tel Yehudah and the American Jewish Society for Service to offer two Jewish-based, service learning programs for high schoolers in the summer of 2013. He is repeating that in 2014, this time working in partnership with USY and the Reform movement. Summer programs cost $2,600 and accommodate 20 to 30 teens per session.
Tivnu Community Outreach Coordinator Marissa Block stresses that youths don't need to know about construction in order to participate.
"They will teach you," says Block, 28, who is pursuing a master's degree in Leadership for Sustainability Education at Portland State University. She is a dedicated volunteer at Tivnu. Block, who holds an undergraduate degree from Skidmore College, did a gap year program in Israel at age 25. "Through Eco-Israel, I spent five months living and working on a mostly sustainable, educational farm that has compost toilets and solar ovens and showers. It was a transformative experience. But a crucial piece that was missing was social justice. My understanding of sustainability has expanded to include spirituality and social justice. This is addressed in Tivnu," Block says.
For more about Tivnu: Building Justice, visit tivnu.org.
Susan Jacobs is on the staff of the Jewish Journal MA. This story originally appeared in the Jewish Journal MA and is reprinted with permission.