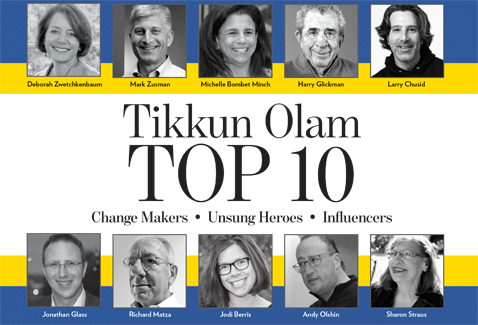 Whether they are called unsung heroes, influencers, or change makers, there are certain people in the community who seem to make a difference in everything with which they become involved. People are drawn to their confident energy and the positive impact they create.
Tikkun olam is defined by acts of kindness performed to perfect or repair the world. More generally, the phrase can mean improvement, establishment, repair, prepare and more.
Today, it is closely associated with social action and one's responsibility for fixing what is wrong in the world.
We chose the following people (and we know there are many more out there), because they stood out to us for the work they do – not just for the Jewish community but for society as a whole. This is our inaugural "Top 10." Who knows? Maybe it will become an annual end-of-year tradition.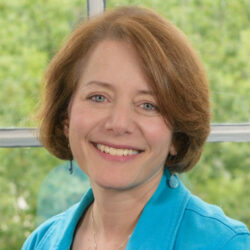 DEBORAH ZWETCHKENBAUM
Deborah Zwetchkenbaum is the assistant crisis lines director at Lines for Life, a nonprofit organization whose mission statement is "to prevent substance abuse and suicide and promote mental wellness."
The 24-hour crisis lines are staffed seven days a week, 365 days a year. Each person answering the phone has received at least 60 hours of training, including a two-day intensive, interactive workshop called ASIST: Applied Suicide Intervention Skills Training.
Deborah has been on staff for 11 years and has personally trained more than 1,000 people in ASIST. She feels that the work she does is a calling and that her life experiences have prepared her. Her great-grandmother fled the pogroms in Poland when she was 16 years old, and her great-grandfather served in the Russian army. Deborah says she gained a lot of strength and resilience from her great-grandparents.
Her work is also in keeping with her Jewish values, "that we celebrate life – life is precious, every day is precious."
Anytime someone talks about suicide, Deborah says that he or she should be taken seriously and that Lines for Life is there for support. You don't have to be the one experiencing the crisis to call in and get help.
The myth is that once someone has decided to take his or her life, there is nothing you can do about it.
The people who answer the phones at Lines for Life are proof that if someone just reaches out, a life can be turned around. Miracles happen every day, and lives are saved.
MARK ZUSMAN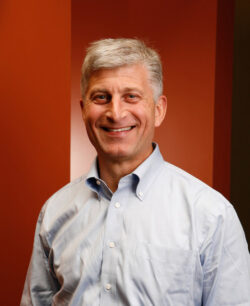 Mark Zusman is the editor and publisher of Willamette Week. He has been the paper's editor since 1983, and the publisher since June 2015, when Richard Meeker stepped down after more than 31 years in the position.
In 2005, Willamette Week became the first and only weekly newspaper to win the Pulitzer Prize for Investigative Reporting and the first to win a Pulitzer for a story that was first published on the web.
Twenty years ago, MusicfestNW was founded by Mark and Richard Meeker as a joint venture between Willamette Week and South by Southwest, the Austin, TX music festival. It was called North by Northwest until 2001 when Willamette Week took over the festival and renamed it MFNW. It was one of the larger urban music festivals in the country. In 2014, MusicfestNW was transformed into a two-day outdoor festival.
In 2011, Mark started TechFestNW, a technical conference featuring speakers, workshops, a demonstration floor, parties and PitchfestNW, which showcases the best startups from all over the world.
Mark has also served as past president on the board for Independent Media Institute, a nonprofit organization dedicated to "strengthening and supporting independent journalism, and to improving the public's access to independent information sources."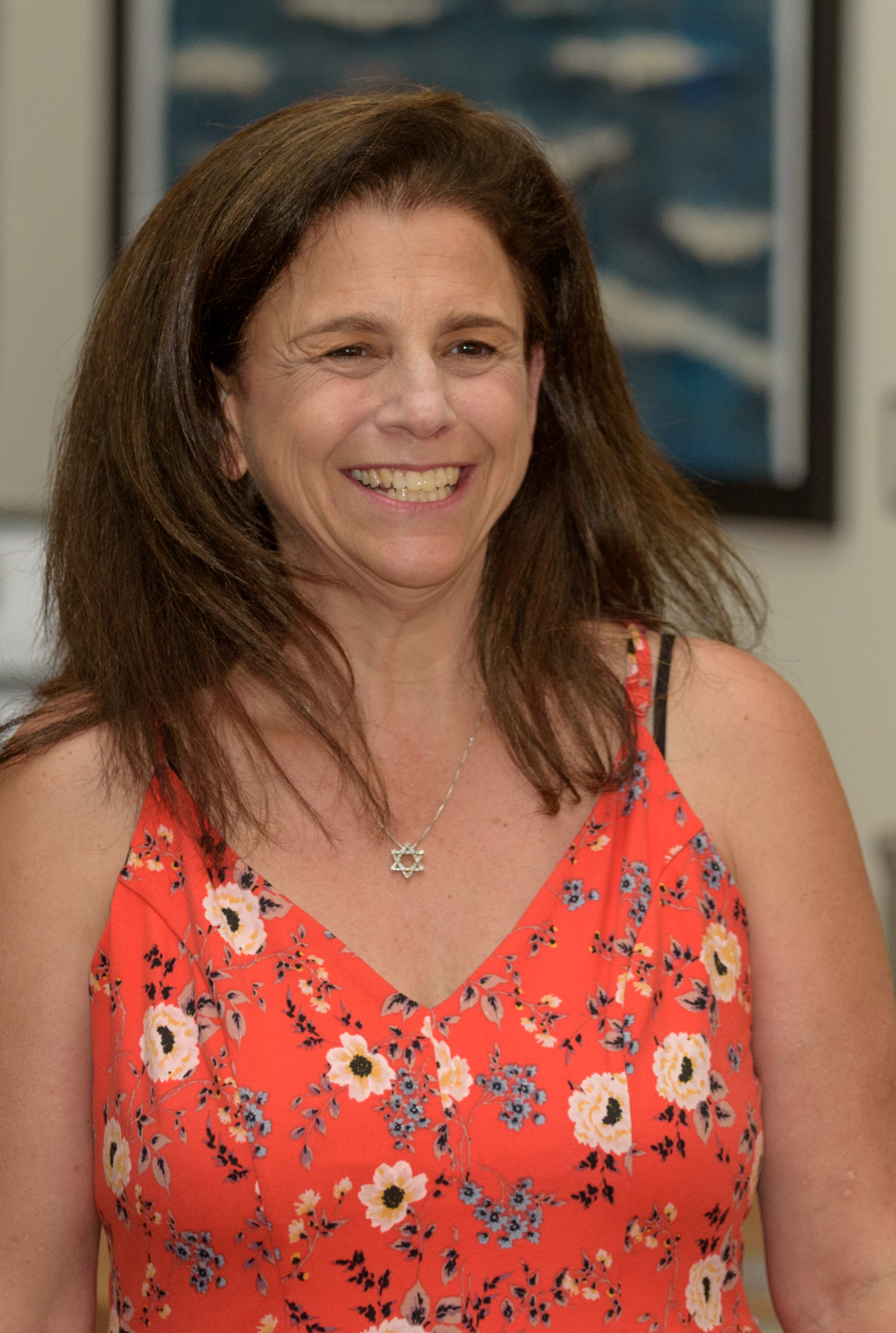 MICHELLE BOMBET MINCH
Michelle Bombet Minch's volunteer experience spans serving nonprofit organizations in the Jewish and secular world from Girl Scout leadership to executive committees of local Jewish organizations, including her current role as vice-chair of Jewish Community Relations Council and chair of Israel Advocacy Committee.
In her role at JCRC, Michelle has been instrumental in building relationships with organizations such as Portland State University, Willamette Week, American Technion Society and StandWithUs.
She has collaborated with Willamette Week, Technology Association of Oregon and Industry leaders to bring Israeli representation to TechFestNW – for the first time in 2018 – with a top Israel cybersecurity company leading a workshop. In 2019, an Israeli award-winning digital city speaker presented on the main stage, and for TechFestNW 2020, Israel will once again be represented.
Michelle has worked with the Oregon Department of Education and school districts to improve the quality of K-12 Middle East curriculum through professional development workshops and summer institutes, offering training to social studies teachers.
She has also partnered with StandWithUs, bringing Israeli Shlichim into Oregon and SW Washington secular schools to speak about Israeli society, culture, similarities and differences in teenage life in Israel versus that in America and Israel's relationship with its Arab neighbors.
Michelle is passionate about animal welfare, which includes lobbying her legislators and providing for the family's three rescue dogs, a bunny, cat and horse. Oh, and she also has a husband and three teenage children.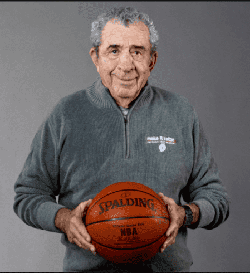 HARRY GLICKMAN
This man truly needs no introduction. Harry was born in 1924, growing up in Portland during the Great Depression and attending UO, where he studied journalism. During World War II, he was a sergeant in the 12th Armored Division of the 7th Army and was awarded a Bronze Star. Upon returning home, he went back to the university, earning his degree in 1948.
After college, he moved back to Portland and started Oregon Sports Attractions. When the NBA was expanding in 1970, he organized financing to bring an NBA franchise to Portland. Harry led the Portland Trail Blazers for 24 years, during which the team won an NBA championship in 1977 and conference championships in 1990 and 1992. He retired as president in 1994 and now serves as the team's president emeritus. He has been married to his wife, Joanne, for more than 60 years and still sits courtside for Blazers' home games.
Harry was honored in September 2019, along with longtime head coach Del Harris, with the John W. Bunn Lifetime Achievement Award during the 2019 Naismith Memorial Basketball Hall of Fame ceremonies. This award is considered the most prestigious award presented by the Hall of Fame outside of enshrinement.
In November, Harry will also be the honored guest at The Mighty Endeavor's Night at the Museum event for his service during WWII.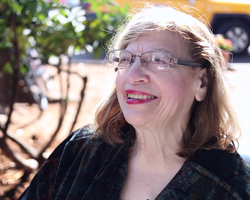 SHARON STRAUS
For almost 40 years, Sharon Straus, the founder and director of the Sunshine Pantry, has provided food and amenities to those in need from Washington County and all over Oregon.
What began as a Cub Scout canned food drive project for Sharon's oldest son has evolved into Sunshine Pantry. Storing the canned food in her garage reminded Sharon that hunger is a real problem for families in the community every day, and she wanted to help.
For 24 years, Sunshine Pantry helped to feed thousands of people from the family's garage. In 2008, Sunshine Pantry expanded its operations and moved from Sharon's garage to a small, secured warehouse in Beaverton, OR.
In November 2019, the Sunshine Pantry will open at its new location at 13600 SW Allen Blvd. in Beaverton at the Beaverton Christian Church. The pantry supplies food, toiletries and clothing to more than 500 families a month and never turns away anyone who walks through its doors.
This past September, Sharon was surprised by an invitation to appear on "The Kelly Clarkson Show" by the former "American Idol" star turned talk show host. The host presented her with $10,000 to help the pantry at its new location.
JONATHAN GLASS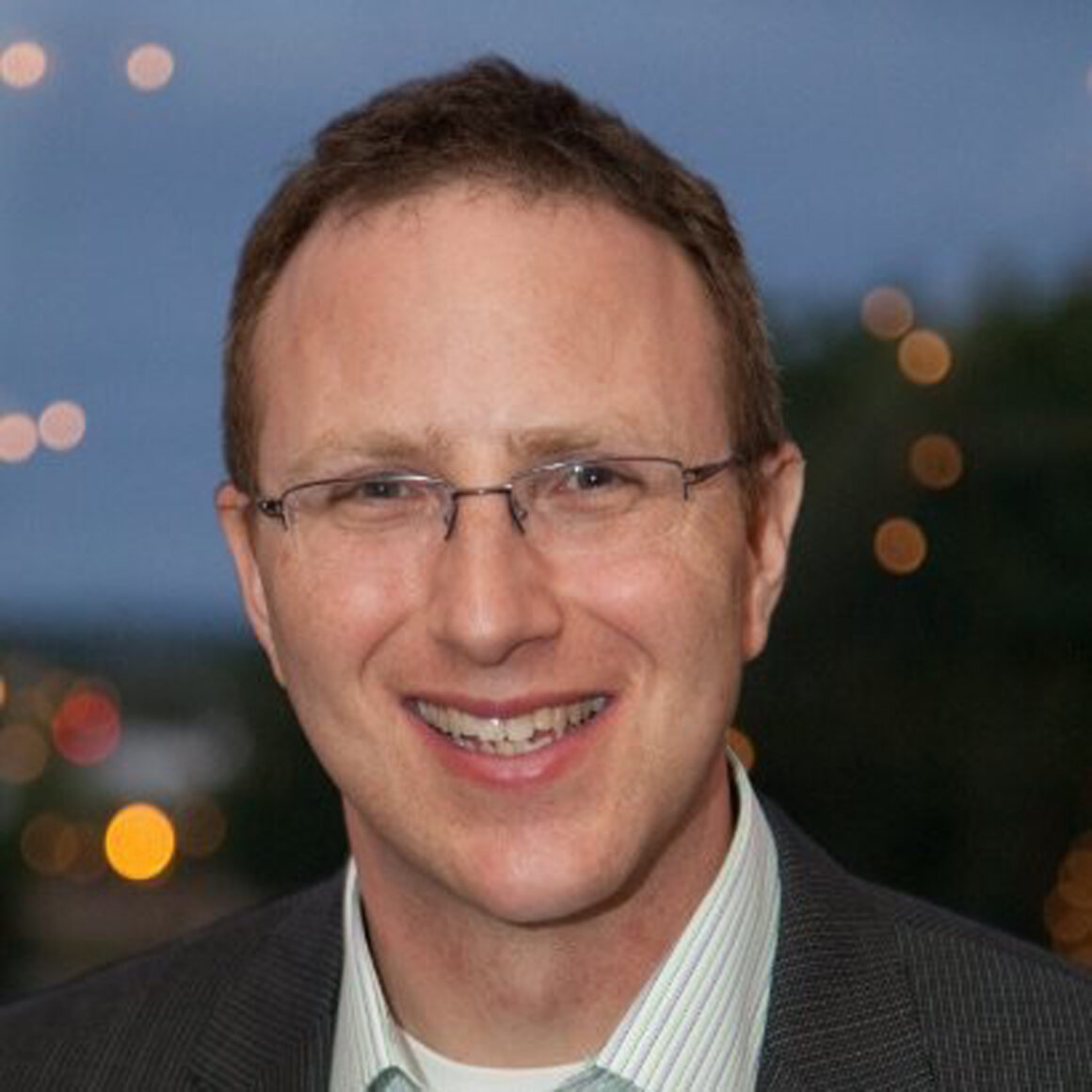 Jonathan Glass is vice president and CFO of Council Tree Investors in Portland, a private equity firm focused on investments in the media and communications industry. He graduated from McGill University in Montreal, Quebec, Canada, and received his MBA in finance from Columbia University in New York.
Jonathan grew up in Toronto, Canada, and resided in New York City for 16 years before moving to Portland, OR, in 2010. Jonathan and his family joined Congregation Neveh Shalom in 2010 upon their arrival in Portland.
He currently is on the board of the Mittleman Jewish Community Center and is the immediate past co-president. Jonathan also serves on the board and investment committee of the Oregon Jewish Community Foundation.
"Jonathan had an instrumental role in securing the Jewish Advocacy Strategy investment pool which gives our community, for the first time, an investment option based on Jewish values," says President and CEO of OJCF, Julie Diamond. OJCF is joining other Jewish organizations throughout the U.S. in offering this new pool that allows donors and partner organizations to consider Jewish values when choosing how to invest their charitable dollars.
Jonathan and his wife, Sarah, have three children, all of whom attend or graduated from Portland Jewish Academy, where Sarah is the director of admissions, and Jonathan is a past co-president of the board.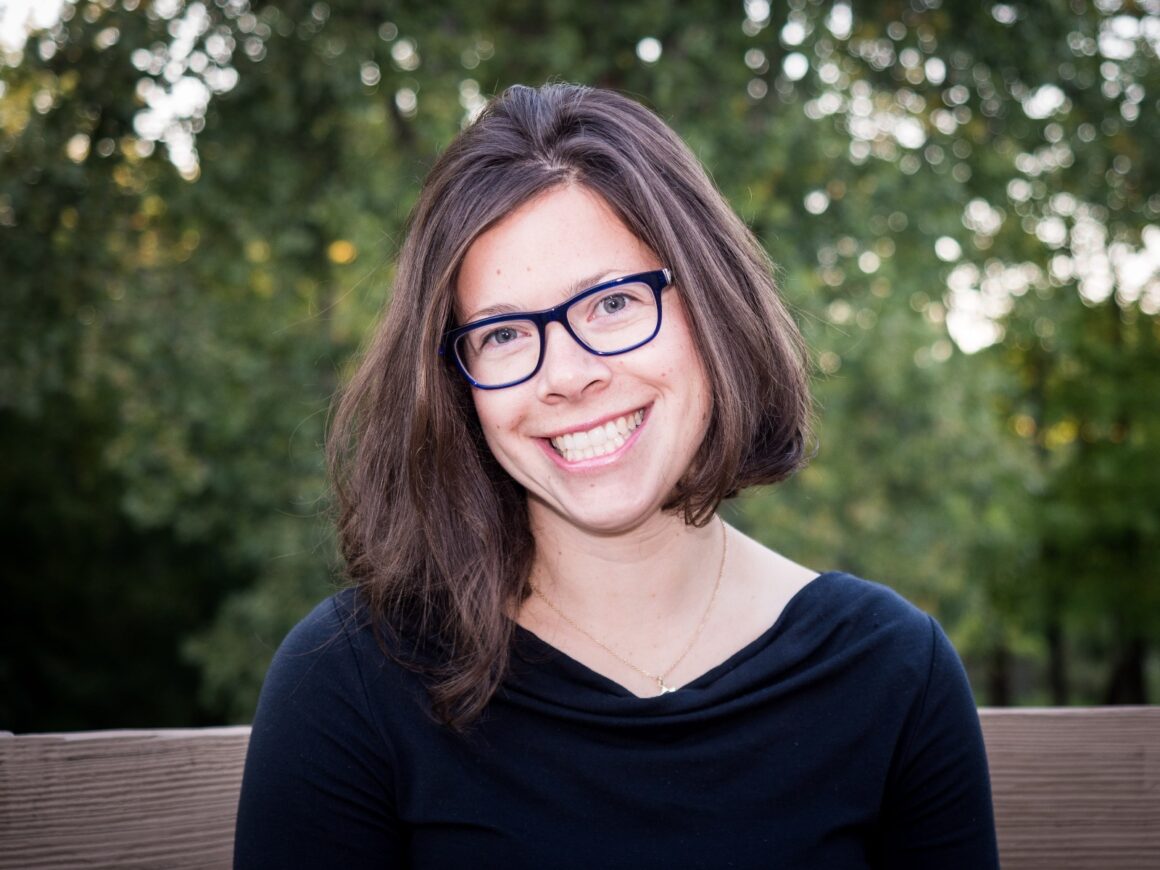 JODI BERRIS
An avid athlete, Jodi Berris competed in ice hockey, lacrosse and rowing in school. She studied sports management and communications at the University of Michigan.
Her impressive resume includes working for Adidas as an apparel development manager and for Nike as a merchandiser, claims specialist, field test coordinator, product developer, product analyst, project manager and footwear development manager. She currently works at KEEN Footwear as a project manager and product developer.
In 2005, she launched Portland Jewish Events, where she, along with friends and volunteers, plan and execute events for Jewish young adults, youth, teens and adults in Portland. Recent events include Shabbat dinner and services and a kosher sushi and sake tasting.
Her other leadership roles in the community include Kesser Israel Synagogue board member and out-of-towner hospitality coordinator, Moishe House Portland founder and Portland Maccabi Club founder.
She volunteers as a hockey coach for Rose City Hockey Club, an all-girls ice hockey program based in the Portland-Vancouver area. Jodi is also a volunteer ski guide for National Ability Center in Park City, UT, assisting skiers with physical, cognitive and developmental disabilities.
Jodi has also been a volunteer with the Mt. Hood Ski Patrol since 2006, providing quality rescue and emergency care to skiers and snowboarders.
LARRY CHUSID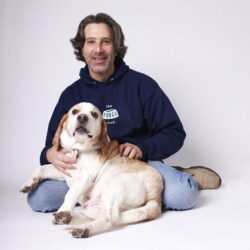 Larry Chusid is the founder and executive director of The Pongo Fund, Oregon's only full-time charity focused on fighting animal hunger. After Larry's 18-year-old dog Pongo died in 2007, whenever he saw dogs sleeping under bridges with their owners, he decided to focus on helping the animals in the homeless community.
The Pongo Fund operates The Pet Food Bank, a no-frills warehouse packed with thousands of bags of super-premium dog and cat food, ready for anyone who is homeless or having trouble making ends meet and has a hungry pet.
The Pongo Fund also runs the Emergency Kibble Response Team, dedicated volunteers who will deliver dog food to a homeless person living on the street and unable to get to The Pet Food Bank for his or her pet's food.
By providing these services, it helps to reduce the shelter population and to keep family pets from suffering, starvation, surrender, abandonment, or worse, when a lack of food, but not a lack of love, is their only enemy.
The Pongo Fund Pet Food Bank has provided more than 15,000,000 lifesaving meals for more than 155,000 hungry and beloved animals throughout 28 different Oregon and Southwest Washington counties. The fund has also facilitated vaccinations, veterinary care and spay and neuter services for more than 1,000 pets in need.
RICHARD MATZA
Richard Matza is treasurer and past president of Congregation Ahavath Achim, Portland's original Sephardic synagogue. Ahavath Achim was founded in 1916 by members of the Rhodes and Turkish Jewish communities who had migrated to Portland. The congregation welcomes Jews of all backgrounds and includes Ashkenazim in addition to Sepharadim.
Richard grew up in two homes – that of his parents, Aaron and Julia Benveniste Matza, and of his aunt and uncle, Isaac and Rachel Benveniste Cordova, whose families were mainstays of Ahavath Achim.
In 2014, an exhibit opened at the Oregon Jewish Museum, highlighting the significance of Sephardic life in Portland and celebrating its 100th anniversary. Richard and Rochelle "Rocky" Menashe Stilwell worked for almost two years to contribute to the exhibit, documentary and catalog.
From June to October 2014, "Vida Sefaradi: A Century of Sephardic Life in Portland" let visitors explore the historical, cultural, social and spiritual traditions of this small but fascinating community.
Richard is also co-sponsor of The Portland Sephardic Film Series, an annual film series that runs from November through April and shares Sephardic stories and issues with the entire community. For the first time, the screenings for the films will be held at the congregation's new synagogue building located at 6686 SW Capitol Hwy., Portland, in the Hillsdale neighborhood.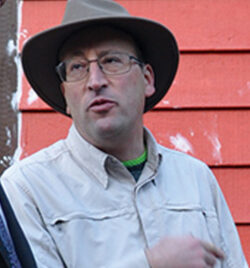 ANDY OLSHIN
Andy Olshin is the co-executive director and founder of Cascadia Clusters, a 501(c)3 nonprofit organization that trains houseless individuals to build tiny homes, with a focus on framing, roofing, insulating and finish carpentry. The tiny houses constructed offer cost-effective, lockable, insulated, solar-powered transitional housing. They are placed in villages that offer safety, community and social services.
Over the summer, the Mittleman Jewish Community Center agreed to lease a small strip of land, north of its outdoor playing field, to Cascadia Clusters.
The land is being used to create a "maker village," where Cascadia Clusters plans to have 10 "build spots" at any one time (as well as building at Congregation Neveh Shalom). Once completed, the houses will go out into the community where they are needed. No one will be living at the site.
Cascadia Clusters is also leading the development of a self-governed village called Agape Village, consisting of 15 tiny homes and additional service buildings at the Portland Central Church of the Nazarene. Unlike the MJCC site, people will be living in the tiny homes onsite.
Andy is a Congregation Beth Israel member who has long advocated for the homeless and encourages small projects that individuals or small groups can accomplish. This new space will allow for more volunteer opportunities. The Cascadia Clusters organization has tools and materials for up to 50 volunteers to be working at any one time.